Holden House 1902 Bed & Breakfast Inn
Celebrating B&B Hospitality Since 1986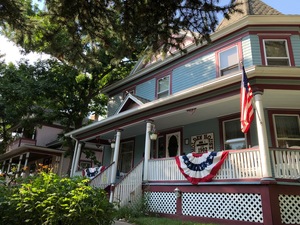 While the Fireworks and 4th of July have passed, there's lots of opportunity to enjoy our Colorado skies in July. There are so many wonderful activities around the region, you'll have plenty of choices!
Imagine relaxing in a porch swing with a glass of wine or lemonade with views of our glorious garden.
Now is the perfect time to book a stay at Holden House 1902 Bed & Breakfast Inn located in Colorado Springs. Treat yourself to a stay in this romantic and historic Victorian bed and breakfast inn. For more information on Holden House 1902 Bed & Breakfast Inn and to make a reservation, visit
www.HoldenHouse.com
---
We're Very "Social" at Holden House!
From the moment we arrived to the day we left, the experience was wonderful. The room we stayed was an apartment with living room, kitchen, private bathroom and king bedroom with a balcony. Staff were helpful and friendly, with many suggestions as to what and where to go.We have been to many B&B's and this ranks among the top. You get a full delicious breakfast, and happy hour with wine and yummy appetizers. Very reasonably priced

.
---
"Exercise" Your Privileges Here!
The United States Olympic Training Center
See why Colorado Springs is named "Olympic City U.S.A."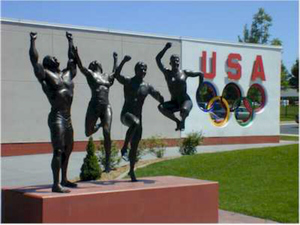 One of the many sites to see in the area is the United States Olympic Training Center (OTC), located just five short-drive miles from Holden House. The visitor center features exhibits, interactive displays and a gift shop. Approximately 130,000 guests visit the OTC Visitor Center annually. Included with a guided tour is a video presentation and a walking tour of the complex. For tour information, click here. Adding to our vast array of local actitivies, coming next year in 2019 and under construction now is the new U.S. Olympic Hall of Fame and Museum.
We'd love for you to stay with us...
Introducing the newly remodeled Goldfield Suite bath with Bubble-Jet Whirlpool Tub for Two!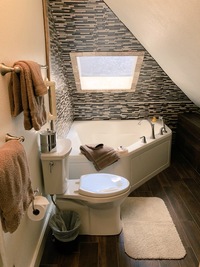 For online availability, visit
www.HoldenHouse.com
and feel free to call 888-565-3980 toll-free for more information.
Reservations can be made personally by phone or 24-hours a day on our website.
Built in 1902 by Mrs. Isabel Holden, the widow of a prosperous Colorado Springs businessman, the
Holden House
is a lovely Victorian inn featuring three adjacent homes decorated with family heirlooms and elegant antiques. We're located on a quiet tree-lined residential street, just a mile from downtown, near historic Old Colorado City and just a few minutes from quaint Manitou Springs.
The inn features six luxury guest suites, and various room features include queen or king beds, sitting areas, private baths, in-room fireplaces, color/cable TV, WiFi, hair dryers, iron/ironing boards, snuggly bat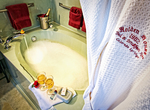 hrobes, private label amenities,
oversized bubble bath tubs for two,
and refrigerators. Our Pikes Peak suite offers a separate living room, kitchenette and private balcony off the bedroom. We also offer 24-hour coffee/tea service and our famous bottomless cookie jar in addition to our delightful afternoon wine social served between 5-7 p.m. each ning. Our full gourmet breakfast includes fresh fruit, freshly baked muffins and a main gourmet entree which include
s one of our award-winning signature dishes such as German Puff Pancakes with Spiced Apples, Southwestern Eggs Fiesta, Ruffled Crepes Isabel or one of our many specialty recipes. We're happy to adapt to special dietary needs if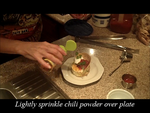 notified in advance. Your breakfast is included in your room rate and served in our elegant formal dining room at 8 or 9 a.m. An optional breakfast en suite is available for an additional Romance package charge and our "early risers" breakfast can be made available for those with an early morning schedule to meet.
We look forward to hearing from you soon!
Sallie and Welling Clark, Innkeepers
Heather, Tracy, Jenny, Sahouda and Connie, Assistant Innkeepers
Holden House offers great packages and specials

throughout the entire year. Whether you're celebrating something special, joining us for a holiday or looking for adventure, we have a package for you!
1102 West Pikes Peak Avenue
Colorado Springs, Colorado 80904
719.471.3980 888.565.3980