Check out our past issues of Colorado Inn-Spirations!
Subscribe to our Monthly E-newsletter!
Order a FREE Colorado B&B State Guide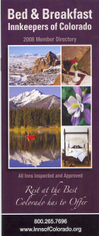 MEET A NEW AFFILIATE BBIC MEMBER

Cup and Pillow's
www.thebedandbreakfastlist.com
is the fastest growing directory on the web. They advertise your listings through all major search engines and social networks. The only directory that offers a free listing to everyone with no strings attached. Upgraded packages offered as well. Innkeepers,
sign up for free
now.
Join us on Sunday-Monday November 8-9 for the 2009 Annual BBIC Conference and Aspiring Innkeeper workshop. Check back for details...


Volume 2 Issue 1 2009
We're offering "Green" saving deals during the month of March and Spring-ing into action!
St. Patrick's Day is just around the corner and the luck of the Irish is upon us. Enjoy one of these great specials to save some green and catch your pot o'gold at the end of the rainbow! Whether you prefer an historic Victorian, a cozy cottage, a stately castle or a modern mansion, our Bed & Breakfast Innkeepers of Colorado (BBIC) member inns are ready to serve.
Our distinct Colorado B&Bs are ready to welcome you with a genuine smile, personalized service, clean and comfortable accommodations and a delicious homecooked breakfast. Savor special delights, prepared by loving innkeepers. This month, try the America's Rocky Mountain Lodge's Cranberry Cream Cheese Muffin Mix. It's the perfect accompaniment to your breakfast brunch and so delicious that you'll want to travel to one of our Bed & Breakfast Innkeepers of Colorado member B&Bs just to personally sample our breakfasts inn-style!
Front Range Special Packages
(Central City, Denver, Estes Park, Georgetown, Boulder)
Central City, Colorado
Hooper Homestead Guest Quarters & Blissful Spirit Spa
(Christine Pollack)
Email
Website
210 Hooper Street, Central City, CO 80427
Reservations: 866 582-5828 Local: 303 582-5828
Transformation Retreats! Create your own personal journey with a Spa Retreat; or choose from our Healing Life Workshop or into the Light Personal Journey and receive one extra night for free. The Hooper Homestead is an excellent environment for personal renewal and spiritual connection. Whatever your spiritual path, our cozy mountain getaway is the perfect place for relaxation, reflection, and renewal. A Blissful Spirit Retreat enables you to return home and live your life with deep inner peace and your confidence and clarity restored. Prices vary depending on Retreat. Visit our website for a full description of Retreats and pricing.
Dates: March to May 15th.
Lucky You Package!
You don't have to be Irish to be lucky during the Month of March! Come and Celebrate the new Gaming Laws! Your choice of black jack, slot machines or poker at the casinos in Central City and Black Hawk. Free shuttle service between the two cities. Come and stay two nights at the Hooper Homestead Guest Quarters & Spa, your choice of any two 30 minute Spa Services or one 60 minute treatment and a deluxe continental breakfast. After gaming relax under the starlight in the private hot tub.
Cost:

Mid-Week $299.00/ Weekends $349.00
Hidden Treasure for 2 on One Night Only! Are you pressed for time? Do you need a rejuvenating Getaway? This Special is for You! Come and stay overnight and receive a 60 minute Swedish massage, enjoy a deluxe continental breakfast and soak in a private hot tub under the stars. Get away from the City, take a break from the job, enjoy some mountain tranquility and leave your cares behind. Recharge your senses and be here now. Ideal for a romantic escape, girlfriend getaway, birthday or anniversary celebration. Allow yourself to be pampered at the Spa! Call Now and Reserve today! Limited time offer and space available for this special.
Dates: Offer through April 30th
Cost: $299 (room taxes not included) Coeur D'Alene Suite $349/$599 (2 persons/4 persons).
Estes Park, Colorado

Taharaa Mountain Lodge (Ken & Diane Harlan)

Email Website 3110 So. St. Vrain, Estes Park 80517
Reservations: 800-597-0098 Local: 970-577-0098
Pamper Package - Pamper yourselves with a special getaway. Enjoy relaxing quality time enhanced by relaxation or therapeutic massages. Package for 2 adults includes:
* 2 consecutive nights stay
* Gourmet breakfast daily
* Happy Hour daily
* 2 30-minute massages in our private Massage Room
* Chilled Champagne after your massages to sip in front of your fireplace in privacy
Package rates from $300 - $510 per couple, depending on room selection.

Dates: Through 14 May 2009
Cost: $300 - $510
Georgetown
Rose Street B&B
(Sally & Paul Nisler)
Email
Website
200 Rose Street, Georgetown 80444
Reservations: 1-866-569-2221 Local: 303-569-2222
Loveland Ski Lift Tickets - Reserve either our Brass or Walnut Rooms for at least a two night stay and receive two free lift tickets to Loveland Ski facility during the 2009 season.

Dates: During 2009 ski season while tickets last
Cost: Brass & Walnut rates are $150.00 per night + tax

South Central Special Packages

(Colorado Springs, Breckenridge, Salida, South Fork, Alamosa)
Cascade, Colorado
Eastholme in the Rockies (Deborah Rice)


Email Website
4445 Hagerman Avenue, Cascade, CO 80809
Reservations: 1-800-672-9901 Local: 719-684-9901
Winter Mid Week Special - Visit Eastholme in the Rockies, Sunday through Thursday for two nights and receive the third night 1/2 price in one of our elegant rooms or suites. Featuring jacuzzi tubs, fireplaces and full gourmet breakfast. Guest will awake each morning to a full gourmet breakfast with freshly baked breads, pastries and culinary delights such as delicate souffles and hearty frittatas. Come and enjoy the fresh mountain air on our 40ft front porch and second story balcony with breath taking views of Pikes National Forest. Just 1 1/2 miles to the entrance to Pikes Peak Toll Road. (Excluding holidays or special events)

Dates: through 3/31/09
Cost: 3rd night 1/2 price
Colorado Springs, Colorado
Holden House 1902 Bed & Breakfast Inn
(Sallie Clark)
Email
Website

1102 West Pikes Peak Avenue, Colorado Springs, CO 80904
Reservations: 888-565-3980 Local: 719-471-3980
Winter Wonderland Getaway & Mid Week Treat -Reserve 3 nights and receive your 3rd night for 1/2 off or stay 4 nights and receive 4th night absolutely FREE! (valid any days of the week) Or, stay mid-week (Sun-Thu) 2 nights and get 2nd night 1/2 price or stay 3 nights and get the 3rd night FREE. We'll take a full deposit at reservation leaving the balance due of a perfect stay at check-in! (Some restrictions may apply and full amount of stay due when reservation is booked and non-refundable) Includes our delicious gourmet breakfast, all of our luxury business class amenities and afternoon wine social.
Dates: Through April, 2008
Cost: Any days of the week: Stay 3-nights with 3rd night 1/2 price or stay 4-nights with 4th night FREE or Stay Sun-Thu Mid-Week 2 nights get 2nd night 1/2 off or 3 nights and get 3rd night FREE!
Our Hearts Inn Old Colorado City (Pat Fejedelem)


Email Website
2215 West Colorado Avenue, Colorado Springs, CO 80904
Reservations: 800-533-7095 Local: 719-473-8684

2009 Welcome Winter Getaway Packages - Leave the dreary and dark days of winter to come play in Colorado's Sunny days and cold winter nights. Snuggle by a fire at night after enjoying the sunny & warm Colorado days. Gambling, hiking, horseback riding, shopping, museums and entertainment await. Pikes Peak Mountain open year round!

Dates: thru March 2009 (black out periods apply/inquire)
Cost: $90 - $135/night plus tax and enjoy the best rates of the year. Extended stays discounted as well; $500 - $650/week plus tax.
Manitou Springs, Colorado
Blue Skies Inn (Sally Thurston)

Email Website
402 Manitou Ave., Manitou Springs, CO 80829
Reservations: 800 398-7949 Local: 719 685-3899

Short and Sweet Wedding - Wrapped as a pretty wedding package, imagine a marriage that is stress-free and beautiful. As an innkeeper who is also an artist and gardener, Sally uses her skills to create beautiful weddings. From arranging the floral bouquet to photography to seamlessly co-ordinating the wedding, every detail is treated as Art. That the wedding is gentle on the Planet and economical are just lovely bonuses. Located at the base of Pikes Peak, Blue Skies Inn hosts weddings any day of the year.

Dates: Year round
Cost: $1695 plus two nights' stay at the inn
Pikes Peak Resort (Jenn)
Email Website 943 Painted Rocks Road, Woodland Park, CO 80863
Reservations: 888-687-9777 Local: 719-687-9777

Weekender-Mender! Stay Friday and Saturday Night through May 14, 2009 and choose from one of the following free gifts:
1. Two Pikes Peak Resort T-Shirts
2. Bottle of Champagne and Keepsake Flutes(cider available upon request)
3. Chocolate Covered Strawberries
4. Vase of fresh flowers
5. Spa soak set
Dates: through May 14th, 2009
Cost: Must stay Friday and Saturday night to redeem free gift. Must be redeemed at time of reservation.
North West Specials Packages
(Steamboat Springs, Grand Junction, Vail)
Check back next month for New Specials...
South West Special Packages
(Antonito, Gunnison, Ouray, Durango, Pagosa Springs, Paonia)
Antonito
River's Inn & Swiss Cottage B&B
(Ursula Armijo-Knobel)
Readings (Automatic Writing) from May through November
- In downtown Antonito, Colorado, very well known by train buffs from all over the world, coming to ride the Cumbres & Toltec train, by fishermen, artists, gourmets (5-course dinners upon request), now offers on-site readings. Call Ursula for more information. Reduced rates for readings apply when you stay 2 nights or longer.
Dates: May 1st through November 15th
Cost: Readings: $ 200 instead of $300 with 2 nights stay
Pagosa Springs, Colorado
Elkwood Manor Luxury Bed & Breakfast (Darlene Gonzales)
Email Website

85 Easy Street, Pagosa Springs CO 81147
Reservations: 970-264-9166
Lift Ticket & Lodging Discount - Why sacrifice the quality of your lodging experience to get lift ticket discounts? Elkwood Manor is now offering lodging discounts to all skiers. Just show us your lift ticket receipt and Elkwood Manor will take 10% of your lift ticket costs off your entire stay up to $50.00 per visit. Then enjoy our complimentary wine & appetizers or a soak in the Hot Tub under the stars. 2 day minimum stay required.

Dates: Entire Ski Season (through April 2009)
Cost: 10% of your Lift Ticket Cost applied to reduce your lodging expense, based on 2 nights stay up to $50

Eastern Special Packages
(Limon, Burlington, Trinidad, Pueblo, Sterling, Hugo)
Check Back Next Month for New Specials....
*HAVE YOU OR YOUR BBIC MEMBER INN BEEN "INN THE NEWS OR RECEIVED A RECENT AWARD"? If you're a BBIC member and have recently been featured, send us an
Email
and let us know. Your inn will be mentioned in the next issue of Colorado Inn-Spirations enewsletter.
BBIC Member Inns -Send us your recipes and you can be featured here!
Cranberry Cream Cheese Muffin Mix


3 ½ cups mix
8 oz. softened cream cheese
1 cup softened butter
1 ½ tsp. vanilla extract
4 eggs
2 cups fresh or frozen cranberries

Beat together cream cheese, butter, and vanilla.
Add eggs, one at a time. Stir in 3 ½ cups muffin
mix. Gently fold in cranberries. Pour into 24
muffin cups. Bake at 350° for 25-30 minutes. Makes 24 muffins.

Click Here for additional BBIC Member Inn recipes and watch soon for the new edition of our association cookbook.
Scenic Byway Feature-Santa Fe Trail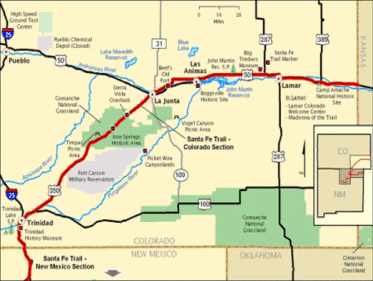 One of America's first great trade routes, the Santa Fe Trail was critical to our country's westward expansion. Visit historic sites and landmarks like Bent's Fort, Trinidad, Raton Pass, Cimarron, Fort Union, Pecos, Point ofRocks and Santa Fe. Enjoy spectacular scenery, from rugged mountains to the plains. Click here for more information on Colorado's Scenic Byways.
Experience the Old West as you have never done before by taking a trip along the Santa Fe Trail in Colorado. Your car will become a time machine as you become immersed in the history and culture found on this fascinating byway.
Madonna of the Trail Statue - Begin your trip in Lamar. At the Colorado Welcome Center, absorb the history represented by the "Madonna of the Trail." This statue honors the pioneer mothers of covered wagon days. Dedicated by the National Society of the Daughters of the American Revolution on September 24, 1928, this Madonna of the Trail is one of only 12 in the world. Don't miss this historical statue as you travel the Santa Fe Trail.
Boggsville National Historic District on Highway 101 - One of the most famous people to have traveled the Santa Fe Trail before you was the legendary frontiersman, Christopher Houston "Kit" Carson. You'll find many places along the Santa Fe Trail where you can learn about his life and times.
Bents Old Fort - Visit Bent's Old Fort near La Junta to see one of Colorado's most evocative historic sites. The fort was a trading post for mountain trappers and Indians-- a supply point, a social center, and a beacon of safety, rest and relaxation. Cheyenne, Arapaho, Kiowa, Comanche, Ute, and Lakota Indians all were seen at the fort as well as famous mountain men like John C. Fremont, Francis Parkman and Kit Carson. Special presentations throughout the year will show you more about the fort's illustrious history.
Colorful Comanche Dancers - Connect the past and the future on Colorado's Santa Fe Trail with a visit to the Koshare Indian Museum and Kiva in La Junta. Come here during the winter and summer ceremonials to witness authentic Pueblo Indian Dances, performed by Boy Scouts from Troop 232 and Venturing Crew 230 of the Rocky Mountain Council for over 65 years.
Sunset on the Grasslands - To see one of the trail's most beautiful views, visit Sierra Vista Overlook, located on Highway 350 just 13 miles southwest of La Junta, CO. Take a short walk up the side of the bluff to see the incredible view of the Rocky Mountains and surrounding prairie.
Old Iron Springs Sign - Stop at the Iron Spring Historic Area 11 miles west of Timpas, CO., which was once an important source of water for travelers along the Santa Fe Trail. Between 1861 and 1871, Iron Spring was also a stagecoach station, as well as the scene of several Indian attacks.
Bloom Mansion - In Trinidad you can find a museum that consists of four main attractions and takes up an entire city block! The Trinidad History Museum overlooks the Santa Fe Trail and includes the Baca House, the Bloom Mansion, Historic Gardens and the Santa Fe Trail Museum. See extensive collections of books, artifacts, and travel brochures in any of these four places.
Kit Carson Park - After your museum visit, rest and relax in the Victorian bandstand at Kit Carson Park. This park contains the largest Daughters of the American Revolution marker on the Santa Fe Trail. Kit Carson Statue - As you travel through Colorado's past, soak in the rich history of the Santa Fe Trail. Whether you are visiting the Trinidad History Museum or watching winter ceremonials at the Koshare Indian Museum and Kiva, you will truly discover that your car is the perfect time machine to discover more about Colorado's portion of the Santa Fe Trail.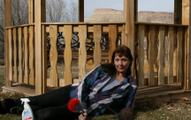 Julie Commons-
Palisade, CO
Innkeeper Goddess- In February 2007, I uttered three words that my husband of 27 years was happy to hear, "I've had enough", I stated. The words I uttered were not in response to what I was doing or who I was married to, but to where we were living. After 26 years in the mountains, I was tired of the 9 months of winter. My husband, Bob, had wanted to leave for a lot longer than I. We decided to head west.
People have asked me, "I'll bet running a bed and breakfast was your life-long dream, wasn't it?"
In truth, it wasn't. I was a librarian for 23 years, but when I was unable to gain decent employment in the area we had chosen to live, I was grasping at straws. While looking through a real estate book I saw a Victorian house for sale and it hit me. What started out as an idea turned into an obsession. Suddenly we were living in a huge house with 17 rooms that we completely gutted. With all the blood, sweat and tears in this house there would be enough DNA to supply a year's worth of CSI episodes. Those who have suffered the stress of remodeling can relate to our self-induced plight. We've had several battles with unreasonable county officials and unscrupulous contractors, but we opened in April of 2008.
I've read several books that paint a rather unrealistic picture of the lifestyle of B&B owners. In the books they portray a lady in a dress writing on flowered stationary looking out the window at guests carrying their own luggage to the door. They arrive right at the 3:00pm check- in time. In reality the guests show up 2 hours early and I am varnishing benches with paintbrush in hand, no makeup on and dressed in a pair of old sweatpants that I've worked in for the past 4 days. That's more like the reality...
My husband thinks I do great job though and he describes me as a cross between Martha Stewart and Bob Villa without the facial hair of either one. He describes himself as the lawn boy. We opened our Bed and Breakfast in April and we are not jaded or cranky, yet. I've loved most all of my guests, except that one guy, he was my second guest. He had to be on the main floor, was on a diet that had to be lactose and gluten free, hated onions, and there was a vibration (!?) in the floor that was so strong he didn't think he could sleep here. His long-suffering wife gave him a look of exasperation and after they partook of the free wine I offered, they left. I lost the money, but I was relieved...Now the wine is only free to paying customers. I was then new at the B&B game.
Soon it was June and guests were coming and going, the gardens were producing, & the flowers were blooming. I had gotten a call from a girl who had a dilemma. She and her friend wanted to stay in a B&B, but their boyfriends wanted to camp. "Well", I suggested, "you two can stay in the Mesa View Room with the two beds and the guys can camp out on the lawn." She said that was great. We were on the patio with our friends eating, chatting, and drinking wine. It was dark and the tiki lamps were glowing. The guests were setting up their tents in the back within earshot. I heard a sound, like girls yelling."What is that noise?" I heard them ask nervously. "I think it's the sound of toads mating," I answered matter-of fact. It was quiet for a moment then they asked, "Are they going to do that all night?" "Well, if you only mated once a year, wouldn't you want to stay up all night?" They laughed and the next day they thanked us for the excellent hospitality. It was their first experience at a bed and breakfast and it was such a positive experience they promised they would be back. I didn't have the heart to tell them that some B&B's might not be as accommodating...
I teased Paul about hauling around his laptop, telling him he needed to relax and enjoy his time away from work. By the time their stay was over he looked much more relaxed. Before they left he said, "Your beds are really comfortable and the rooms are really cozy. The breakfasts were delicious, but those aren't the reasons people will be back." "Okay, I give, why they will be back? " I asked. "Your attitude", was his reply.
We have now survived one year with well over a hundred guests whom we have served. Each person has their own uniqueness and their own story which has now been woven into mine. It's the story. That is why I am a B&B owner and will probably remain so until I can no longer climb up the stairs to make beds. In October 2008, I uttered three words that my husband of 28 years was happy to hear, "We are successful," I stated.