Here are some of the places we are speaking soon.  We'd love to see you at one of them.
| | |
| --- | --- |
| Sept 11 | Northeastern Society of Orthodontists, Providence RI |
| Sept 11 | Davis Dental Lab, Wyoming MI |
| Sept 15 | Limestone City Study Club, Kingston ON |
| Sept 17 | Windy City Study Club, Elmwood Park IL |
| Sept 25 | Sikka Summit San Francisco CA |
| Oct 30 | Team Orthodontics, Phoenix AZ |
| Nov 5 | ADA Annual Meeting, Washington DC |
| Nov 6 | Dr. Bruce Fraser Study Club, Columbus OH |
| Nov 11 | Yakima Valley Dental Society, Yakima WA |
| Nov 13 | Academy for Orthodontic Excellence, Newport Beach, CA |
| Nov 24 | Lexington Oral Surgery Study Group, Lexington KY |
| Dec 1 | American Association of Orthodontist, webinar |
| 2016 | |
| Jan 15 | North Eastern District, Duluth MN |
| Jan 22 | Long Island Dental Forum, Hauppage, NY |
| Jan 28 | Topsfest, Atlanta |
| Feb 27 | Ortho2 User Group Meeting, Las Vegas NV |
| Mar 4 | American Academy of Dental Practice Administration, Beverly Hills, CA |
| Mar 23 | Oral and Dental Implant Surgery, Pittsfield MA |
| Mar 25 | Presenting to four study clubs, Plantation FL |
| May 5 | Ontario Dental Association, Toronto ON |
| May 29 | Journees dentiare internationales du Quebec, Montreal QC |
| Coming soon | The Thomas P. Hinman Meeting, Atlanta Chicago Midwinter Meeting, Chicago |
Our presentations have great titles like "How To Steal From A dentist" and "How NOT to Hire the Wrong People in your Practice".
To book a great speaker for your meeting or study club, please click
here
or call us at
888-398-2327
.
 "We eliminate uncertainty for dentists with embezzlement concerns and maximize financial and emotional recovery for victims."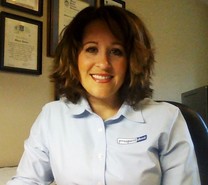 Prosperident's CEO once described hiring Wendy Chediac as "the best hiring decision we ever made".  Her role in improving the company's efficiency has been huge.  So we are pleased to announce her promotion to Vice President Investigations, overseeing all of Prosperident's examinations.  Congratulations, Wendy!


 

EXTENDED -- Take our assessment questionnaire for FREE!

 

 

 
Our recent offer to take our Embezzlement Risk Assessment Questionnaire (which normally sells for $79) for FREE ended on Labor Day (when hopefully many of you were away from the office), so the boss agreed to extend the offer until September 15, 2015.  So you have one last chance to take the Questionnaire for FREE.
Completion takes ten minutes or less and the Questionnaire is the most reliable indicator of whether a dentist faces an embezzlement issue.
You can take the Questionnaire by clicking
here.
  We will email you back with your score and our recommendations.
Are Criminals Running your Practice? Dr. Mark Costes chats with Prosperident CEO David Harris

 

Hear Author, speaker, dental business coach and practicing dentist Dr. Mark Costes interview David

here.

 

 

 

 

 
Welcome Back!

With summer vacations now a fading memory for most of us, the kids back in school, cottages closed up etc., it's time to turn our minds back to our practices.
We have had a busy summer here at Prosperident -- we completed a major upgrade of our computer systems that increased our computing power by about 500%.  We also are in the process of implementing some new software that will help us do our work better and more quickly.  And to top it off, our active case load this summer was more than 30% higher than at the same time last year. 

To keep up with the workload, we have also been busy hiring and training people to add to our workforce, and I have been very pleased with the caliber of the people we have been able to attract.  I'll be telling you more about them in future newsletters.

One final development that I am excited about is that we have been working with a company that has been developing software that will be of tremendous value to dentists in protecting themselves from embezzlement.  I can't say much more right now, but the software is currently in the final testing stages and should be released to the market in the very near future.
So there are lots of exciting things happening here.  It meant that most of us got less time at the beach this summer than we had hoped, but for some very good causes.
Now that we are back in focus, it's time to talk about that nasty concept, embezzlement. 

With 8-10% of dental practices in the US and Canada being embezzled each year, all dentists need to be aware of the possibility that you may be a victim.
A fantastic diagnostic tool is our Embezzlement Risk Assessment Questionnaire, which is free until the middle of September.
  Every practicing dentist should do this basic check.
Please click here to be taken to the Questionnaire.  It's now quicker than ever to complete, and investing a few minutes of your time can save you both money and heartache.

Regards,


David Harris, MBA, CPA, CMA, CFE, CFF

Prosperident -- The world's largest dental investigation embezzlement firm