---
Contents
---
---
Scotland Island Cafe
Sunday July 5 from 10am
Following another successful re-launch of the Sunday morning cafe, we're going again from 10am, Sunday 5 July at the Kindy.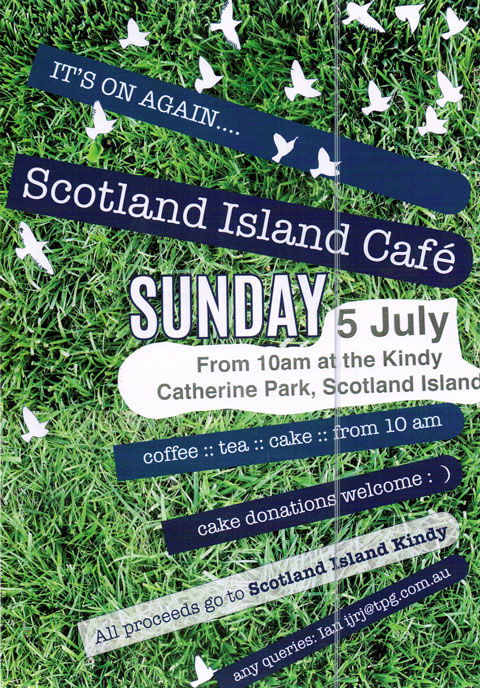 Once again, it would be great if you could come along for a coffee, great if you could spread the word, and even greater if you'd like to bring a cake, or something, or help on the day! :-)

Take the opportunity to let the kids play while you relax with a cuppa & cake and while you're there, even check out all our wonderful kindy has to offer! The play areas at kindy will be open for all to enjoy during the cafe.

If you are able to bring something and/or help, please let me know so I have an idea of how things are looking for the day. Thanks!

Funds raised will go to the Scotland Island Kindy.

The cafe will continue to run from the Kindy on the first Sunday of each month from 10am.

Hope to see you there!

Ian Laughton-Smith
ijrj@tpg.com.au



---



Scotland Island Rural Fire Brigade


Memorial Service for Brian Donohoe

The Scotland Island Rural Fire Brigade hosted a memorial service for Brian Donohoe on Sunday 28th June.
 
Brian lost his battle with Leukaemia on 11 June after it turned aggressive 3 months ago and will be sadly missed by his partner Jill and his family.
 
Brian joined the Scotland Island Fire Brigade in 2002 and was a very active member.  He then also joined the Community First Responder team who are called out to medical emergencies on the island, when the unit first started in 2011.


At the request of Brian's family his ashes were scattered on Pittwater following a short ceremony at Tennis Wharf where Assistant Commissioner Steve Yorke spoke in appreciation of Brian's service to the Scotland Island community through his work with the Rural Fire Service and Ambulance NSW.
 
This was followed by a farewell get together at the fire station where Brian's partner Jill was presented with Brian's 10 year service medal from the RFS by Assistant Commissioner Steve Yorke and his service appreciation certificate from Ambulance NSW by Inspector Grahame Rathbone. Member and guests then shared memories of Brian with Jill and family over refreshments.
 
Brian will be sadly missed by all of us.
 
Members and Supporters
Scotland Island Rural Fire Brigade



---
Scotland Island Motor Vehicle REGO DAY
Saturday, July 4 2015

---
SIRFB Fireman's Ball
Less than  2 weeks to go !!
Saturday 11th July 2015 commencing at 7:00pm
The Scotland Island Rural Fire Brigade was formed in 1955 and will be celebrating its 60th anniversary with a formal ball at the fire station on Saturday 11th July 2015 commencing at 7:00pm

Everybody is invited but you need to book and pay online in advance.

If you are unable to pay online please contact our treasurer by email to treasurer@sirfb.org.au to make alternative arrangements.

We look forward to your support to make this an enjoyable celebration.

The team at the SIRFB.



---

Local Council Notices
Pittwater – strong, independent, local and fit!
30 Jun 2015





There's no doubt about it, Pittwater's community remains firmly opposed to forced mergers and wants Pittwater Council to stay independent, strong and local. Council's Fit for the Future submission due today will reflect exactly that.



Last night at Council's extraordinary meeting, Pittwater Council unanimously reaffirmed that it wishes to maintain the status quo and remain as it is within existing boundaries.

Council will today lodge an Improvement Proposal Case (without a supplementary business case) to IPART.  This submission outlines a case for a strong, independent Pittwater.

Council commissioned an independent research company to conduct a random sample telephone survey with 89% of respondents supporting Pittwater standing alone.  The result of Council's community engagement also demonstrated overwhelming support for the status quo.

When asked about their support for a single council, an overwhelming 80% were not supportive.

Pittwater Mayor Jacqui Townsend said Pittwater's independence remains front and centre in the community and last night's well attended Council meeting was yet another testament to that.

"This follows our well-attended public meeting last month with some 350 attending, and the 3500 surveys our residents completed as part of our Fit for the Future community engagement process", says Cr Townsend.

"I'm not surprised that so many of our residents have voiced their opinions – Pittwater people are passionate and hold this place very close to their hearts.

"It's been an intense few months of community consultation in Pittwater and I can honestly say I'm so impressed with the level of engagement from our community," she added.

Mayor Townsend also said that at the meeting Council also reconfirmed its commitment to the concept of regional collaboration for efficiencies through the Shore Regional Organisation of Councils (SHOROC).

"Continuing to work with neighbouring councils under SHOROC will allows us to achieve regional outcomes around lobbying, planning and supporting efficiencies; this partnership also gives us the scale that the State Government is looking for," she said

All Council submissions are due to IPART today. IPART will then provide its recommendations to NSW Government in October 2015.

For the latest updates refer to our website www.pittwater.nsw.gov.au/reform

To stay informed, please visit www.pittwater.nsw.gov.au/reform   

Contact: Community Relations
Phone: 9970 1119


---
A host of holiday fun at Mona Vale Library
There's fun for the young and the young at heart at Mona Vale Library in the lead up to, and during, the school holidays.



Mona Vale Library is always keen to encourage budding writers, and this week will launch their non-fiction short story writing competition: 'When I was eight years old…'

Whether you are eight or 80, this is a great opportunity to write a creative piece describing what being eight years old means to you.

You may have grown up in Pittwater or arrived here later in life; either way Mona Vale Library would love to hear your recollections of that time.

There are three categories, each one with a cash prize up for grabs.  Adults up to 1500 words, cash prize $200; secondary students up to 1000 words – cash prize $100; primary students up to 500 words – cash prize $50

To enter simply pick up an entry form from the library or download from www.pittwater.nsw.gov.au/library.

To submit your entries, simply hand in a hard copy at the library or email to library@pittwater.nsw.gov.au  Entries close at 5pm, Saturday 15 August, 2015.

Holiday highlights include the hands-on activities and games program being held on Tuesday 30 June and Wednesday 8 July, from 10am until noon.

This session provides a space for young children to enjoy making Lego® creations, putting together jigsaws, connecting dominoes or playing board games – with the added benefit of no clean-up!

For an activity with a cultural twist, why not come along to the library and learn about Japan.  The library will host a display of all things Japanese – complete with messages from children from the library's sister city Tadaoka.

This cultural experience will provide our young residents with an opportunity to become pen pals with children their own age from Japan.  In turn, our Japanese pen pals will have the chance to build their English skills and make new friends.

There is no need to book for either of these sessions, simply drop in and enjoy.  Parents and carers will need to stay with young children.



---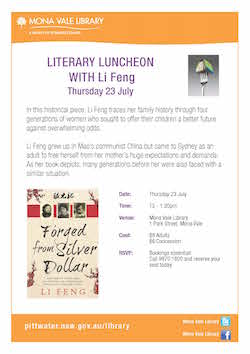 LITERARY LUNCH

Thursday 23 July with Li Feng
In this historical piece, Li Feng traces her family history through four generations of women who sought to offer their children a better future against overwhelming odds.

Li Feng grew up in Mao's communist China but came to Sydney as an adult to free herself from her mother's huge expectations and demands. As her book depicts, many generations before her were also faced with a similar situation.


Date: Thursday 23 July
Time: 12 - 1.30pm
Venue: Mona Vale Library
1 Park Street, Mona Vale
Cost: $8 Adults $6 Concession
RSVP: Bookings essential!
Call 9970 1600 and reserve your seat today.
 

---
JAPANESE SCHOOL HOLIDAY ACTIVITY

MON 29 JUNE - FRI 10 JULY
10AM – 6 PM
KINDY - 12 YEARS
Drop in anytime during the school holidays and visit our display of all things Japanese!

Learn about Japan
Read messages sent from Japanese children
Do some origami or write a letter to a new friend overseas!

Bookings not necessary - just drop in!
Parents to stay and supervise little ones.

For more info call 9970 1600









---
FUN & GAMES SCHOOL HOLIDAY ACTIVITY
30 JUNE & WED 8 JULY
10AM – NOON
KINDY - 12 YEARS
Drop in during the school holidays
Hands on activities and games for all children
Lego, jigsaws, dominoes and board games
Come alone or bring a friend.

Bookings not necessary - just drop in! Parents to
stay and supervise little ones.


For more info
call 9970 1600






---
Scotland Island Traders
Home Deliveries from either G2U or Woolworths Online-shopping...
Tired of lugging your shopping home ?

Why not give Scotland Island Traders a go!

Scotland Island Traders will deliver all supermarket items ordered from G2U, including fresh fruit, vegetables, and liquor as well as WOOLWORTHS ON-LINE SHOPPING



This gives you the customer a CHOICE!!



Please contact us at scotlandislandtraders@gmail.com to register as a delivery customer.

We will supply any extra info upon contact.

Scotland Island Traders
Happy shopping

Email Graeme Richmond at scotlandislandtraders@gmail.com to register.



---
For Sale
Walker Bay For Sale
$650 ono

Weighs only 32 kgs, easy for one person to handle. 

Has a wheel in the keel and is great to row.  In very good condition, great transfer boat for yacht. 

Only selling as we do not use anymore,
Contact Claire  0479 072 200



---
Poly Runabout for Sale


SMARTWAVE 3500 with 15HP Motor 

Both Only 12 Months Old
$3,800 ONO

This is a fantastic 3.5 meters Polyethylene boat which is a reluctant sale as we are moving interstate.
Great motor which starts first time. Both motor and boat are just 12 months old.
Great commuter boat, great first boat, great fishing boat! Comes with safety gear, anchor, bilge and battery.
 
The boat is rego'd for 12 months.
The motor is a 15hp Maxus, is powerful and is in great mechanical condition.
The boat is currently located near Church Point, Pittwater.
 
Additional Features: Anchor well, Bow roller, Stern and bow rails, Rod holders, Drink holders, oars and rowlocks, Centre seat/storage, Rear seat squabs/storage, Bow tow eye, Foam filling, Fuel tank storage, Rowing positions.

Specifications: Length 3.5m Beam 1.7 Hull weight 100kgs Capacity 3-4 Adults HP rating 25hp.
 
If interested please call Graham on 0450 213 154.
 


---
---
The Local Guide
Community Information
---
Transport
---
Real Estate
---
Services, Clubs & Accommodation
---
Island Classes (Fitness, Dance, Art etc)
Pilates, Meditation and Group Fitness with Patrice

-  0406 483 036 patrice.corrie@gmail.com
Art Classes

- drawing and painting in oils, acrylics and mixed media- Marion 0431 457 431
@ Nathalie's Table - Cooking Classes 

- Nathalie - 9999 4449
Dru Yoga

- Tuesday 9.00 to 10.30 Tuesday morning - Phone Katya on 0414 187 916
Dynamic Yoga

  - Tuesday PM. & Saturday AM. Phone Nadine 0402 752465 nadineomara@gmail.com

Tai Chi & Qi Gong classes

– Friday 10-11 am. Chris 0416221040 or chris@syntivityaustralia.com
---
Groups
Gurdjieff / The Fourth Way

- Call John on 9979 5584, Marion on 9979 3993 or Anne on 9999 3478
Green Group For Catherine Park

- Run by SIOCS - Emmie Collins on 0405 330 781
WOW - Women on Water

- meets 4 times a year - Jenny Frazer 0410533728 / 99994460.
Parents & Kids Groups Playgroup

- Run by SIOCS - email Emma trysemz@tpg.com.au
Scotland Island Players

- contact Bob or Kez on 9999 4092
Catherine Park Bush Care Group

, 2nd Sunday @ 9.30am, Sharon Kinnison @ 9997 6017
Elizabeth Park Bush Care Group

, 1st Saturday @ 9 am, Bob Bolton @ 9999 4092
Island Thinking Group -
Roy Baker, 9999 6891, roybaker99@yahoo.com
Offshore a capella choir

–  Saturdays at 2:30 pm, SI Community Hall. Call CB on 9997 2035.
---
Government Organisations
---
Airlines, Buses and Railways
---
Weather
Scotland Island Tides, Moon phases, Sun rise & set
Local Weather Forecast

Radar weather for Sydney (128k circle)
---
Emergency Contact Numbers   
and reviewing recordings
ALL EMERGENCIES (Police - Fire - Ambulance)
000
Police Assistance Line & Information
13 1444 or 9281 0000
Broken Bay Water Police
9910 7899 or 0412 162 093
Marine Rescue Broken Bay - Weekend

(

02) 9999 3554 - (02) 8411 1121



Marine Rescue Broken Bay - VHF Radio channel

VHF Radio Channel:

VHF 16


27MHz Radio Channel:

86 or 88



Scotland Island Rural Fire Service 
9999 4404
Elvina Bay Rural Fire Service


9997 3795



Lovett Bay Rural Fire Service


9979

1612



Mackerl Beach Rural Fire Service


9974 1162



Headquarters Terrey Hills


9450 3000



NSW Fire Service General Information 9265 2999
9265 2999
Rural Fire Service General information
9450 3000
State Emergency Service, Warringah/Pittwater SES
13 25 00 9486 3399
National Parks & Wildlife Service: 000, general information
9457 9322
Dept of Community Services: general information
9977 6011
Sydney Water
132 090
Energy Australia
131 388, (ah) 131 909

---
Join SIRA
You can now join the Scotland Island Residents Association by
clicking here.

Look for the membership form link on the page. Return the completed form to SIRA at this address:

The Treasurer, SIRA, PO Box 70, Church Point 2105.
Please NO CASH.
Contact the Treasurer at
treasurer@sira.org.au
Join WPCA
To join the Western Pittwater Community Association
www.wpca.org.au
, contact Michael Wiener at

treasurer@wpca.org.au
---
A complete set of past electronic newsletters since May 2000 can be found and read at https://ymlp.com/archive_gesgjgm.php  or by clicking here or by visiting the Mona Vale Library.

The Island website is at www.scotlandisland.org.au


---
To Contribute
If you would like to contribute to this newsletter it's easy!. Send an e-mail to the editor (editor@scotlandisland.org.au) or by clicking here. Type your contribution (100 words or so would be fine) and assuming it is of general interest to the community, does not include matter of a political nature and is not offensive, it will appear next month.
Subscription Information
To get on and off this newsletter,

click here

or got to:

http://www.scotlandisland.org.au/signup .


To change your address, click the 'modify' link at the bottom of this newsletter or send an email to the

editor@scotlandisland.org.au


---
Follow the PON
---
The Online Local Contacts Guide
Click HERE to load
---
The views expressed in this newsletter are not necessarily the views of the Scotland Island Residents Association (SIRA), or the Western Pittwater Community Association (WPCA)

---