Church Point Plan of Management


Please find below links to draft notices from Council Website re Church Point Plan of Management
Independent Panel Review and Council Draft Response.

Draft POM Independent Review.pdf

Draft POM Council Response.pdf


---
Scotland Island Vegetation Collection - July 20, 2009
For the Purposes of Fuel Reduction
Acceptable Vegetation
Lawn clippings, weeds and leaves must be presented in hard sided containers
Branches are to be no longer than 1.2m, and no wider than 75mm
All branches must be bundled and tied
Bundles must be able to be lifted by one person
Two cubic metres maximum per household
Vegetation will only be collected from the roadside
Vegetation collected is taken to Kimbriki Recycling and Waste Disposal Centre
for shredding and making into mulch and soils
Unacceptable Materials
Vegetation in any form of plastic or nylon bags, hessian bags, polystyrene boxes,
foam boxes and cardboard boxes
Tree stumps, soil, fencing
Non-organic materials
Treated, painted, stained or laminated timber, particle board, plywood
General clean up materials
Vegetation on public or private wharves
Vegetation placed out late will not be collected – please remove from roadside
What to do with Unacceptable/Uncollected Vegetation
Mulch or compost the vegetation and reuse on-site
Take the vegetation to Kimbriki Recycling & Waste Disposal centre
Store within the boundaries of your property and correctly present at the next collection
Compost Your Vegetation
Tree Preservation Policy
The following trees and shrubs are protected by Council's Tree Preservation Policy and are not to be removed without prior Council approval
All bush land Vegetation in excess of 3m in height, or with a trunk girth of 0.5m, and
Any mangrove or cycad irrespective of dimension
Only undesirable plants (noxious weeds) are exempt from the Tree Preservation Policy
A complete list of undesirable plants can be found on Council's website: www.pittwater.nsw.gov.au
Download this document here
Download Waste Calendar here


---
Author Talk@ Mona Vale Library

AUTHOR'S FISH-OUT-OF-WATER STORY
Mona Vale Library will host an Author Talk with Fiona Higgins
Tuesday 28 July at 6.30pm.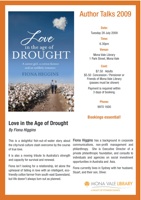 Her book Love in the Age of Drought has been described as a 'delightful fish-out-of water story about the clash that is city versus country and a tribute to country Australia's strength and capacity for survival and renewal.'

The book follows the writer's experience of meeting cotton farmer Stuart Higgins at a leadership conference in Melbourne.

Fiona isn't looking for a relationship, let alone the upheaval of falling in love with an intelligent, eco-friendly cotton farmer from south-east Queensland, but life doesn't always turn out as planned.

When Stuart sends Fiona a pair of crusty old farm boots and a declaration of love 16 days into their relationship, it's a start of a love story that endures, in spite of distance, the strain of Stuart's cotton farm entering its fourth year of drought and Fiona's issues with commitment.

Fiona eventually makes the move from Manly to Stuart's farm, where the nearest township is Jandowae with a population 700. She is promptly transported into an Australia entirely different to her urban existence.

Gradually, she begins to love her life on the land. But as Stuart struggles to balance environmental and commercial realities, she realises that farming isn't quite as simple as she first imagined.

Fiona Higgins began her career in corporate communications leading to a job with the Australian Red Cross. She currently works as a Philanthropy Manager for the Fairfax family group, which donates millions of dollars annually to charities.

Fiona Higgins' Author Talk will begin at 6.30pm at the library in Park Street, Mona Vale. Books will be available for purchase and signing by the author. Bookings are essential and can be made by phoning 9970 1600.

The admission fee which includes light refreshments is $7.50 or $5.50 concession (please show cards at the door).

Media contact: Catherine Buddin, Librarian Ph: 9970 1605


---
You Asked..




Island Kinesiology




What's really going on for you?



Kinesiology is a potent natural therapy for a wide range of physical conditions.

Our subconscious brain holds all our memories. Some of these can have a negative effect on our neurological and physiological function.

Holistic Kinesiology uses a gentle non-evasive muscle monitoring technique to identify and correct these stress imbalances.

Kinesiology is now available on the island at a special island price...

1 1/2 hour sessions only $75

($35 off mainland price)

Make an appointment with Jen Cudmore on 0425 212 849




Found - Gold Bracelet.


Found a 9c gold bracelet, unusual link, in the road aisle of carpark approx ½ way down on tues am.
Call Karen 0409523702. I'll put a sign in ferries and at point.




Car Window Damaged


I would just like people to know my car window was smashed some time over the last weekend.
I reported it to the Police and we found a screwdriver outside my car that the Police are now testing for fingerprints.
I really hope they catch the mongrels that did this.

L.B.


---