IN THIS EXCITING ISSUE...
FAREWELL NEIL
WELCOME MAGNUM

SECOND ANATHEMA DOWNLOAD
BURG HERZBURG FESTIVAL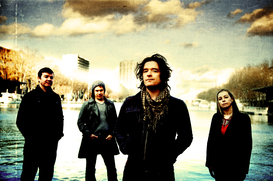 The wonderfull Anathema have given all of us another free track to download from their new album.
Here we go:
DATES - click for tickets!
21st April,Poland,Krakow,Studio Club
22nd April,Poland,Poznan,Eskulap Club
23rd April,Germany,Hamburg,Knust
24th April,Germany,Cologne,Stollwerck
25th April,Germany,Frankfurt,Batschkapp
27th April,Belgium,Antwerp,Trix Hall
28th April,Holland,Amsterdam,Paradiso
29th April,Germany,Stuttgart,die Röhre
30th April,Italy,Milan,Alcatraz
1st May,Switzerland,Pratteln,Z7
2nd May,France,Paris,Bataclan
3rd May,UK,London,Koko
INTRODUCING MAGNUM
So you're probably thinking  
"hold on – aren't you guys about to go on tour? – How's that going to work?"
Well I'll tell you how it's going to work.  Luckily for us our good friend Magnum stepped in at the last minute to avert tour disaster. 
Magnum is a mystery.  No-one knows who he is or where he has come from.
Here's what he looks like: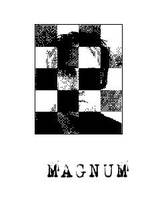 In real life he doesn't have a grid-network over his face.
Actually, we do know who he is and where he has come from, but that's not important  for the sake of this newsletter box.
Let us welcome him....
20.07.12 Burg Herzberg Festival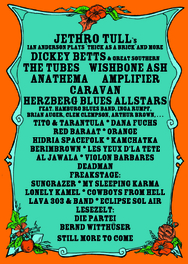 Wow – check it out –
we're playing at a Hippy Festival.
I love this band – we can play anywhere.
We played before Beverly Knight once….
Looking back at it that was probably the wrong audience.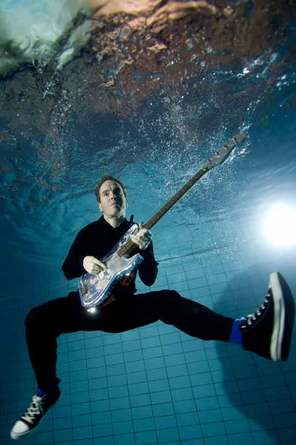 And so, after over a decade together,  we say goodbye to Bassist supremo,
Neil Mahony.
We had many good times together, and we would like to celebrate that with a photographic tribute to Neil and his evolving hair styles over the years.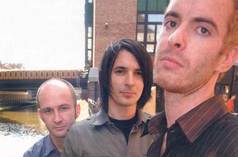 Neil had many great qualities, but there is no man alive that can rival him in his ability to  organise the pack of a splitter van with Amplifier's backline.  Neil can look at a space and see exactly how everything can fit into it, leaving not an inch of spare space.    Essentially, Neil could have been world 3D Tetris champion many, many times over.  The professional gaming circuit is now surely waiting for him.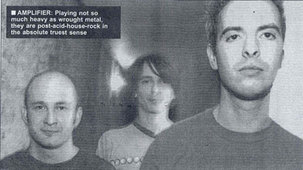 As anyone that has spent any time with us will know, Neil is always the life and soul of the dressing room, and between him and his famous double act partner Lampy, can skilfully keep a dressing room in hysterics for the duration of an evening, a skill that is really important when you're on tour.  For sure the dressing room and tour bus will be a much quieter and more subdued place without him, and we'll miss him in these moments.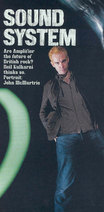 What is great with Neil is that as well as  his charm and charisma, he could equally apply personal persuasion with errant promoters and their reps.  If a shouting was required, he could apply it with precision and conviction.  This is also a great skill to have and saved our chicken on more than one occasion.

Anyway, all the other stuff is secondary in importance to Neil's great Bass playing.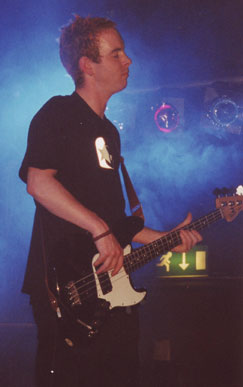 His real strength lies in his ability to generate great clouds of effects soundscapes , especially when improvising, through his bespoke and esoteric collection of pedals that we all built up together over the years.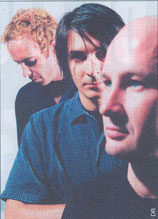 Nowhere can his playing be better showcased than on the wholly improvised
"Fractal EP"
that we recorded during the sessions for
"The Octopus ".
If you haven't heard this EP then you can download it here for free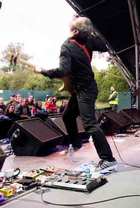 and if you want to have it in a CD format then it is included in the special edition Octopus 2.0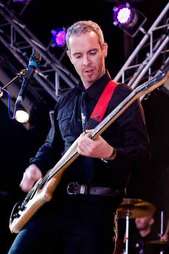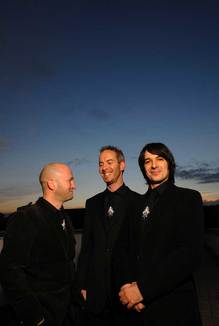 Anyway, we're sure you'll join us in wishing him good luck and success in all his future endeavours.
We will all miss him...