---
Contents
---
Gwyn's April 2010 Calendar

To download a full version (A4 size) of this months calendar, ready for printing, just click on the calendar image.

You can contact Gwyn Perkins by email at g.perkins@gwyn.com.au


The file is quite large and in PDF format. To view PDF documents you will need the Adobe Acrobat Reader installed on your computer.

To download Acrobat Reader please

click here
---
ANZAC Day Ceremony





Margaret Molloy


Thanks to the kind lady who rescued my hat on ANZAC day at Church point. In a moment of too much celebration, I had sent it flying. I was so surprised to see it in her hand, I hardly thanked her. Thanks to all those who organised such a beautiful service, and to Ian Leslie O.A.M. for his universal and personal dedication.



Louise Birkett


I would like to say a very big thankyou to all of those people who helped organize the Anzac day service, great to see the community spirit once again in force even though the weather wasn't looking to good in the morning.

A huge thank you to Ian Lesley for sharing his stories and thoughts with us all.
I would also like to thank Tom Daher, what a wonderful job.
Kind Regards



Ian Leslie has received numerous requests for a copy of his moving Anzac Day address.





Below is a copy of his touching speech.





ANZAC DAY SPEECH APRIL 25, 2010


Privilege to speak….Special Day….A day that Unites Australians of all ages…of all backgrounds…Anzac Day does truly bring this Nation together…

Because Anzac symbolizes the values that we hold with pride.

**Courage….**Mate-ship…our **Democratic way.…

And if you look back to the origins of Anzac and track its traditions thru almost a century…you could argue…that it is because of Anzac…that we are here today as a free Nation.

It is very much the force that underpins the freedoms Australians enjoy.



(Pittwater history during war.)


Want to take your minds back 68 years….picture what this place Pittwater was like in 1942 at the outbreak of War …. What some of your relatives saw…what fears they had to confront…..thru the writing of author "Jim Maken"…

I am sure many of you are acquainted with his book… "Coasters Retreat"…reminds us of just how grim things were--around here back then.

It was here on Pittwater where our Governments expected the brunt of a Japanese attack on Sydney would take place.

The invasion plan would have to break thru Pittwater-- being the city's Northern Gateway.

Military planners expected a naval landing of some 135-thousand Japanese Marines and soldiers…

So all sorts of defenses were set up around here…particularly on the West head area… Evidence of that remains today…

Pass around West Head you can see the concrete bunkers close to the waters edge in which two large guns were installed.

To get supplies to the gun sites…a railway track with concrete sleepers was built…as well as a tramway joining the bunkers.

A force of fewer then 100 officers, gunners and soldiers were stationed in a camp at the top of West Head.

How such a small force was supposed to stop a full-scale invasion is a sobering thought…but these were desperate times.

Jim Maken writes that mines fields were laid at the entrances of Broken Bay.

Artillery Guns were scattered around the Cowan, Brooklyn, Western Peninsula….with one above the Basin.

Apparently there weren't many boats to be seen around here back then…

They were impounded and taken far up the Hawkesbury to prevent them falling into Japanese hands..

So life was very different for the residents of Piwatter back then…

Small pleasures of life …everyday activities we know today…had been taken away.

**You wouldn't take your boat very far out to sea…because of German raiders and Japanese submarines..

**The length and breath of the entire Peninsula was criss-crossed with a complex system of anti-tank defences, trenches, barbed wire entanglements, machine gun posts, road blocks…

"Jim Macken" writes that the main defense line was drawn across the Peninsula just a few kilometers down that road…at Monavale.

In other words we would be standing on the front–line to meet the Japanese Advance…and everyone here was well aware of it.



(Why we commemorate ANZAC..)


We commemorate Anzac…not to glorify war but to remember Australians who fought for their country and had their lives taken.. Australians in all wars ,…the Boer war, two World Wars, Korea, Malaysia, Vietnam, Iraq and now Afghanistan.

No war is a just war….but in everyone of those conflicts the spirit of ANZAC shines brightly.

In its simplest form it means "putting out for your Mate"…never abandoning him or her…And in many ways it characterizes the Australian ethos….it shapes who we are today.

Mateship born out of ANZAC…

Life on Pittwater reminds me of that spirit…..things that you see everyday in this extraordinary community.

**1994 bushfires….

I think of local identities…people like

Darryl Donoghue

… always ready to lend a hand to a mate in trouble,



Toby and Dave

…

Phil and Matt…Russell…Our

Ferry Masters

…all collectively chugging across the water everyday, in all kinds of conditions keeping their community going…



Roy Atkins

--his bush fire volunteers…

Past friends…

Louis Sparks

and

Graham Botham

….men of their word who would put out for a mate.

**A wave to your neighbour crossing Pittwater….helping out when someone's tinny breaks down or runs out of fuel--**Hauling materials up steep slopes of the island and Western shores….

That work ethic of getting things done against the elements..

In a unique way….the ebb and flow of life on Pittwater, reflects the Aussie spirit we celebrate today.

A Spirit born out of bloody conflict 95 years ago…and that continues to protect this wonderful nation.

Ladies and Gentlmen at dawn…on this day--all those years back….Australian and New Zealander forces came ashore at Anzac Cove….

10 months on, when the last man left ….8709 were dead.

While Gallipoli is burnt deep into our psyche….and owes its place in history, as the moment when the Australian Nation came of age….we remember not just the diggers who fell at Gallipoli….but also in other campaigns, along the Western Front…that blood soaked corridor stretching 700 kilometres from the Swiss border to the North sea.
And soldiers of other Nations…

Arguably the Great War…was most brutal war ever fought in modern times---in terms of the scale and senseless slaughter of young lives.

Lives that had seemingly only one value in the eyes of their Superiors…As battering rams to bludgeon the enemy…

Men ordered to certain death by Generals, who in the safety of their command posts…and the comfort of their Gentlemens clubs in London….fought a war--that relied on tactics based on sheer numbers…rather than clever strategic planning.

Battles like Mons, Marne, Amiens, Liese,

Ypres and Passchendale..350,000 British lives lost,

The Somme …..first day…20,000 British solders killed.

Verdun…400,000 French and 350,000 German casualties taken..

At one point 4000 allied soldiers died each day on the Western Front….the highest of the war.

Frommels…July 1916…first occasion AIF, saw action on the Western Front.

Combined operation of British and Australian forces.

After one day and one night…. 1500 British and 5533 Australian solders killed or taken prisoner.

A survivor, W. H. "Jimmy" Downing, later recalled: "the air was thick with bullets, swishing in a flat, crisscrossed lattice of death. Hundreds were mown down in the flicker of an eyelid, like great rows of teeth knocked from a comb."

FROMMELS ..DESCRIBED BY THE AUST WAR MEMORIAL AS THE WORST 24 HOURS IN AUSTRALIA'S ENTIRE HISTORY…

Equivalent to the entire Australian losses in the Boer War, Korean War and Vietnam.

Believed a 27 year old German corporal, a message runner took part in that battle…Adolf Hitler.



(WAR IN THE PACIFIC…)


WE ARE ALSO HERE TO PAY RESPECT TO THE SONS AND DAUGHTERS OF AMERICA…

**NEVER FORGET OUR DEBT TO THOSE AMERICANS WHO GAVE THEIR LIVES FOR OUR COUNTRY.

**REMEMBER THEM ON EVERY ANZAC DAY…AND IN BETWEEN… BECAUSE IF IT WERE NOT FOR AMERICA--REGARDLESS OF THEIR REASONS TO ENTER THE WAR AGAINST JAPAN…WITHOUT THEM…WE WERE GONE.

**95,000 U.S. SERVICE MEN AND WOMEN WERE KILLED IN THE PAFIFIC WAR…200,000 WOUNDED. ….IN THE BATTLE OF OKINAWA ALONE 11,000 MARINES DIED…
AUSTRALIAN COMBAT DEATHS….17,000…

**WE WERE OUTNUMBERED…OUT GUNNED…BY A VASTLY SUPERIOR MILITARY FORCE OF UP TO TWO MILLION JAPANESE SOLDIERS, AIRMEN AND NAVAL FORCES…

LITERALLY ON OUR DOOR STEP. ..MOST OF OUR FORCES WERE ENGAGED IN EUROPE AND NORTH AFRICA FIGHTING NAZI GERMANY….LEAVING AUST PRACTICALY DEFENCELESS.



(BRISBANE LINE)


IN FACT THE SITUATION IN AUSTRALIA IN THOSE DARK DAYS WAS CONSIDERED SO PERILOUS…. THAT SOME CONSIDERATION, WAS REPORTEDLY GIVEN….TO a plan to abandon northern Australia to the Japanese…should they invade from the North.

This was a view held widely by many civilians in north Queensland during World War II.

The plan concentrated on the defence of the vital parts of Australia….involving holding, what is known as the "Brisbane Line".

A line that ran from Brisbane to Perth…..

As a last ditch bid to save Australia….our forces would fall back to that line--effectively abandoning the top half.

The plan was rejected by the Government and its War Council...

The Brisbane Line concept, was also rejected by General Douglas MacArthur, Commander-in-Chief of the South West Pacific…who decided…" that the battle for Australia would be fought in New Guinea."

Now those fears were not unfounded…Japanese intelligence reports obtained during the War….reveal that so confident and arrogant were the Japanese military heirachy--about victory…that Japanese Commanders had already marked out the homes--and the best street addresses around Sydney Harbour…where they planned to retire.

They very nearly succeeded….

Were it not for turning points like ..Guadacanal, Milne Bay, The Battle of the Coral Sea…Kokoda…..History could have been very different.



(DARWIN…BOMBINGS…)


ON THE MORNING OF 19 FEBRUARY 1942—MAINLAND AUSTRALIA--FIRST FELT THE PAIN OF WAR…188 JAPANESE PLANS WERE LAUNCHED ON DARWIN…THE LARGEST JAPANESE ATTACK SINCE PEARL HARBOR…


AT THE END OF THE DAY 243 AUSTRALIANS WERE DEAD….400 WOUNDED….8 SHIPS SUNK…MOST CIVIL AND MILITARY FACILITIES DESTROYED.

I THINK THE RECENT FILM… "AUSTRALIA" GIVES THE IMPRESSION THAT THE BOMBING OF DARWIN WAS ALL OVER IN A FEW WEEKS…

NOT SO….MANY MORE RAIDS TOOK PLACE ON DARWIN…AND OTHER NORTHERN TOWNS OVER THE NEXT 20 MONTHS…

BUT JAPANESE ATTACKS…NOT JUST CONFINED TO NORTHERN AUSTRALIA.

THE WAR AT SEA-- RAGED DOWN OUR EASTERN COASTLINE…FROM CAPE YORK….TO GIPPSLAND VICTORIA…
3000 KILOMETRES…

JUST OFF OUR POPULAR BEACHES….41 ALLIED MERCHANT SHIPS SUNK…HUNDREDS OF SERVICE PERSONEL AND MERCHANT SEAMEN KILLED…

…TOWNSILLE, MORETON ISLAND, TWEED HEADS, COFFS HARBOR, WOOLLONGONG, EDEN, AND GIPPSLAND.

AND RIGHT HERE IN SYDNEY…..JAPANESE SHELLS FELL ON ROSE BAY….WOOLLAHRA…BELLEVUE HILL…BONDI…VAUCLUSE…

THEIR SUBMARINES GOT THRU OUR HARBOUR DEFENCES…AND SANK THE SYDNEY FERRY "KUTTABUL"…KILLING 19 SAILORS.

JAPANESE RECONNAISSANCE FLIGHTS FLEW MISSIONS OVER OVER 70 AUSTRALIAN CITIES AND TOWNS…INLAND TO TOOWOOMBA…OVER SYDNEY…MELBOURNE…EVEN AS FAR SOUTH AS HOBART…

A HEAVY PRICE WAS PAID TO KEEP AUSTRALIA FREE…..AND IT TOOK THE YOUNG LIVES OF MANY NATIONALITIES.



FAMILY CONNECTIONS;


I would like to conclude with some family connections to ANZAC…on both sides of my family….as many here will also relate to….



(ZAVIA AND TAHLIA)


These two young Australians next to me…(over here)…my Grandson Zavia and Granddaughter Tahlia ….are proudly wearing the medals of their Great Grand-father….

"Jack Thomas Penhaligon"….My wife Jan's --Father.

Like thousands of Aussie Grand children--they are rapidly filling the ranks of the Diggers…too old to March…or simply not here anymore…

These children are now very much a symbol of Anzac Day.

Flying the flag of honor….for generations gone before them…



(Penhaligons Connection.)


Zavia, and Tahlia fly that flag --for Jack Penhaligon.….And for Tahlia's Great Grand Father on the other side of the family…

"Jack Penhaligon" was a Radio mechanic from Brisbane. Who went to war at the age of 18…

He fought in New Guinea with Fifth Aust. Division, Signals ---as a wireless operator and forward scout.

Dangerous job…..Go ahead of the Australian lines to report on Japanese positions and troop movements.

(Stories) Slept in a tree to avoid detection and to protect against crocs….

His protectors…the Fuzzy Wuzzie Angels…The New Guinea natives…who carried supplies up to the front lines and brought back injured Diggers to safety.

He saw action over three and a half years …Battle of Milne Bay, Lae, Bouganville, Merawkee..

1944 the Army granted Jack compassionate leave to get married, to his teenage sweet heart "Betty".

The night before the wedding…the military decided he was needed back in NG…

Marriage could wait…All leave cancelled…and Jack was ordered to report to his unit, for immediate departure to the front.

Jack thought bugger that…it was now--or possibly never… and ignored his orders. The Army would not stop him marrying.

So he went A.W.O.L. and got married.

The newly weds honeymooned on the Gold Coast at Coollangatta…while at the same time hiding from MP.

Finally he kissed his bride goodbye, and turned himself in.

He was promptly court martialled.. As punishment he was docked 39 days pay…and sent to Merawke in Dutch NG, feared for its head hunters back in those times.



(Sydney Penhaligon..Gallipoli)



Now the Penhaligon connection goes right back to the first ANZAC DAY.

"Sydney John Penhaligon"…..from Kenmore, Brisbane…Jan's Great Uncle...fought a Gallipoli.

Not with a gun…but with a stretcher.

He was attached to the Third Field Army Medical Core, First Division…as a stretcher bearer…and landed in the first wave of Aussies at Anzac Cove…

Alongside him… "Private John Simpson"…. "the Man with the Donkey".

The two worked together….and in a sense died together…

Just three weeks after the landings… "Sydney" was wounded by a Turkish Shell…He was transferred to a hospital ship.

He died on board and was buried at sea.

Four days later…"Simpson" was shot thru the heart by machine gun fire, as he was moving down to the beach.

It is believed his Donkey was not killed with Simpson as initially reported. He was cared for by another unit and reportedly evacuated.



(Leslie family..POWS camps Java…3 and a half years.)


On my side of the family there is a different connection to Anzac.

We were all prisoners of war under the Japanese…

Life for me began behind bars…or bamboo….on the island of Java…

Mum and Dad, my three siblings, elder brother Alastair, 7…elder sister Morag 5 and my twin David…..Also our two Aunties Paula and Marie.

Our parents lived half their lives in Indonesia…established their careers there…Dad an accountant, Mum a school teacher…

Got married there and had their family there.

But on the 10 January 1942 ….something spoiled our idyllic life…..The Japanese invaded Indonesia…

We were living in a small mountain town…Soebung…in West Central Java…High up in the mountains…Long way from the big cities…

Civilian authorities knowing that nothing would stop the advancing Japanese…ordered all women and children to evacuate….to get to waiting ships at Indonesian ports for safe passage to Australia.

Mum refused to leave Dad….

Many families did… Many never made it…

Their ships were sunk on the voyage to Perth, by Japanese torpedoes.

Our Mother's decision to stay put--out of loyalty to her husband and face the consequences …could quite likely have saved our lives…

The men of our town decided the safest thing to do was to get remaining families to a larger city….It was too risky to remain in a small town… where atrocities could easily be carried out without the notice of the broader population….

(Story) Slaughter of injured Dutch and some British soldiers and Nurses…in a military hospital near Soebung…shot and bayoneted by Japanese shock troops..Their bodies discovered after the war in a well.

So…one night Dad told us to pack up a few basic possessions and make the 200k journey over the mountains to Bandung--the second largest city in Java..

Women and children first.

Mum with two young children by her side…and heavily pregnant.

Bundled into a convoy of cars and buses…..and off we went. My brother and I oblivious of danger--secure in the comfort of our Mother's womb.

Dad…reservist in the CMF took up the rear---with other British and Dutch reservists….

Untrained in warfare and armed with a revolver and a 303….

An accountant who didn't frankly have a clue what he would have done if challenged by the Japs…

He didn't fire a shot in anger, but managed to destroy many trucks and cars to prevent them falling into Japanese hands.

Eventually rejoining the family in Bandung…

There ---we simply waited for the Japanese to arrive.

When they did…Mum was about to give birth…The Japanese kindly allowed her time to stay out of the camps…to have her babies…

David and I born in a Dutch doctors house--under house arrest….and when at the age of three months sent into a POW camp.

By that time our father had already been thrown into a male POW camp…hundreds of kilometers away in another town…

Estimated there were upwards of 350 thousand civilians in Japanese POW camps in Indonesia.

Men and women in seperate camps…so I never saw my Dad until I was three and a half…

Civilian POWs were treated with brutality…

Dad told me about men beaten for the slightest mistake, lack of respect, failing to bow..for using the word "Jap"..

Men at near starvation…desperate for something to eat.

I saw sketches drawn by a prison artist of my father and his imates , skin and bones, ribs protruding…like those scenes out of Changi.
Rat story…3 Dad's mates died…A week or so later they died of food poisoning.



**Women and children fared much better.


Japanese were kind to children.

Children were never harmed by acts of brutality…not in our camps…

The Japanese soldiers would sometimes give their own food to the kids, even precious medicines….and I remember Mother telling me of stories of kindness.

One of a particular Prison Guard…who had got to like the "little twins" , would frequently come to our cell…and ask if he be allowed to nurse us…He would make goo goo sounds in Japanese. We reminded him , he said….of his children…He would often give Mum a banana to feed us…and powdered milk and medicines…

My elder brother was a favourite of the Japanese guards, who used to make the young boys exercise and engage in boxing competitions….It provided the gaurds with much amusement..

Three camps…over the period of the war…..

Ist was a converted goal …Most of the Indonesians civil prisoners were let free…only the worst remained. Mum used to say we were surrounded by murderers.

The prison populations varied from 5 to 30-thousand women and children.

Our cell measured about 3 by two metres…for the five of us.

One wooden bed made up of a couple of planks.

My twin brother and I slept in the bed, Mum and the others on the floor. Earth…infested with lice.

There was an open communal toilet and shower block.

The tiled walls were caked with human feaces, that Mum and another woman scrubbed clean until they could see the white tiles.

Sanitation was a matter of life or death…given the lack of modern drugs, even ordinary soap.

While women POWs fared better than the men….punishment for breaking rules was severe…

**To have a radio was a capital offense…Women were executed..

**to have an iron attracted a beating…

**not to salute or bow to a guard meant a beating or standing in the sun for days on end….

**But the main cause of death was disease, poor sanitation, malnutrition, dysentery, …and starvation…

**Staple diet was a watery rice and a starchy gruel which had little nutritional value…..

It simply enhanced a condition called Berry Berry ….a swelling of the abdomen brought about by high levels of starch…

Killed thousands of POWs in the camps.

Policy of the Japanese was to allow the POWs to die from natural causes. It was easier and less costly…It was also harder to prosecute.

***My twin brother David had severe Berry Berry, racked with dysentery…his system weakened and with little strength to fight back.

With no proper food to feed her children, or sufficient medicines, Mum faced a painful dilemma….The prison Doctor gave her a choice…

Let the most sick, who happened to be "David"—go--and save your other child-- Me. Mum refused. Somehow she got him thru. As well as the others.

War ended effectively for us on the 6th and 9th of August 1945.

When the Americans dropped the Atom Bomb on the cities of Hiroshima and Nagasaki…killing over 180-thousand civilians.

There is no doubt in my mind from what my parents told me…that "Little Boy" and "Fat Man" the code names given to those American bombs, saved our lives.

Had it not been for that single act…the war in the Pacific would have dragged on for maybe another year…

Thousands more killed in action and in the POW camps.

Sick and hungry POWs could not have lasted much longer.

The Japanese knew it, the Allies knew it….and my parents knew it…

Soon after the second Atom Bomb was dropped…as the women in the camp were going about routines….My mother was approached by an officer…

She immediately bowed as was demanded by the Japanese…

To her astonishment the Jap bowed back….She was totally confused..

From that moment on the Japanese gaurds were no longer our masters….They were in fact our protectors…

A few days later the women and children were marshalled into the prison square….and addressed by the camp Commandant….the brutal "Captain Sonai"…

He announced that the war was over…The Americans had dropped a bomb the size of a match box on Japanese cities and Japan had surrendered.

The Japanese could not comprehend the destructive force of two bombs, which were large actually…but in a symbolic phrase…he described them as a matchbox.

It was the last they ever saw of Captain Soni…who was executed for war crimes…

A few weeks later Allied soldiers entered the camps throughout Java, releasing the POWs…

And for the first time in our lives….My twin brother and I saw our Father…(PAUSE)

I often wonder why my family survived three and a half years in the camps…. while so many did not.

The answer I tell myself…is…that it came down to two persons. My Mother…and my Sister…who had to grow up very quickly to help cope with the chores…

Mum sacrificied everything for her children. She fought for us against all odds..

She gave of her best…her food…her time…her health.

We kids owe our lives to her. She was without a doubt--the best Mother in the World…Truly an Angel…



END MESSAGE

.
Cherish the ANZAC spirit…don't ever forget them…or forget what they represent and fought for.

I get very sad when I see some Australians---given the gift of citizenship…..demanding change, challenging our past, our culture, our traditions…ignoring the sacrifices which ultimately…..provide all those who come here--with a wonderful opportunity, in a beautiful country.

I have reported conflict in many countries….I have seen people without rights, without basic freedoms…the right of expression, to vote, to live in peace, to hope…

You don't have to go to the other side of the world to see that…Just look to our North and you are reminded of how good we have it…..How much we owe our ANZACS.

Just one final thought…Courage comes in different forms.

With sheer acts of bravery on a battlefield.

It can also be expressed with kindness and consideration.

It can be a happy experience.

The larrikan spirit of the ANZACS should never be lost…

It is very much the Australian way of letting your hair down.

Just as the ANZACS did, the night before they went into battle….enjoying a beer with their mates.

But it is not brave to be violent--to binge drink--to glass your fellow Australian--to bully the weak--to trash public property--to abuse the elderly and disrespect authority.

The kind of behaviour we see too often in our streets.…and in our television programs glorifying violence….

That is not bravery…and it is not the kind of society our Anzacs fought to preserve.

We must respect each other and Australia…our ANZACS deserve nothing less.

Now go out and have a beer and a game of two up.

Thankyou.


Courtesy Baynews




---
Pittwater Food & Wine Fair



Listen to live jazz and sip on fine wines

from choice Australian vineyards on Sunday 2 May on the shores of Winnerreremy Bay Reserve from 10am to 4pm at Mona Vale, next to the Flying Fox Café.

Lots of fresh foods to try and buy, including freshly baked breads, biscuits and cakes, olive oils, roasted nuts, jams and chutneys. Kids can play in the playground next to the cafe. Parking is available at the Reserve or Pittwater High School, Mona Street, Mona Vale.

Bring your picnic rug and enjoy the live music from Village Jazz, NIck & Liesl and Soleluna - gorgeous vocals meet moody sax at the beautiful scenic setting adjacent to the waterways of Pittwater.

There will be wine tastings together with a wide variety of food available on the day.

Winnererremy Bay Foreshore Reserve
Mona Street, Mona Vale
Sunday 2 May 10am to 4pm
Enquiries: Nikki Griffith 9970 1355 or 0417 426 925 or email nikki_griffith@pittwater.nsw.gov.au



---
Scotland Island Island Kindy Report


Dear Friends,

Another month has gone by and our children grow before our very eyes.



What has been happening in April:-


We had a fabulous Easter Parade. The children made their own Easter Hats and we painted our own eggs and made a little basket to carry them (not too many were dropped). As it is with children some were very happy to walk around showing off their wares, while others got a little shy and would not participate.
That's OK, their time will come!


The children have been creating some paper-mache faces.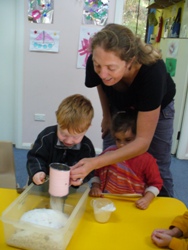 Grandparents/Special Friends Week


We had some special people from our lives visit us this week so we could show off all the extraordinary thing that we do at Kindy.

Jane came along to help us make Anzac biscuits, we all measured and mixed the ingredients and then were lucky enough to eat the biscuits. YUM! Thank you Jane



What is happening in May:-




National Volunteer Week:

11th to 17th May is coming up and to celebrate we will have different volunteer groups coming to talk to us. If you're involved in a volunteer group and have time to speak to the kids briefly please contact us. They would love to hear from you.

Maria Mackiewicz-Turner is coming to talk to us about working with Australian Animals on Tues 11th at approx 3.30pm.

Tim Byrne is coming to talk to us about being a volunteer fireman on Thursday 13th May at approx 9.30am.

Fire drills will be occurring at Kindy on Tues 4th May, Wed 5th May, Thurs 6th May.

World Turtle Day is May 23rd. We will have some imaginative creations happening that week in regards to art/craft and movement.



Family Recipes


This is a very simple recipe my daughter has been making since she was 8.



Lime and Coconut Macaroons


Ingredients
2 egg whites
100g caster sugar
160g desiccated coconut
1 tsp grates lime zest
1 tbsp lime juice

1. preheat the oven to 180 degrees C.
2. Use your hands to mix all the ingredients together lightly
3. roll into small balls with wet hands
4. bake for 12 to 15 mins in the centre of the oven till lightly golden.
5. cool

If you have a recipe you would like to share please email me at siocs@comcen.com.au



General Information


Newport School is having an Open Day on Wed 5th May at 9.30am
and Tuesday 11th May at 7pm phone the school on 9999 3588 for more information.

An online poll for families in regards to accreditation is available on the NCAC website www.ncac.gov.au. Please look at this survey as your feedback is an important factor in providing quality outcomes for all children.

"Reading Magic" by Mem Fox is a wonderful resource for parents. Costs around $8.00.
This quote was taken from ABC website:


"Reading Magic is Mem Fox's impassioned plea to parents to read aloud to children from birth, and increase their literacy with glorious results.





This updated edition of Reading Magic also features two brand new chapters – Phokissing on Fonix, and Boys and Reading.





Humorous, practical, warmly anecdotal and inspiring, Reading Magic shows that reading aloud for ten minutes a day can help your child be successful for life."



Thanks for your time and come and visit anytime.
Michelle Wickens
Director



---
Disability Access to Scotland Island



Susan Hughes has forwarded an interesting response from Council to her query regarding disability access at the wharves on Scotland Island.



Les Munn, Manager - Reserves, Recreation & Building Services
30 March 2010

Dear Ms Hughes

Re: Disability Access on Scotland Island

Thank you for your letter concerning access to Scotland Island particularly Tennis Court Wharf and Cargo Wharf. Council is responsible for the management of 27 wharves throughout Pittwater. Under the Disability Discrimination Act, Council is responsible for instigating a program to upgrade each of these wharves to comply where possible with the DDA. A number of traditional wharves have been replaced with pontoons which provide good access for people with disabilities for example at Church Point and more recently Halls Wharf.

As you are aware Council is about to undertake improvements to Tennis Court Wharf at Scotland Island with the installation of a pontoon and access ramp as well as better tie-up facilities for the Rural Fire Service boat. This project is jointly funded by Council, the Rural Fire Service and a grant from Waterways.

The issue of access at Cargo Wharf is a complex one. Cargo Wharf has been deemed unacceptable for use for passengers by both Waterways and The Land and Property Management Authority. Council has had preliminary drawings prepared for the construction of a passenger wharf adjacent to the access road however the cost of this project is in the order of $270,000. Approaches have been made to the Government seeking funding for this project however, even if successful, it would require Council to contribute 50% of the required funds. Currently there are insufficient funds available to undertake this project.

Council is required by the State Government to improve access to all wharves to meet the requirements of the Disability Discrimination Act by 2020. Cargo Wharf Scotland Island would rate highly on Council's priorities list and subject to sufficient state funds to assist Council with this project it is planned to have the project completed within the next five years.

Unfortunately I am unable to give you a response that would see your request satisfied immediately, however in the short term Tennis Court Wharf would be constructed during June/July which will at least provide you with access to Scotland Island. Unfortunately we need to wait for sufficient funding opportunities to evolve before the Cargo Wharf project can be completed.

Yours faithfully
Cr Harvey Rose
MAYOR



---
Island Cafe


The Island Cafe is open this and every Sunday from 10am to midday.

Come and enjoy the best coffee and most delicious cakes on the island whilst sitting in beautiful Catherine Park...

If you bring your own cup you'll save 50¢!!


See you there!



---







Local Council Notices




Capture Your Life Story in Print!




Mona Vale Library will hold a Memoir Writing Workshop for older residents, facilitated by creative writing tutor Robyn McWilliam.



The two hour workshop which will run from 10.30am to 12.30pm at the library on Friday 7 May.

Library Manager Cathy Howie said the workshop would provide a variety of techniques to assist residents to put their life story into print.

"The Memoir Writing Workshop held in March for Seniors Week was a huge success and as a result, we decided to host another one," she said.

"The facilitator writing expert Robyn McWilliam will share her combined experience as a writer, editor and tutor to assist participants in how to successfully write an autobiography."

Ms McWilliam has been offering 'Writing Your Life' courses over the last couple of years and teaching creative writing for almost 20 years.

The attendance fee for the workshop on Friday 7 May is $5 per person. Bookings are essential as spaces are limited. To book a place at the workshop contact Mona Vale Library on 9970 1600.

Media contact: Sharelle Ravenscroft
Ph: 9970 1600


---
Public Exhibition of Meriton Proposal


The NSW Department of Planning has placed a development proposal by Meriton at 14-18 Boondah Road Warriewood on public exhibition.



The proposal is for 'sixteen residential buildings of 3 and 5 storeys in height providing 600 units.'

The site, known as 'Buffer Area Sector 3', is located in the so-called 'buffer zone' in Warriewood, close to the Sydney Water sewage treatment plant on Warriewood Road.

Pittwater Council had previously approved a development proposal for 140 units on this site.

However, due to the size and value of the proposal the NSW Planning Minister has deemed the proposal to be a major development under state legislation and therefore is the consent authority.

Pittwater Mayor Harvey Rose said today the Council and the community only had one month to make submissions on the development, which went on public exhibition from 14 April to 14 May 2010.

"This development, if it is approved by the Minister, would be out of character with the newly-developed land release in Warriewood and the greater Pittwater area," the Mayor said.

"The developer may also not provide appropriate levels of open space, roads and community services" he said.

"Till now, the Council has largely been able to contain building heights for new developments to 8.5 metres.

"However, buildings of 5 storeys in height would turn this principle on its head and change

the Warriewood area forever."

Mayor Rose said that if the Meriton proposal was approved, a precedent could be established within the buffer zone of Warriewood Valley.

"This could allow development at considerably greater density, height and environmental impacts than through the orderly planning process that led to the original land release."

Copies of the proposal can be viewed at Pittwater Council's customer service centres at Avalon and Mona Vale or at the NSW Department of Planning's website at www.majorprojects.planning.nsw.gov.au

As Pittwater Council is not involved in the assessment of the proposal, all enquiries should be directed to the Department of Planning on 1300 305 695 or by email to information@planning.nsw.gov.au

Submissions should be in writing and forwarded to the Department of Planning by close of business Friday 14 May 2010, quoting the reference number MP09_0162 and addressed to:

Director, Metropolitan Projects
Department of Planning
GPO Box 39
Sydney NSW 2001.

Submissions can also be emailed to plan_comment@planning.nsw.gov.au The closing date for submissions is 5pm on Friday 14 May.

Media contact: Steve Evans, Pittwater Council Ph: 9970 1133


---
Mona Vale Maternity Unit May Never Reopen




Support the continuation of Maternity services at Mona Vale Hospital



Mona Vale Hospital's Maternity Unit was closed down in June 2009 with less than 6 weeks notice for both pregnant mothers and staff alike. The maternity unit was moved to Manly Hospital on the understanding that asbestos removal works would be carried out and the unit would then return to normal services at Mona Vale in June 2010.

For the Northern Beaches 250,000 residents, Mona vale is a successful and professional maternity unit with 700 plus births a year.

An article in the Manly Daily on 3/4/10 said Frank Basik, the northern beaches health services manager, had sidestepped earlier assurances of Mona Vale Maternity Unit reopening once asbestos work was completed. To the staff and community's dismay, June's reopening of the unit became possibly January 2011 with rewiring problems and a lack of finance and now there is no guarantee Mona Vale will reopen at all!

Lyn Hopper the branch president of the NSW Nurses Association said in the Manly Daily on 3/4/10 that there has been no consultation with staff. Rob Stokes, the Pittwater State Liberal MP said on the 4/3/10 that there has been a clear breach of trust by the Govt not keeping the community informed.

The community of the Northern Beaches demand the return of maternity services with a clear picture of proceedings throughout and we hope then that confidence is once again restored in local government provisions.

This has been horrendous to say the least, for the staff, as well the mums. Our poor women that live
at the northern end of the peninsular have had to travel the extra distance in labour to have their babies, some on the side of the road!



WE NEED OUR BELOVED MATERNITY UNIT BACK!!!



All the details are in the petition. http://www.gopetition.com.au/online/35447.html

Please sign it and then pass on to everyone that you think would like to contribute.



---
Scotland Island reported Missing

I was just staring blankly at the cover of the new Yellow Pages Local (out now in your nearest ferry shed) and thought - hang on, what's wrong with this picture? There's no Scotland Island!

And it gets worse - the island is also missing from the more detailed area map in the back cover AND another map on p.8. Elvina and Lovett aren't labelled either but at least their shapes are broadly correct.

So much for 'We've got you covered'.

I reckon them there Mainlanders are out to get us.
Jess McG.



---

Author Talks at Mona Vale Library

Civilising Globalisation: David Kinley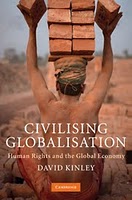 Wednesday 5 May at 6:30pm.

The author will be talking about his book Civilising Globalisation: Human Rights and the Global Economy David Kinley is a Professor at Sydney University and a local resident.

His book Civilising Globalisation: Human Rights and the Global Economy outlines the intellectual, policy, and practical frameworks for ensuring that the global economy advances the ends of human rights.




Venue: Mona Vale Library, Park St, Mona Vale




Cost $7.50, $5.50 concession - Friends of Mona Vale Library, Pensioner, Student only. Cards must be shown.




Bookings essential ph 9970 1600




---
The War Within: Don Tate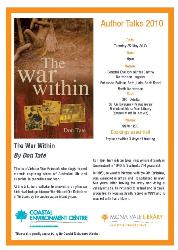 This Mona Vale Library author talk will be held at the Coastal Environment Centre at North Narrabeen on Tuesday 25 May at 6pm.



Vietnam War veteran Don Tate will discuss his memoir The War Within, which captures slices of Australian life in war and peacetime and has been described as a 'raw, engaging, no-holds-barred account of a troubled life'.

The talk includes a screening of the only known historical footage taken by the author as an infantryman of the 4th and 9th battalions in Vietnam.

Don Tate's story follows his trouble-strewn path to manhood in the shadow of his father, a violent petty criminal.

At the age of nineteen, Don volunteers for duty in the Vietnam War, intent on proving his worth as a man and to escape his troubled family and the grinding poverty of a Brisbane suburb.

The Vietnam War, described as the 'most unpopular war this nation has ever fought' leaves Don with horrific wounds and results in his hospitalization for over two years.

After leaving the army the author struggles to find his place in society that does not recognise his service to his country.

Don Tate decides to take on the fight to get recognition for his platoon, which is not acknowledged in official accounts of the Vietnam War history.

Meeting his wife Carole, Don eventually returns to his studies to become a teacher. He subsequently teaches English and History across a number of schools in the Illawarra.

Active in community affairs and an outspoken advocate for war veterans, Don lives in Shellharbour. Medically retired in 1993, he and his wife Carole have raised five children.

Bookings for the talk are essential on 9970 1600. Following the talk there will be book signings and light refreshments. Admission is $10 adult, $8 concession.

Media contact: Catherine Buddin, Mona Vale Library Ph: 9970 1605



Date:Tuesday 25 May 2010




Time:6pm




Venue:Coastal Environmental Centre, Narrabeen Lagoon, Entrance Pelican Path, Lake Park Road




North Narrabeen




Cost:$10 Adults




$8 Concession / Pensioner or Friends of Mona Vale Library (passes must be shown)




Phone: 9970 1600




Bookings essential! Payment within 3 days of booking





---
Island Players




Jealousy & Lust Try Outs Monday 17 May





It's time again

. Come and join us for the try outs for our production of Jealousy & Lust (on the island).

When: Monday 17 May at 7:30pm
Where: In the Hall

Bring: Drink and nibbles as we like to make these try outs social events as well (as are most Players rehearsals and shows.........)

What: Jealousy & Lust (On the island) is a full length play to be directed by Bob (Bolton).
It is a farce (comedy) and there are roles for 2 men and 4 women.

We had a play reading last Friday and there was almost continuous laughter, so it looks like it will be a real hoot. It doesn't matter if you've never been in one of the Players shows before - everyone has to start sometime.

And if you don't think you are a member - you are! All islanders are automatically members and bays people are honorary members too! Come along, bring a partner, or a friend. We love having new people

Any questions you can phone Bob on 9999 4092 most evenings or email him at ajb_bobbolton@hotmail.com.



---
Island Allergy Clinic


Mondays, Fridays and Saturdays



ARE YOUR ALLERGIES GETTING THE BEST OF YOU?

What is it you are allergic to? Sometimes it's not what you think!
Come and find out with Jen Cudmore
Holistic Kinesiologist, NAET™Practitioner
Phone 0425 212 849

For more details please go to this website - www.holistickinesiology.biz



---
Peninsula Music Club's next concert will be:




"A Tenor and his Diva"



Stuart Neilson Kemp Tenor and Sarah Sweeting Mezzo soprano with John Martin on the piano.
They will perform solos and duets from opera, operetta, art song and golden oldies,



Date: Friday 7th May 2010 (please note change of date from the 29th April in our series program)




Time: 8pm, As this is our AGM meeting concert the doors will be opening at 7.20 pm 10 minutes earlier than usual.




Venue: Loquat Valley Prep School, 1977 Pittwater Road Bayview 2104



A sparkling wine supper will be served after the performance.

Tickets: Concert Series $55, single tickets $20, cons $15, school students under 18 free when accompanied by an adult.

For more information please phone 9999-1937



---
Mother's Day Breakfast

---
You Asked..





Islanders do you know this person?


I have been endeavouring to contact an old school friend from the 1950's: Rixon P. Lee who spends six months a year upon Scotland Island and then flits off to the States for six months by May each year and
I was hoping to be in touch with him before next year.
John Helby

If anyone can assist please contact editor@scotlandisland.org.au



---
For Sale
If you have something for sale that you think locals would like - let us know and we will put an entry in the PON at the beginning of each month...




For Sale, classic gaff rigged wooden sail boat


Jarrah/oregon/ply all fibreglassed at Beashell yard. No engine, prop and shaft still in so ideal for electric conversion. On jetty just west of Bells. Contact Brian, 0409291301 or tevake2@gmail.com.


Also cement mixer

that has had very little use. Package deal for the two so you can start your own concrete boot business serving the Sydney underworld.




---
The Local Guide
Community Information
What's On in Pittwater - Self Editing Event Calendar

click to go to the Calendar

Scotland Island Community Vehicle -

0404 103 700
Number, Usage & Charges

Scotland Island Rural Fire Brigade -

9999 4404
http://www.sirfb.org.au

West Pittwater Rural Fire Brigade

- 9997-3795
www.westpittwater.rfsa.org.au

Offshore Photo Gallery

http://picasaweb.google.com/offshoregallery/
Scotland Island Residents Association (SIRA) Membership Application

- click here to download
West Pittwater Community Association (WPCA)

- http://www.wpca.org.au
Scotland Island Water


SI Emergency Water Contacts and Guidelines for water: click here for information and contacts
Scotland Island 'Water Agreement' - click here to download
Scotland Island Children's Centre

- (SIOCS - Scotland Island & Offshore Childrens Services)
Catherine Park (Long Day Care Service) 8.30am - 4.30pm (Tues, Weds & Thurs)
Playgroup @ Children's Centre every Monday, 10.00am - 12 midday
Other services include: School Holiday Programme / Facility & Equipment Hire
For information call 02 9979 7856 or email: siocs@comcen.com.au
Scotland Island Community Hall Bookings:

Kez on 9999 4092 or kezborthwickbolton@gmail.com
---

Transport
---
Real Estate
---
Services, Clubs & Accommodation
---
Island Classes (Fitness, Dance, Art etc)
Pilates, Meditation and Group Fitness with Patrice

- 0408 707 679 patrice.corrie@gmail.com
Personal Training with Samantha Moore at Inspire PT

- 0415 543 131 InspirePittwater@gmail.com
Ballet & Modern Dance Classes for children

with Sophia Holland - 0412 851 890
Anusara Yoga

- Thursdays - 0421762236 dominiquemarill@gmail.com or floydcbg@ozemail.com.au
Art with Max

- Watercolour classes. Phone Max on 9997 4527
---
Groups
Gurdjieff / The Forth Way

- Call John on 9979 5584, Marion on 9979 3993 or Anne on 9999 3478
Green Group For Catherine Park

- Run by SIOCS - Emmie Collins on 0405 330 781
WOW - Women on Water

- second Wednesday of the month - contact Kerry on 9999 4092
Parents & Kids Groups Playgroup

- Run by SIOCS - email Emma trysemz@tpg.com.au
Scotland Island Players

- contact Bob or Kez on 9999 4092
Catherine Park Bush Care Group

, 2nd Sunday @ 9.30am, Sharon Kinnison @ 9997 6017
Elizabeth Park Bush Care Group

, 1st Saturday @ 9 am, Bob Bolton @ 9999 4092
---
Government Organisations
---
Airlines, Buses and Railways
---
Weather
Scotland Island Tides, Moon phases, Sun rise & set
Local Weather Forecast

Radar weather for Sydney (128k circle)
---
Emergency Contact Numbers
| | |
| --- | --- |
| ALL EMERGENCIES (Police - Fire - Ambulance) | 000 |
| Police Assistance Line & Information | 13 1444 or 9281 0000 |
| Broken Bay Water Police | 9910 7899 or 0412 162 093 |
| Scotland Island Rural Fire Brigade | 9999 4404 |
| NSW Fire Service General Information 9265 2999 | 9265 2999 |
| Rural Fire Service General information | 9450 3000 |
| State Emergency Service, Warringah/Pittwater SES | 9486 3399 |
| National Parks & Wildlife Service: 000, general information | 9457 9322 |
| Dept of Community Services: general information | 9977 6011 |
| Sydney Water | 132 090 |
| Energy Australia | 131 388, (ah) 131 909 |

---
Join SIRA
You can now join the Scotland Island Residents Association by
clicking here.
Please print the page and return the completed form to SIRA at this address:
The Treasurer, SIRA, PO Box 70, Church Point 2105.
Please NO CASH.

Contact SIRA at
sirapittwater@gmail.com
Join WPCA

To join the Western Pittwater Community Association, contact Michael Wiener at
m2wiener@bigpond.net.au
---
Archived Newsletters


A complete set of past electronic newsletters since May 2000 can be found and read at https://www.ymlp.com/pubarchive.php?sira or by clicking here or by visiting the Mona Vale Library.

The Island website is at www.scotlandisland.org.au


---
To Contribute


If you would like to contribute to this newsletter it's easy!. Send an e-mail to the editor (editor@scotlandisland.org.au) or by clicking here. Type your contribution (100 words or so would be fine) and assuming it is of general interest to the community, does not include matter of a political nature and is not offensive, it will appear next month.

Subscription Information


To get on and off this newsletter,

click here

or got to:

http://www.scotlandisland.org.au/signup .


To change your address, click the 'modify' link at the bottom of this newsletter or send an email to the

editor@scotlandisland.org.au


---
The Local Guide - Community Information

Click HERE to load
The views expressed in this newsletter are not necessarily the views of the Scotland Island Residents Association (SIRA), or the Western Pittwater Community Association (WPCA)

---