DKGNA Derby/Zuchtschau
2019 DKGNA Raffle
Member Profile
by Gil Dueck
Join the DKGNA
Will be available on the DKGNA Webpage
Tyler Smith, Vice-President
Tony Dolle, Secretary
Marianne O'Leary, Treasurer
Jörg Kaltenegger
DKGNA Director of Testing/Director of Judging Development
If you wish not to receive this newsletter please email
Newsletter@dkgna.org
to be removed from the list.
DKGNA Derby/Zuchtschau
Fort Cedar, UT
April 26th & 27th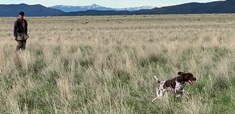 The DKGNA conduct its first test with a very successful Derby and Zuchtschau in Fort Cedar, UT, on April 26th and 27th. The test was held at Wasatch Wing and Clay. The Judging team consisted of Jeff Martin (Test Director) from Penticton, BC, Canada, Mark Peasley of San Carlos, CA, and Jeff Lowe from Wellsville, UT. Tyler Smith was the Test Coordinator for the event. The grounds were excellent for a Derby and the game was plentiful.
In the Derby, on Friday, April 26th, seven dogs. Six of the dogs received Prize 1 and one a Prize 3. The highlight of the day was provided by Andra vom Barlarger Forst, lead by Brand Tatton. Andra received 4h's for Nose and Pointing.
That evening there was a social dinner at Café Rio, in Saratoga Springs.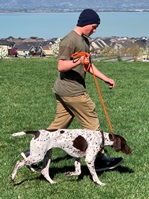 Saturday, April 27th, there was a Derby and Zuchtschau. In the Derby there were eight dogs. Five dogs received Prize 1, two dogs received a Prize 2, and one dog a Prize 3. The gallery had the pleasure of watching to junior leaders be success receiving Prize 1 for their dogs. Sixteen year old Jeffery Conger lead Basil vom Hochland to a Prize one. Malia Jacob, twelve years old, lead Catja von der Niederheid to a Prize 1.
In the Zuchtschau Saturday afternoon there were a total of fourteen dogs. Each of the Junior male and females received a SG rating (SG is all a Junior can receive). In the Rüde (male) Class Bodin vom Hochland was the SG1Rüde and Bronco vom Hochland SG2. In the Hündin (female) Class Braya vom Hochland was the SG1 Hündin, Bee vom Hochland SG2, Catja von der Niederheide SG3, Basil vom Hochland SG4, and Chloe von den Sieben Sohnen SG5. Spezialzuchtrichter Jeff Martin evaluated the dogs in both classes. Click here to continue reading.....

Well, it's time to help ourselves and benefit the educational efforts of the Deutsch-Kurzhaar Group North America (DKGNA), a 501(c)(3) non-profit. The group's annual raffle is here and the prizes are phenomenal.
For starters, the lucky winners will have his/her choice of three great prizes. First a four person three-day hunt at Hunt Oregon, LLC, near Pendleton, OR, (valued at $12,000). Second a Berretta 686 Silver Pigeon over/under shotgun. This is a two-barrel set – 20/28 gauge - valued at $3,675. Third, a two person two day wild boar and quail hunt at Alger Flats Outfitters, in Perdues Hill, AL. Click here to view Raffle Flyer.
The Hunt Oregon trip is for four hunters for three days and four nights. All meals and lodging for the hunt are included and there is a daily hosted open bar. Hunts take place on the Cunningham Sheep Company ranch, famous for its upland bird habitat and wild bird numbers. This is one of the oldest family-owned ranches in Oregon and has only been hunted by the family and their friends until recently. The trip includes transportation to and from the Pasco, WA, airport and bird processing is included. Hunters are responsible for their licenses and ammunition.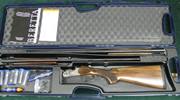 The Berretta 686 Silver Pigeon over/under shotgun is a two-barrel set – 20/28 gauges, the perfect gun for an upland bird hunter.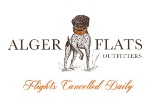 The Alger Flats Outfitter hunt is for two hunters for two days and three nights. All meals are included. The hunt includes the opportunity for wild boar and quail.
Winners for the raffle will be drawn in November 2018 or when the number of sold tickets reaches 125. Tickets are $100 each and all proceeds benefit DKGNA events and its educational efforts.
The first person drawn in the raffle gets his/her choice of the top prize; the second person drawn gets second choice; the third person drawn gets third choice.
This is the only fund-raising event held by the DKGNA each year and the funds support the group's testing, training and educational activities. Each DKGNA member will be receive four raffle tickets which the board hopes the members will purchase or sell to a friend or relative.
Members are encouraged to split the cost of the ticket(s) with friends, family, hunting buddies, co-workers and others.
~~~~~~~~~~~~~~~~~
Member Profile
by Gil Dueck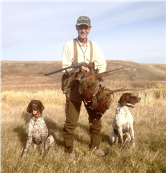 I grew up on a small dairy farm 60 miles East of Vancouver B.C. My earliest memories of hunting were with my father in the fields around our farm for ducks and pheasants. Our dog was a springer-collie cross that loved to flush pheasants but was hard mouthed and a reluctant retriever.
As a teenager I hunted ducks and pheasants without a dog. During my 2nd year at university I happened upon a litter of shorthairs and couldn't say no to a solid liver bitch. During the hunting season I probably hunted more than I studied and this gave her many opportunities to learn by osmosis as I had never hunted with a competent dog. None of my hunting buddies had dogs (and do not even to this day) giving her many bird experiences. I unfortunately lost her to an auto accident as a young dog.
Soon after this I was married (no connection between dog loss and this event) and Susan and I lived in a Vancouver apartment while we finished our degrees (I a teacher and Susan a registered nurse). After graduation we headed back to our country roots and decided to buy a Golden Retriever. A year later we had two Goldens, one of which became a field champion as a 3 year old.
In 1980 I decided to leave teaching and join the expanding family dairy farm. As a farmer I could find a few hours each day to hunt ducks and geese. Pheasants had by then disappeared mostly due to a loss of habitat. I stopped competing in retriever field trials as they became more and more technical and were a poor reflection of my hunting needs. In 2000 I acquired another Golden and this time competed in hunt tests. At this time I met Barry Kolodychuk who was instrumental in our success (Master Hunter Cert). My farm business was now more established and this gave me time to hunt upland birds in the Canadian prairies. Here I connected with another dog trainer friend. After hunting together he commented, 'Stop trying to overly manage your flushing dog. Alberta is big country. If you want to find birds your dog must be allowed to range far and wide. "Go big or go home". I soon had a wide ranging Golden and I did a lot of running whenever I saw him get on a bird. Being somewhat younger I enjoyed the challenge. As 60 approached I found it more difficult to keep up and after several falls from badger holes and uneven ground while running. I worried about injury, especially after breaking a gun stock while falling. Maybe a pointer should be part of my future.
I had always taken a keen interest in breeding cattle and spent a great deal of time studying pedigrees as I searched for the best sires to enhance my herd for both type and milk production. I did some research as I firmed up my decision to buy a GSP. After talking to some dog people I bought a shorthair with quite a few F.C. in his pedigree and a few German imports. The breeder talked enthusiastically about these, 'German imports'.
It wasn't until the boredom of a beach holiday to Mexico had me surfing the net and I happened upon the Deutsch Kurzhaar Verband site. While looking through the dogs and puppies for sale area, I gradually came to understand the German system of testing. It impressed me that a dog had to qualify by meeting a standard for field work and conformation before a litter could be registered. I next noticed that some of the qualified sires were owned by North Americans. The closest one was in Walla Walla so I couldn't wait to see these German Imports. Further research led me to the Trocken Bach site. I was impressed by the depth of pedigree on the females owned by this kennel. When purchasing brood stock for the dairy my first place to look for strength in a pedigree is on the bottom side, the theory being that you can always find good males - it only takes a few to cover a large number of females but strong performing lines of females are much harder to come by. I took the plunge and bought a DK, Kora vom Trocken Bach. The testing program has been a challenge especially the fur and blood tracking components, which I had never done. Click here to continue reading....
Join the DKGNA

The Deutsch-Kurzhaar Club North America has been formally approved by the DKV and looks forward to becoming a trusted and vibrant promoter of the Deutsch-Kurzhaar in North America.
The DKGNA Board of Directors continues to work hard to position the club for success. It is our hope that the DKGNA will be a model club where DK enthusiasts can work together to educate all interested persons in the techniques of training, breeding and caring for Deutsch-Kurzhaar dogs; to conduct tests; to promote responsible breeding of DK's; foster, improve, promote, and protect the DK's in North America; and promote the interest of wildlife by fostering ethical hunting and the conservation of game through educational programs, the use of properly trained hunting dogs, and other means.
In an effort to promote youth participation in the DKGNA the Board of Directors has established a special category for members 17 years of age and under. These Youth members will pay half of the regular dues fees and be non-voting member same as family members.
To become a member of the DKGNA please complete the membership application form by clicking – Membership Application. This fillable form will work in you Internet Explorer or Chrome browser, it will not work in Fire Fox. You can submit electronically and you will be billed and can submit payment through PayPal. You can also print your application, enclose a check, and mail the package to the address on the application.
"When you win, say nothing. When you lose, say less."
~~~~~~~~~~~~~~~~
Reproduction of any contents by permission only