NC4P MEDIA STATEMENT
National Coalition 4 Palestine on the passing of Ahmed Kathrada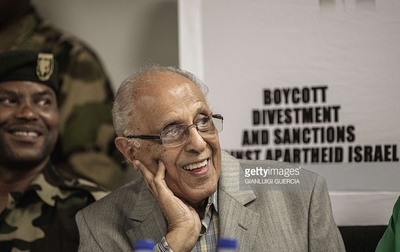 28 March 2017
Today, the National Coalition for Palestine (NC4P) mourns, celebrates and give thanks for the life of one of South Africa's greatest leaders, Ahmed Kathrada. We mourn a staunch friend of the Palestinian struggle and the BDS movement. In 2013 he wrote: "years ago, amidst world-wide acclamation and celebration, apartheid was thrown into the dustbins of history. It is therefore ironic, but greatly distressing that it still flourishes only in one single country - Israel."
Whenever Palestinians visited South Africa, his gracious hospitality would convey to them his and South Africa's deep intuition that our freedom and theirs are interlinked. Palestinians would always know that his expression of solidarity was principled and authentic. This is his legacy, and we will carry that into the future as we constantly deepen our solidarity with the Palestinian people.
We convey our condolences to comrade Barbara Hogan and the rest of his family as well as members of the Ahmed Kathrada Foundation. While he was one of the fathers of our nation, he was also a relative and a friend and we will miss his guiding hand in our national life.
May we pick up the baton that he has passed on to us with the same humility and dignity. We commit ourselves to protect and deepen the freedom for which he and others selflessly fought for and we recommit ourselves to the total liberation of the Palestinian people, whom uncle Kathy loved deeply. Hamba Kahle, comrade Kathy! Your legacy will live in our hearts….
Reverend Edwin Arrison, Chairperson of the National Coalition 4 Palestine (NC4P)
For Comment: 0847351835 / 0740543826
FIND THIS STATEMENT ONLINE: Click here
The NC4P is a coalition of various South African human rights organizations, trade unions, faith based groups and other associations.