If you cannot view this BAP E-Blast correctly CLICK HERE and click on
ZAP MAMA AND ANTIBALAS FOR ONE NIGHT ONLY, WEDNESDAY, FEBRUARY 4TH, 2015 AT 7:30PM AT THE BYHAM THEATER!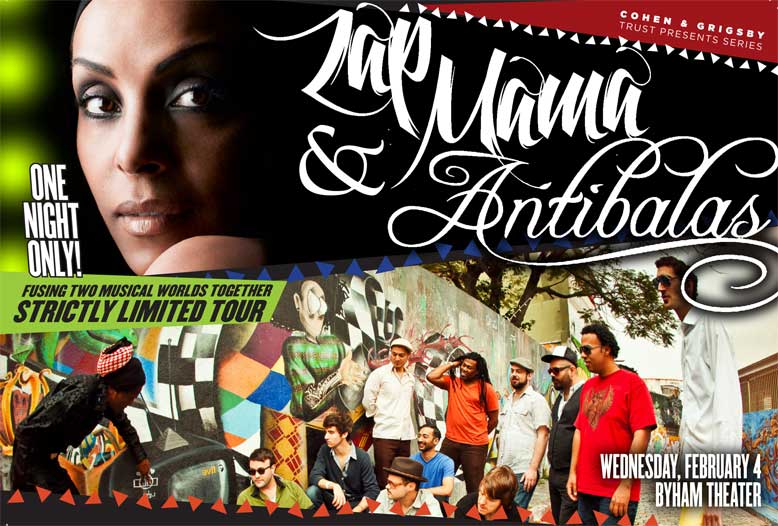 COHEN & GRISBY
TRUST PRESENTS SERIES
ZAP MAMA & ANTIBALAS
BYHAM THEATER
FEBRUARY 4, 2015

Known to her fans as Zap Mama, Marie Daulne began as the leader and founder of a female vocal polyphonic quintet that succeeded worldwide and has since evolved into a variety of configurations approaching Urban, Jazz, American Soul and Afro-Pop Music styles. Redefining the term "vocalist" Marie Daulne is more than a singer; she is a sonic stylist, who alternates between storytelling and creative vocal expression. Using the organic tone of the human voice, Zap Mama has developed her sound for over 20 years, inspiring diverse audiences around the world.
Collaborating for the first time ever, Zap Mama and Antibalas will come together to celebrate the evolution of contemporary Afro music. From Afrobeat to Afro-Pop music, Zap Mama mixes African vocal techniques with European polyphony while Antibalas effortlessly seams Afrobeat with New York City Latin funk and traditional drumming of Cuba and West Africa.

TICKET INFORMATION
TrustArts.org
412-456-6666
Box Office at Theater Square
Groups of 10+ 412-471-6930"