---
---
VALE
BRIGITTE MAHLER MILLS
31st January 1956 - 8th January 2018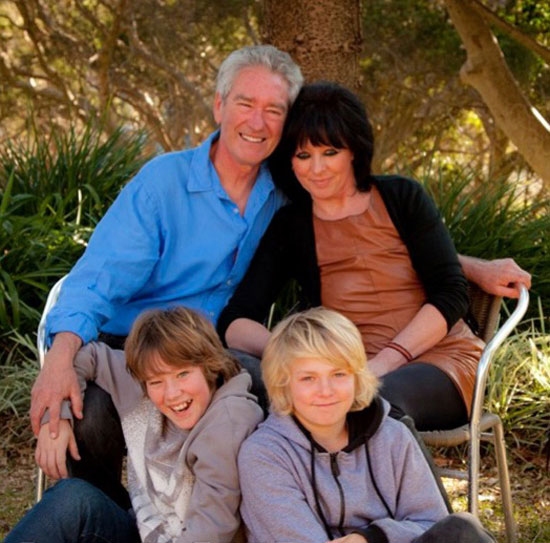 Favourite photo of the family some years ago


Our dear Biggi died on Monday evening, January 8th at 6:15pm, surrounded by love. Her boys, Justin and Anthony, and Andrew were with her at North Shore Hospital where she passed away very peacefully listening to the music of Gurramul, one of her favourite artists. Sadly, she was not at home in Lovett Bay as she had wanted, but her ashes will be scattered on her beloved Pittwater in the future.

There will be a celebration of Biggi's life on Sunday February 18th at her home in Frog Hollow, Lovett Bay.

Please email celebrating.biggi@gmail.com to RSVP for catering purposes and let us know if you will be catching the special ferry to Lovett Bay departing from Newport Wharf.

Details will be provided closer to the date..



Remembering Brigitte
The West Pittwater Community has lost a champion. Many will know that on Monday evening (8 January 2018, 3 weeks before her 62nd birthday) Brigitte Mahler-Mills peacefully passed away. She was with family and the haunting and beautiful sounds of Dr Yunupingu. She will be missed by many and the community's deep condolences go to Andrew, Anthony and Justin and the wider family and to all who knew her. 

The family called her Biggi – some called her Briggie (or Briggy) – in messages she was Brigitte or just B. We knew with whom we were corresponding. 

B was the email queen. In 2003 she was elected to the committee of the West Pittwater Community Association and remained there (with a couple of brief absences) until the end. She immediately engaged herself and made her mark by improving communications – the provision of information and the exchange of ideas – among community members and made positive suggestions for spreading information more effectively. She fed a constant stream of helpful suggestions for improvements to the way things are done. She hosted committee meetings in Frog Hollow. A suggestion from 2004 that shows B's dedication to service of the community was:

*

one thing to consider : how not to lose the valuable link to the community that was established last year when individual committee members were assigned to be the contact person for their designated areas. The big advantage being that at short notice we can act efficiently whenever community action is required without putting the burden on just a couple of people  -  as evidenced at the recent petition against the rental increases.



B constantly spurred committee members to action and there is a long electronic trail to prove it. 

The Baywatch magazine had been running for some time, but in early 2004 B produced (by email) the first "Lovett Bay – News", a message service for her local community. It was the forerunner of BaysNews, which B tirelessly produced and distributed (with a break or two, especially while the West Pittwater Community website was developing) from 28 November 2004 until the end. This was a pioneering venture that required considerable skill and effort and B is to be commended and thanked for devising this way of keeping people informed and in touch – and for keeping it up through thick and thin. B had other work to do and there were many demands on her time. 

B was also a member of the floating Christmas Choir – right up to 2017. 

On 16 December 2017 B was an enthusiastic protester, with about 60 others, against the sneaky activities on the Pasadena site. 

Brigitte was a strong, quietly engaging woman who made an impact on all who knew her. She was intellectually restless and positive. She looked for ways to break down barriers and she was industrious and effective in her work. We have been privileged to know her and will feel her loss. She would no doubt hope (as do we) that the ideas she pursued so strongly will be picked up and carried forward by others.



West Pittwater Community Association




---
---