---
Fireshed Winter Dinner - Italian Feast
Saturday 6, August from 7pm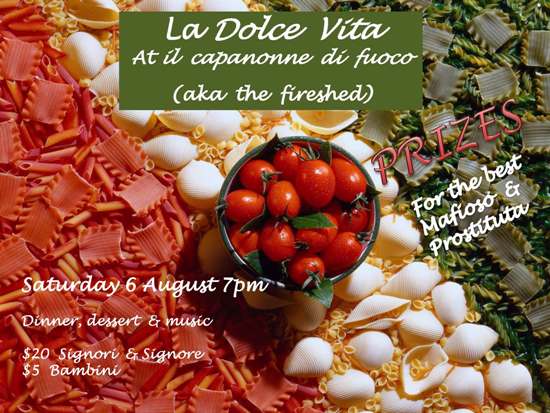 Dinner, Dessert and Music

Adults $20
Children $5
PLEASE NOTE
DUE TO TECHNICAL ISSUES - The Union Game

WILL NOT

be broadcast prior to the dinner as previously advertised.

---
Fire Brigade Training - All Welcome




Sunday 7 August from 9am


Fire Brigade training, as usual, will commence Sunday 7 August from 9am.

If anyone is interested in seeing what happens on training days please feel free to pop in.


Everyone is welcome.





---
Wood Collection from Elizabeth Park




Response to Resident Query



Just to clarify the issue, it can seem rather simplistic - banning of collection for firewood, but there is a body of evidence that shows regular removal of dead wood from bushland reserves can have ongoing impacts on the health of the ecosystem for both native animals and plants.

Collection of firewood from any of the bushland reserves is not allowed as dead wood in all its sizes is an important part of the natural ecosystem.
Collection of wood from native bushland areas has been identified by the Office of Environment and Heritage as a 'Key Threatening Process".
What this means is that the impacts of regular wood collections from bushland have an incremental and domino effect on the native plants and animals within that community to the point where species can be threatened to potential extinction within that locality.

Often residents don't realise that their small collection of firewood is only the tip of the iceberg, that their neighbours and others are also collectively having a major impact on the local bushland by each regular collecting what appears to be a relatively small amount of dead timber.

While I concur that an area burn will reduce the amount of finer fuel on the ground, a hazard reduction burn is only undertaken on a periodic basis and would occur only within a particular time frame for that vegetation community. For example within the Spotted Gum Forest, area burns are only undertaken within a minimum of a 15 year period, as anything more frequent can reduce the diversity of plant species on site. However, some manual hazard reduction usually weed control and small pile composting or removal of finer fuels off site can also be undertaken when the fine fuels (flash fuels) increase to a degree that they are considered to be a potential hazard.

Irregular fire wood collection on a small basis would probably have very little impact, however, it is the management of such collection, by many individuals that can have a combined overall impact with a negative result for the biodiversity over a period of time.  

Again dependent upon the fauna in the area, even lighter kindling and branches can be significant if reduced, to various fauna species within that locality.
Removal of larger timber including logs with hollows can have a major impact on a wide range of native fauna as these provide many options for habitat for species from insects up to the larger marsupials.

I would suggest that you only collect kindling within your property or on the road verge outside your property.

Cass Gye



---
The Three Lookouts Walk in Ku-ring-gai Chase National Park.





When -

 Sunday, 14 August starting and finishing at Morning Bay Wharf.


Starting time -

10.00 am.



General info about the walk.


This walk takes in the three major lookouts for the Bays and Scotland Island. The total length of the walk is about 16km., but there is a number of places to shorten the walk to just 8km.

This is a wonderful time of the year to catch the wild flowers.

To do the whole walk plan on 4-5 hours.  Some of the walk is cross country so good walking boots and long pants are desirable. The walk is planned so the group can wade across Towlers Bay at low tide.  This means that you need to wear shorts or bathers under those pants.

So take the ferry to Hall's Wharf or kayak or row to Morning Bay Wharf (there is very little room for power boats).  Bring a lunch and some water if you want to do the whole walk.

This walk is only suitable for people in moderate physical condition.  Because of its length and the bay crossing I believe it is unsuitable for anyone under high school age.

Paul Kinnison 999760127 or 0403144608 

Note -  This walk will be canceled if the forcaste is unfavourable.
Check the PON or call Paul if you have doubts.



---
Can anyone help?



My family having a place on the island from the 50's till it was sold in mid 1980 I have always wandered about a certain aspect of the island that no one could explain and I was hoping you could help.

We spent a lot of time playing and pumping for yabbies on the mud flats between Bell and Carol's and I remember that as the path ran along side the old oyster lease at the Bell's end of the flats there was a large rock with faces carved on it and what looked like a name under one of them. I am going back a lot of years and I hope it is still there and untouched.

Can any of your readers advise me of the origin of the carvings, who did them and when etc etc.

Richard Blundell
dickie01@optusnet.com.au


---
The Online Local Contact Guide

 Click HERE to load
The views expressed in this newsletter are not necessarily the views of the Scotland Island Residents Association (SIRA), or the Western Pittwater Community Association (WPCA)
---