10 July  2023  - Steven Hyde tells us about his recent road trip across America by motorcycle - reorganised due to another technical error
9 October 2023 - AGM plus Paul Prictor will tell us about his motorcycle tour of Mongolia

SkillShare

3 June 2023 meeting at the Dandy Highwayman Cafe Cherhill.
Bike Ride-Outs on the 3rd Saturday of every even numbered month and the 3rd Sunday of every odd numbered Month. Email will be sent out to Bikers and added to the Forum.
Next ride out Sunday 21 May  Details will be forthcoming via email to all bike members.
Do you have a topic you would like discussed, or know of an interesting speaker?  Please contact speaker at
speakers@wiltshireroadar.co.uk
Congratulations to the following members who have passed their Advanced Tests recently:
Please welcome the following to the Group

:
No new members this month
Don't forget that we have a range of clothing available to purchase. We also offer a range of books, such as Roadcraft, Motorcycle Roadcraft and the Highway Code, and these are available at discounted prices.

For more information visit the Merchandise page of our web site 
We are always looking for more articles, ideas and news for the newsletter. Have you been somewhere interesting recently that would make a good story? If you attend any group events then take a camera and send us your pictures!

Please forward all contributions to
newsletter@wiltshireroadar.co.u
k
We're on
Facebook
and
Twitter!
A big thank you to the 4 people who have volunteered to help me run the stand at the Calne Bike meet.  This means we can promote the Group at this massive event – it is good for recruiting.  Please do not just sit back and a think I do not have to bother as it is the usual suspects who are helping out.  Please if you can spare a few hours let me know and I can add you to the team.  The more we have the better, it makes it easier for those who are helping; please do something for the Group and help us – to recruit both car and bike members at the Calne Bike meet.
Those of you who read the whole newsletter (there may be 1 or 2) will notice we have no new members this month.  Whilst this is not concerning it is noticeable as the warmer weather does bring out the bikers and some car drivers.  I have no idea why this is it could be the cost of living crisis or people are not aware of us.  Please all of you mention us to at least one person this month and it may help to swell our numbers.
I hope like me you have enjoyed the fantastic weather in May; less the first week which saw me in my waterproofs most of the time!  Surprise surprise we did not have any bikers at SkillShare as it was throwing it down.   The tutors had a nice cup of coffee and a bit of cake whilst our clothing quietly dripped on the café floor!  Great to catch up.  Please remember to let people know about SkillShare (point them at the website); it is a great way for potential members to get an understanding of how we operate.  If you come across someone who cannot make the Saturdays please let either the training officers or the  committee know and we will arrange a taster session with a tutor.
Please enjoy the lovely weather but be careful with other road users looking at views and not the road and also the lush and rapidly growing foliage which restricts our view and covers road signs.
Stay safe and I hope to see some of you at our meeting on 10 July.  
Video: 
https://youtu.be/INquk_6p7jg
We will be holding a FREE and open-to-all Low-Speed training day on Sun 4th June 2023 to be held at:
Lower Car Park, Berkeley Power Station, Berkeley, GL13 9FB 
N51 41.406 W2 29.727 
What 3 Words - 
https://w3w.co/imply.private.flats
You do not have to be an advanced rider or even a member of an advanced riding group to attend. All are welcome including learner riders and all forms of road-legal powered 2-wheeler. 
The day will run from 10 a.m. to 1:30 p.m. and will include a range of low-speed riding skills and exercises designed to improve rider confidence and skill.  
A number of favourite exercises such as the snowman, figure of 8, offset cone weave, the 'W' and intersection will feature alongside braking drills and a slow race to make for an enjoyable learning experience. You will have plenty of time to learn and practise each obstacle. 
It does not matter if this is all new to you as we will be running a session to revise the basics and if you have been before there you will already know about the slow race - there really is something for everyone! 
If we set up the advanced circuit, it takes a long time to lay out, it'll look like the photo below.
Sadly, we will not be joined by Moto Gymkhana UK as they're busy elsewhere. 
Please let us know if you will be attending by e-mailing Stephen Wilkinson-Carr at 
lowspeed@solcon.33mail.com
You will not receive a reply to your message as it will be used only to give an indication of numbers potentially attending.
If you have questions, please message us through the Facebook group.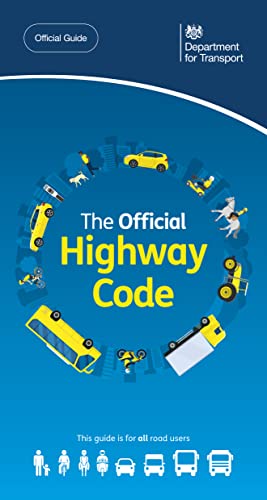 The Stationery Office  has launched a new Highway Code app.  
The app is for all road users and makes it even easier - and more fun - to keep up to date with the rules of the road. 
What's new?
Instant access to the very latest version of the Official Highway Code while on the move, on tablets and mobile devices

Quizzes and timed challenge features, that help users check their knowledge of the Highway Code and track their progress.

A voice over option enabling users to listen as well as read.
The app costs £3.99 and is available to download on both Android and iOS platforms.
Booking a Retest

Please be aware you need to book your 3 yearly retest directly with  RoSPA via the website website.  Sadly we cannot book it for you as it is all done electronically.  You may also need to check when you re-test is due if you have not been paying your subscriptions to RoADAR as they will not remind you.  
Tutors will be happy to conduct a refresh should you wish one prior to a re test.
Have you been up to anything to do with Riding or Driving lately? If so, then please let us know as we would love to include it here; photos would be great too!
Three bikers met at the Dandy Highwayman café on a warm Sunday morning for a bike ride out to Lyme Regis;  a nice warm day beaconed.  Not many riders (we also picked up another at Wilton) but I think this is due to the lateness of the calling notice due to a technical error with the coordinators laptop (it expired!).  My time and space calculation was wrong (despite my satnav telling me otherwise) and we were 20 minutes late at the RV in Wilton to meet Richard and his trusty (or so we thought) Honda Goldwing.  Fortunately for him there was a vintage car rally at Wilton House so he had lots to entertain him.
With our numbers swelled by 33% we set off down the A30.  This is a lovely drivers road which is not too busy and manages to use the outskirts of most towns.  I had planned to stop at a café near Sherbourne and I think we were ready for a break by the time we got there.  Sadly the café was closed but some of us made use of the facilities (gentlemen of a certain age!!). We resumed our journey looking or another coffee stop but non appeared and as I had not used the facilities I had to find a suitable lay by to make us of the local hedgerow.  All good until Richard tried to start his bike; his battery was flat.  We looked at his notoriously heavy bike and the location and decided we were all up to trying to jump start it.  Fortunately it was easy to push up the gentle slope and to jump stat – we we're really pleased with ourselves.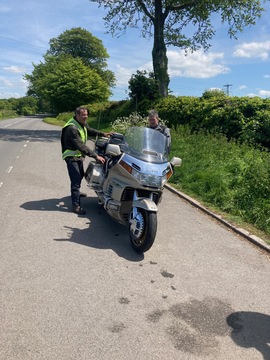 Preparing to push                                                      Richard heads home
Richard headed of home on his own despite being offered an escort and then we were three.
Lunchtime on a sunny Sunday and as you can imagine parking at Lyme Regis was at a premium.  For those of you in the know there is a bike parking area near the North Eastern end of the beach;  I was not in the know so we jumped in a parking space on the road.  With local pasties and drinks in our hand we walked the short distance to the sea front to sit on the sea wall next to the bike parking area to enjoy our lunch.  Lyme Regis is lovely and was busy but not congested.  Nice to be by the seaside.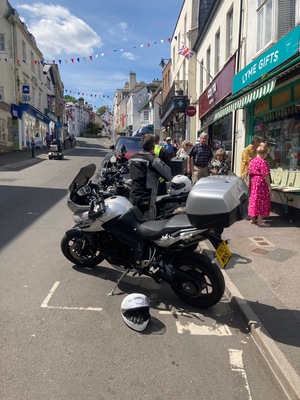 Thaking quick decision to park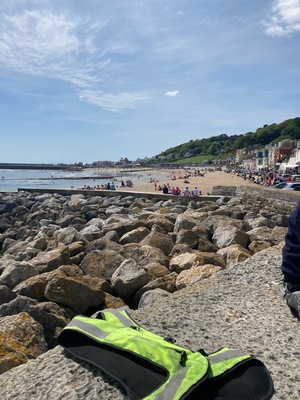 Bob's airbag enjoys the view of Lyme Regis
We chose a wiggly route via Cerne Abbas and the giant for the way home and it was nice to have some formation riding on challenging roads; all 3 of us making safe progress.  We used faster roads from Wincanton and parted company after a coffee at Warminster Services.  Richard had checked in with us to let us know he had arrive home safely.   I arrived home at around 5 pm having covered 195 miles of lovely riding  - all for lunch by the sea.  
Trip to Northern Ireland
Twelve members set off for a trip in Northern Ireland.  The trip had been arranged to try and coincide with the North West 200 road racing so accommodation was booked near Portrush.  9 members on 6 bikes and 3 members in a car (aka the mothership) took various routes to get to the base.  I opted for the long ride to Scotland so Sian and I could visit relatives before the wet ride to the ferry at Cairnryan.  Thank fully this was the last time I wore my waterproof clothing.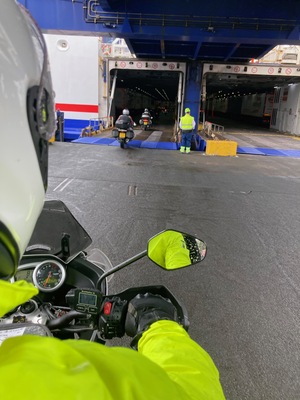 Carefully riding onto the ferry - it was wet
Our base was fantastic and swallowed all of us with room to spare – my first real experience of Airbnb and it was perfect.  We had road trips on most days to cover lots of Northern Ireland and even a trip up North to Southern Ireland in Donegal; Malin Head is the most northerly point on the island of Ireland.  Marconi also set up one of his first radio systems here to help with the tracking of shipping for Lloyds of London.  
The first day saw us cover the North Coast of Northern Ireland (some by bike and others on foot as they had toured Ireland just to get to Portrush).  Blessed with Lovely weather and a visit to the Giant's Causeway we had fantastic fish and chips at Ballycastle before heading on some very small roads to Torr Head (another ship observation point for which Marconi extended his reach) .  A sudden realisation of a mobile phone left in Ballycastle saw us head back – the phone was found where we had left it  and so we had  celebratory ice cream.  All in all great riding, good food and good company which was the theme for the whole trip really.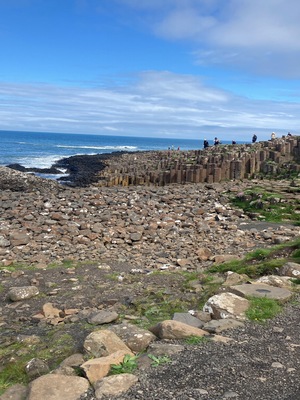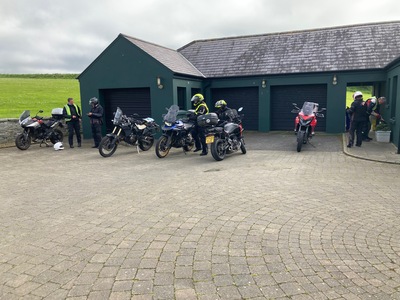 NW200 final practice and the first racing was held on the Thursday after we arrived and a few of us walked the 1.4 miles to the Magherabuoy chicane to watch the racing.  These boys and girls are mad.  The speed they ride and the proximity to each other is scary and most of them stay on.  Accidents do happen and many of the races we watched were stopped due to incidents to allow riders and debris to be safely removed from the track.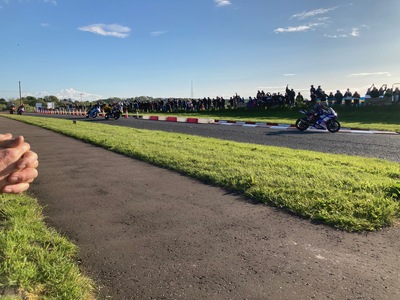 We rode together and separately and routes I took included the 'Ards Peninsular (where Sian and I did some of our courting). A trip round Lough Neagh ( the largest fresh water lake in the UK and British Isles) and watching the racing on the Saturday of the NW 200.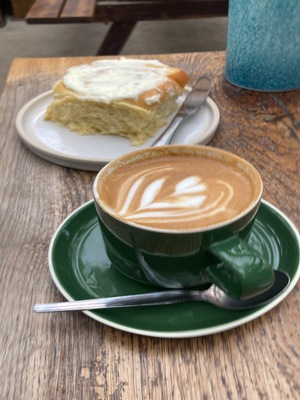 Coffee and the best cineman buns ever! 
The people of Northern Ireland (and Ireland ) are really welcoming, particularly of motorcyclists during the road racing, and were friendly and interested in where we had come form and where we were going.  Lots of advice and hints and tips of where to go and what to see.  The racing was impressive and has to bee seen live to be believed. The roads were great and the scenery really lovely.  It was a great way to spend time away from home.  Whilst the journey back was a long one we arrived home happy and looking for more adventure.  In my case  1600 miles covered in 10 days, most of it with a (long suffering) pillion.  I am already looking for another excuse to go back to Ireland.
The amazing Dunlop Family memorial garden in Ballymoney.  The writing on the wall in the background are all the races Joey Dunlop won in his career.  There are also statues to his brotheer Robert and nephew William who were also killed road racing.  Another nephew Michael is still racing and has won over 20 TT races. I  cannot imagine being a mother in this family!
Driven Ohm Racing

The second round of the season was on May Day bank holiday. We arrived with the lead of the class in our back pocket after the two wins last time out. The May round was just a single Hot Hatch race, plus the annual Dave Allan Trophy race.
We were Fielding just the one car for me as we had no guest drives booked.
I managed 3rd in class in qualifying for the Hot Hatch, but hopeful of moving up at least one spot in the race. The race started well, and after a lap or so I was tight in behind the second placed Mini with the class leader just two cars further ahead. On the third lap or so the car started feeling loose at the back on the left side. I suspected at damaged tyre, but it turned out to be a puncture of all things. I had to retire and score "null points".
Hoping for some decent times during the Dave Allan Trophy race we set off for the 40 minute race. The class groupings have changed since last year, so instead of being high up in class 4, I was 8 of 9 in class 3.
The race proved hard work in the heat, but I battled through to 4th, just missing out on a podium spot.
Some issues were diagnosed with the car after the puncture, some unwanted metal rubbing on the tyre in the rear arches, and a rather soggy suspension set up.
Since the race, weve had some surplus metal removed, and a complete new set of Bilstein race shocks have been installed. We noticed excess wear on thd brake pads so have fitted a harder pad compound for more heat resistance.
Hopefully we will be fighting fit for the Summer Spectacular on June 11th. Another double header!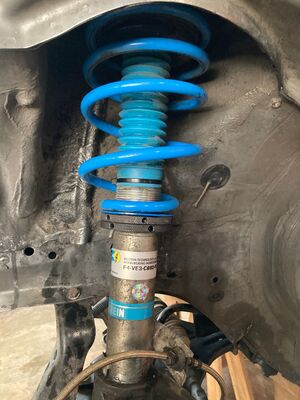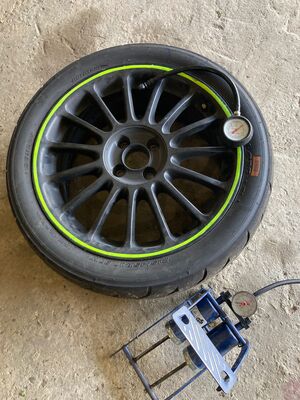 Road Safety GB Survey

Road Safety GB have conducted a survey about speeding on rural roads.  To the editor the results are not surprising but would be if all the rural roads were as the one pictured in th article which can be found
here
Those of you with an interest will see there are some comments on this article which was published in Feb 2023.  I included this for interest only and am not entering into the discussions!!
Due to GDPR we are required to remove an individual's details from our Group database when they are no longer required by us.  We remove a lapsed member's details if they have not paid a subscription by the 31 Dec following the AGM (3 months after the subscriptions are due).  If a member has forgotten to pay their subs and pays after 31 Dec we will require a joining form to be completed so we can replace them on the database.
It all seems a bit strange, but we do not want to get on the wrong side of the Government's Information Commissioner.  We understand if members forget or are late with their subscriptions, but please help us to keep our database accurate and compliant.
This is, of course, separate to those of you who maintain a membership with RoADAR HQ.
Call for Bikers from Severn Freewheelers

Many of you will be aware of Severn Freewheelers, the blood bike charity that provides its free service to the NHS and specifically the Great Western Trust (GWH)  at Swindon. Partly as a result of the Trust's response to COVID and the service being better understood by the Trust, the workload now means we have two bikes serving the area. Last year we undertook over 2000 jobs for the Swindon Trust. Overall Severn Freewheelers did over 7000 tasks.
This is a request primarily seeking riders to help support our operation going forward. Naturally over time people fall away as their circumstances change, they move away or indeed decide this is no longer for them.
The service runs 1900hrs to 0700hrs weekdays and 24 hrs at weekends and public holidays. A typical duty is Wednesday evening till Saturday evening or Saturday until the Wednesday. You would keep the bike at home until you handover to the next rider. The bikes are the latest BMW RTs.
A new rider needs to have undertaken his or her advanced test in the last three years and is required to be retested every three years. In addition, there would be a check ride undertaken on joining and further periodic check rides with a nominated assessor. Managing the risks within the operation is a core value of the charity. There are of course other roles as coordinators and fund raisers and riders are expected to contribute beyond simply riding which is vital to maintain the service. From a response basis, riders need to live within 25 miles of the Great Western Hospital. Training is provided for all new members.
If this is of interest, please feel free to get in touch.
Promotional activities
Calne Bike Meet - 29 July.
We have booked a stand or this huge event which provides an opportunity to recruit both drivers and riders.  Please put it in your diary and come and help us populate the stand to improve recruiting for the Group
If you have any ideas for events, then please get in touch with the committee using the committee email address :
Look forward to hearing and discussing your ideas.
A generic set of slides has been created for use if you are asked about Wiltshire RoADAR and have the opportunity to present. This could be at a local club, workplace etc. Please send a mail to committee@wiltshireroadar.co.uk  
and the slides will be sent over to you.
We also have flyers and business cards so ask for these via the same means.
Media coordinator - Help us to broaden our reach

To help promote the group we have a variety of online media platforms, Facebook, YouTube, Instagram and Twitter. To help make the most out of the opportunities that these outlets provide, we could use some help from someone who has experience of using such tools. Drop me a line at secretary@wiltshireroadar.co.uk  if you would be interested in helping promote our group.
These are available from the Group Secretary if any member wishes to see them. If you are interested in reading the minutes, then please send a mail to the Group Secretary whom will promptly forward them onto you.
Forum
Please could all Members use the 
Forum
 on the Website which can be used for any purpose but particularly coordinating events, hints, tips and general conversation.  It is easy to register on the website so please do log on and chat away.
Test results 
Reminder to let the Membership Secretary and your tutor know when you have taken your Advanced Driving/Riding Test and result. This is so our database is kept up to date; there is no need or pressure at all to have the result published on the website or in this newsletter if you wish to keep your result confidential.  
If you have read this far, thanks! If you have any feedback or suggestions about content for your newsletter, then drop us a line at newsletter@wiltshireroadar.co.uk   If you can't leave constructive feedback though, then we don't want to hear from you!