Finishing up and finishing well.
It's hard to believe our time in Kabul is drawing to a close… today is our last full day on the ground here. We decided once again to take advantage of the school closures and finish up the last bit of painting and computer setup at the school for street kids.
Jake and Jim headed to the computer lab to try to get the last few computers powered up and online, Zeke and David tackled the painting of the principal's office, and Brad and Dan headed downstairs to paint the last few critter caricatures in the dining room.
All of us were joined by staff from the school and our partner organization who have worked all week with us rather than take the week off due to the Jirga. And to save time Naeem prepared a wonderful lunch and had it delivered to the school so we could eat on the fly. And it paid off because we actually finished by mid-afternoon.
Our early finish meant we would be able to head to Chicken Street before dinner to pick up some souvenirs and gifts from Afghanistan to bring home. I was also thankful for the opportunity to visit with some old friends in the neighborhood like Abdul Rauf, Ahmad Shakib, and Amar Khan whom I've known since my first visit to Kabul in 2008.
Since this would be our last night in Kabul, after dinner we held a team debriefing to talk about the high points, low points, and other events of the week. It was a bit surprising to hear how all seven men on the team experienced different highs and lows. It was also gratifying to hear that everyone's fondest moments weren't about the places we went, things we saw, or even what we did – all of which are important and wonderful – but everyone said what meant even more were the people they met, the connections they made, and the friendships that were forged. As a Team Leader it's really satisfying to hear that your team totally "gets it."
That's all I have to report for today. We have a couple small projects to take care of in the morning and then we'll head to KBL to begin the long trek home.
Thank you for all your prayers this week. We feel incredibly blessed to have so much support from our families and friends back home.
--Bob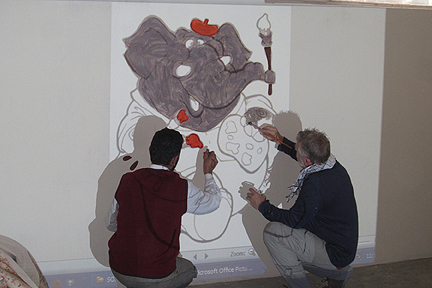 Dan and a friend from the staff recreate Dan's sketches on the dining room walls.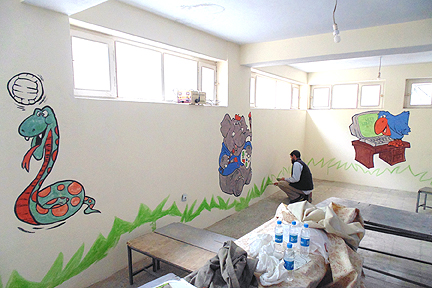 Brad added some final touches to the critter collection.
We can't wait to see these kids off the streets and back in the school again!