Drone Fest Monday 13 Sep - see main below for details

Being

planned

for post COVID-19 lockdown

Skillshare

7 August 2021 at The Haven Cafe, Firsdown, Salisbury, SP5 1ST
Bike Ride-Outs  on the 3rd Saturday of every even numbered month and the 3rd Sunday of every odd numbered Month. Email will be sent out to Bikers and added to the Forum.
Do you have a topic you would like discussed, or know of an interesting speaker?  Please contact Les Brown at
speakers@wiltshireroadar.co.uk 
Congratulations to the following members who have passed their Advanced Tests recently:
Please welcome the following to the Group
:
Don't forget that we have a range of clothing available to purchase. 
We also offer a range of books, such as Roadcraft, Motorcycle Roadcraft and the Highway Code, and these are available at discounted prices.

For more information visit the Merchandise page of our web site at www.wiltshireroadar.co.uk.
We are always looking for more articles, ideas and news for the newsletter. Have you been somewhere interesting recently that would make a good story? If you attend any group events then take a camera and send us your pictures!

Please forward all contributions to newsletter@wiltshireroadar.co.uk
We're now on
Facebook
AND
Twitter!
So pleased the Government has been able to remove some of the restrictions which have been constraining how we operate.  Given we still need to be careful though I think we will be looking at a "new normal" rather than just returning life as it was pre pandemic.
Given this we are retiring the tutoring protocols and putting the risk assessments on ice (although keeping them close in case we need to re-visit).  This does not mean we can just crack on and I advise caution and recommend the use of face masks (particularly for car tutors) and social distancing where possible.  This is left to your judgement so please act safely or you and others.
We have scheduled our first Monday meeting on 13 September which will be a drone extravaganza kindly hosted by Peter Milner at his Drone school – the Secretary has sent out details separately so please come along; it will be good to see you face to face.
A reminder the AGM will be held on 11 Oct.  This is an essential part of our Governance so please support this.  I have been Chair for a few years now so if there is anyone who is willing to take over please feel free to do so or even hold a coup on the day.  I can continue but I sense it is time for a change.
Please also remember to support Gary Franks at his race meetings – See Driven Ohm Racing update later in the Newsletter.  This is a great opportunity to promote the Group so if you can pop along, support Gary and promote Wiltshire RoADAR please do – we have all the promotional material you may need to just get in touch with the committee.
I look forward to seeing some of you face to face in the very near future so please remain careful in the meantime.
Bob
Help  - we need a new Membership Secretary
Gary Franks needs to relinquish his role as Membership Secretary; his work is taking him away from home much more than expected.   Please consider taking on this role to help the Group prosper.  It is not too onerous ( Gary has streamlined the process to make it very straight forward) and he is willing to offer all traiing and  suprevision.
Please if you can provide a few hours per month do volunteer and do not leave the running of the Group to the same old faces.  If you want to find out more please do get in touch with Gary ( he promised not to talk exclusively about Driven Ohm racing!).
Gary is the only car member on the Committee so here is a chance to influence how we operate as well.
Bob Fram

AGM - almost that time of year again!
An early heads up that our AGM is scheduled for 7:30 pm Monday October 11.
Following several years in position doing sterling work for the group, a number of committee members will be standing down from key positions.
Please consider if you would like to contribute to the running of the group by volunteering a couple of hours a month.
Drone Fest - Monday 13 September
Something different to get us all together again! Drone Fest will take place on our first group meeting in 18 months or so down at Phoenix UAV Centre at Norton St Philip,
BA2 7NG near Bath.  http://phoenixuavcentre.co.uk/     
Current outline
6:30pm arrive, tea/coffee and chat.
7:00pm presentation in the training room on drone history, types of drone, how they fit in to the aviation sector as a whole and their ever improving technology.
7:45pm Tea/Coffee & a few nibbles.
8pm Trial flights for those that would like a go
9:30pm Drone Night Flying Demonstration for those that would like to hang around that late
10:00pm Finish, say our good byes and depart.
Forum entry in members only section here:-
Regards - Mark
Have you been up to anything to do with Riding or Driving lately? If so, then please let us know as we would love to include it here; photos would be great too!

 Driven Ohm Racing
Follow our progress on Facebook @Driven.Ohm.Racing.
Please let us know of any plans you may have; any road trips, any places to drive/ride to; maybe you have plans to unicycle the length of the UK - if you are planning this, please let us know as this would be great to read about!
Update from RoADAR HQ
Dear Chairmen and Secretaries,
After a long and varied career with RoSPA, Amy Brant will be leaving at the end of the month to pursue new opportunities and we wish Amy all the best.
These are exciting opportunities to update, improve and simplify the portfolio of training and qualifications that we provide to RoADAR volunteers and I am pleased to confirm that Andy Nixon (current RoADAR Regional Senior Examiner) will be supporting RoSPA with RoADAR membership, policy and development with immediate effect.
All queries should be directed to furtherinfo@rospa.com as before and will be picked up by either Jacqui Adams or Becki Evans.
Tracey Rudge MCIPD
Books!
Updates to Roadcraft are here!
Motorcycle Roadcraft is the police handbook for rider training. It's used by all the emergency services and forms a key reference for riding instructors.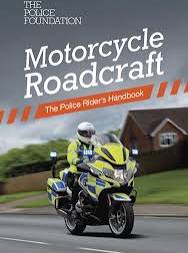 Updates for this new edition include a new overtaking chapter with separate sections on passing stationary vehicles, single stage overtakes, and multi-stage overtakes and new explanations of advanced concepts, such as limit points on left-hand bends. Guided by a working group of experienced instructors, Motorcycle Roadcraft is essential learning for police officers preparing for the demands of operational riding.

Roadcraft is the police handbook for driver training. It's used by all the emergency services and forms reference for driving instructors.
Updates for this new edition include a new overtaking chapter with separate sections on passing stationary vehicles, single stage overtakes, and multi-stage overtakes and new explanations of advanced concepts, such as limit points on left-hand bends.

Guided by a working group of experienced instructors, Roadcraft is essential learning for police officers preparing for the demands of operational driving.
We do have a few of the old Roadcraft books for both Cars and Bikes - if you would like one, please get in touch with the membership secretary. For these books we would appreciate a donation of £5 to the group which is less than half price. 
Group Meetings and look ahead - September Drone Fest

We will be holding our next monthly meeting
on 13 September
see Drone Fest above!
Les is working hard to identify. speakers who will be able to attend meetings when they resume.  if you have any ideas please let him know at speakers@wiltshireroadar.co.uk
Promotional activities
Wiltshire Police have proposed dates or BikeSafe:

We will be supporting Wiltshire Police with BikeSafe both with tutors to make up the instructor numbers and to help promote the Group.  We do this in conjunction with WABAM so it is a great way to reinforce advanced riding and to gather new members.
Proposed Promotional activities 2021
Outline events for next year are below, all of which will need member support so please do help us promote our Group:
Promote the Group at Castle Combe race circuit - Bikes and Cars.  Make best use of Gary's RoADAR Wiltshire Racing antics to spread the word.

We will continue to seek support from Wiltshire Council Road Safety Committee.

Attend the Emergency Services Show should it go ahead.
I
f you have any ideas for events, then please get in touch with the committee using the committee email address
:
Look forward to hearing and discussing your ideas.
A generic set of slides has been created for use if you are asked about Wiltshire RoADAR and have the opportunity to present. This could be at a local club, workplace etc. Please send a mail to committee@wiltshireroadar.co.uk  
and the slides will be sent over to you.
We also have flyers and business cards so ask for these via the same means

First Aid Training - COVID-19 dependant -

sometime soon - to be organised



It is intended to provide a first aid training day (subsidised by the Group).  This is highly recommended for all tutors as part of our responsibilities for the safety of our associates but also an excellent skill for all of us; you never know when you will need it.  It is compulsory training for me at work and one of my colleagues saved her husband's life as she had first aid training.
This will probably be on a Sunday as soon as we can after the lockdown; we have 15 already interesteds. Watch this space for more (we will communicate with those who have registered an interest directly). It is not too late to register interest (this does not commit you) so email the Chairman if you wish to be included.

 
Media coordinator - Help us to broaden our reach

To help promote the group we have a variety of online media platforms, FaceBook, YouTube, Instagram and Twitter. To help make the most out of the opportunities that these outlets provide, we could use some help from someone who has experience of using such tools. Drop me a line at secretary@wiltshireroadar.co.uk  if you would be interested in helping promote our group.
Committee minutes 
These are available from the Group Secretary if any member wishes to see them. If you are interested in reading the minutes, then please send a mail to the Group Secretary whom will promptly forward them onto you.
Forum
Please could all Members use the Forum on the Website which can be used for any purpose but particularly coordinating events, hints, tips and general conversation.  It is easy to register on the website so please do log on and chat away.
Test results 
Reminder to let the Membership Secretary and your tutor know when you have taken your Advanced Driving/Riding Test and result. This is so our database is kept up to date; there is no need or pressure at all to have the result published on the website or in this newsletter if you wish to keep your result confidential.