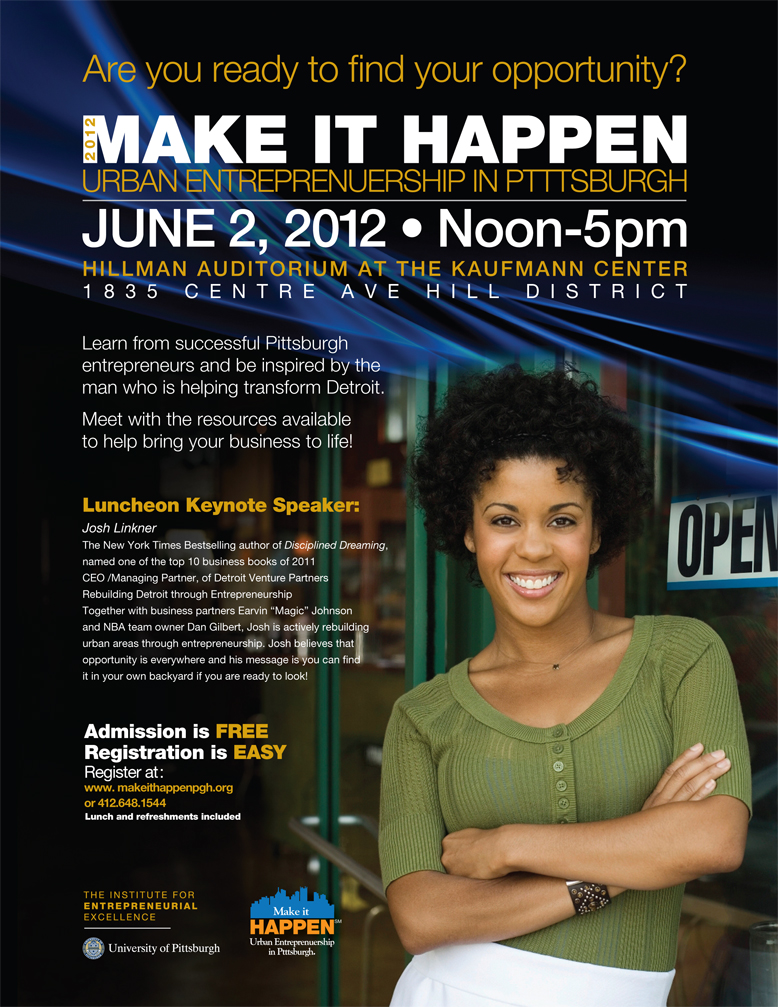 Are You an Aspiring Business Owner?
Are You Ready to Bring Your Vision to Life?
This Is Your Opportunity to Make It Happen!
On Saturday, June 2nd at the
MAKE IT HAPPEN!
FREE Entreprenuer Conference at the
Hillman Auditorium at the Kaufmann Center
1835 Centre Avenue, Pittsburgh, PA 15219
12pm-5pm
Registration is Required.
Learn from successful Pittsburgh entrepreneurs and be inspired by the man who is helping transform Detroit.
Meet with the resources available to help bring your business to life!
Luncheon Keynote Speaker:
Josh Linker
The New York Times Bestselling author of Disciplined Dreaming, named one of the top 10 business books of 2011 CEO/Managing Partner, of Detroit Venture Partners Rebuilding Detroit through Entrepreneurship Together with business partners Earvin "Magic" Johnson and NBA team own Dan Gilbert, Josh is actively rebuilding urban areas through entrepreneurship. Josh believes that opportunity is everywhere and his message is you can find it in your own backyard if you are ready to look!
Conference Agenda:
Learn from successful Pittsburgh entreprenuers as they share their story:
Beauty Mark | Shirley Anderson
Shelton Masonry | Steve Shelton
Sassy Gourmet Sauces | Adrienne Brown
Soul Pitt | Donna Baxter
Hug Me Tight Childlife Center | Emma Pipkins
Cosmos Technologies | Frederick Douglas
Artistry Greenscapes | Kenn Ross
Onsite Resource Center to help your start-up includes representatives from:
Bridgeway Capital
CEED
Fifth Third Bank
Hill Credit Union
Innovation Works
Institute for Entrepreneurial Excellence
PNC Bank
RFDC (Regional Financial Development Corp)
AND
Pittsburgh Gateways, developers of the Connelly School as a leading energy center for entrepreneurs in the Hill
For participants who have the best idea of the day
a drawing for 4 Pirate
Club level tickets/parking
June 9th includes the Boyz II Men Concert
June 24 Detroit Tigers
Hillman Auditorium at the Kaufmann Center
1835 Centre Avenue, Pittsburgh, PA 15219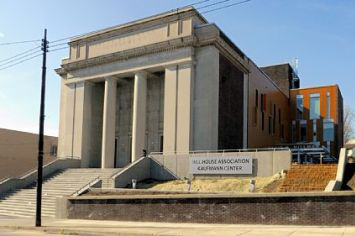 Admission is FREE
Registration is EASY
Register at:
www.makeithappenpgh.org
or 412.648.1544
Lunch and refreshments included

In today's economy, entrepreneurs face enormous hurdles-especially those in urban neighborhoods which may not have participated in the growth period before the current recession. These entrepreneurs may have good ideas and passion but not a great deal of money or credit. By showcasing entrepreneurs who built successful businesses with little or no cash and a huge amount of passion, we're hoping to provide inspiration as well as practice tips for how urban entrepreneurs can begin their businesses and succeed.

The Make It Happen Conference will be held at the Kaufmann Center at the Hill House Association (1835 Centre Avenue, Pittsburgh, PA 15219) on June 2, 2012. The Conference will begin with lunch and a keynote speaker and then move to showcase individual business owners who had an idea and pursued their dream regardless of their initial start-up capital. The showcase will go from 1:00 pm to approximately 4:30 pm. In this time, entrepreneurs would tell their stories to groups of people in a "speed dating" kind of environment.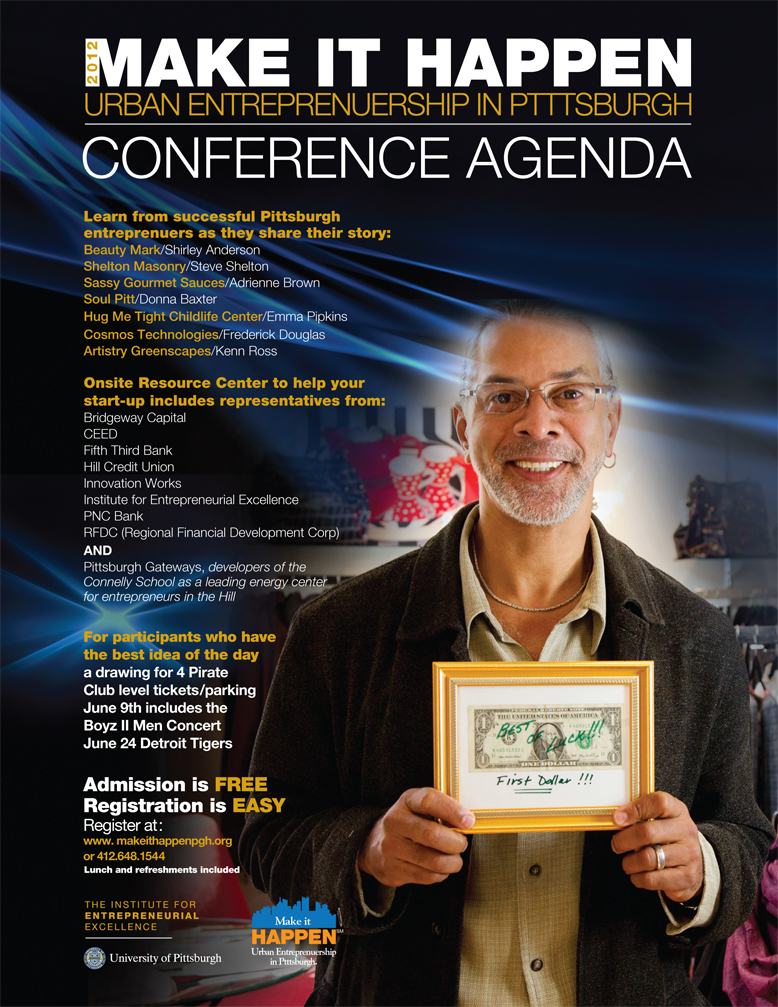 Admission is FREE
Registration is EASY
Register at:
www.makeithappenpgh.org
or 412.648.1544
Lunch and refreshments included