---
---
Scotland Island Dog Race
It's on again!
Same time same place
Christmas Eve 6pm @ Church Point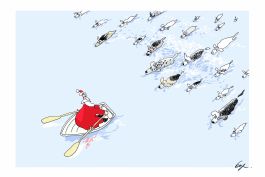 DETAILS:
Register your Dog from 2;30 to 5:30pm
Entry fee is 1 Longneck (Cold!) and 1 x Large Tin Dog Food
Official starting time 6pm (or thereabouts)
---
Xmas overflow @ Pittwater YHA
Pittwater YHA has accommodation until the 26th December so if you have an overflow of family and friends


Pittwater YHA
Managers Sarah Polomka & Michael Doherty
p: (02) 9999 5748 (8-11 am and 5-8 pm)
w: http://www.yha.com.au/hostels/nsw/sydney-surrounds/pittwater/




---
The Festive Season is here!

Mona Vale Veterinary Hospital

Opening hours over the Christmas New Year Period
After hours treatment when we are closed - Northside Emergency Vet Service (NEVS) NEW LOCATION IN TERREY HILLS
Christmas & New Year consulting hours:



We will be closed for a few days here and there over the Christmas/New Year Period, however most days we will be open for normal consulting hours.

Opening hours are listed below, but these will also be included on our website and recorded on our answering machine should you need them.

Wednesday 24th – Christmas Eve: 8am – 7pm
Thursday 25th – Christmas Day: CLOSED
Friday 26th – Boxing Day: 8am – 10am
Saturday 27th – Normal Hours: 8am – 2pm
Wednesday 31st – New Years Eve: 8am – 7pm
Thursday 1st – New Years Day: CLOSED
Friday 2nd - Normal Hours: 8am – 7pm

From all of us at MVVH we wish you, your families and of course your furry family members a Merry Christmas and a safe, healthy and happy New Year!



After hours Veterinary Care & Advice - NEVS



A reminder that our fabulous after hours team at the Northside Emergency Vet Service (NEVS) will be open and fully staffed on any day we are closed throughout the holiday period.

The highly experienced team of Vets & Nurses can be contacted on 9452 2933, should you need any assistance or advice.

****As of the 18th of December they will be operating out of their brand new facilities on Mona Vale Road in Terrey Hills, just near the Forest Way Fruit Market. It is the same dedicated & highly experienced team, just in a new location!



---
SIRA

Notice
STOP THE ISLAND POO FROM HURTING YOU!



Scotland Islanders are facing serious health threats from sewage run-off.

You and your family risk contracting diseases such as

giardia, urinary tract infections, meningitis

and other serious mosquito-borne diseases like

Ross River and Dengue Fevers

.

Sewage run-off is a public health risk in Pittwater through exposure to pooled effluent, contaminated soils and indirect exposure in waterways.

A Martens & Associate study commissioned by SIRA found Faecal Coliform levels are 645 times above the recommended safety level and Enterococci Levels are 2,600 times.

To make matters worse,

Sydney Water

after 15 years is about to

break a promise

to our community to provide waste water infrastructure to Scotland Island.

We don't have much time before Sydney Water submits its report to the Baird Government to ditch the Island's proposed sewerage project.

WE NEED YOU TO ACT NOW --

in the interest of everyone's health and safety



Write a letter this week to both

our local Council

and local

State member Rob Stokes

. They need to hear from you and to seek your support in lobbying the appropriate Minister and Department.

Read the full story in PDF




---
A Lousy act of Vandalism..
A big thank you to the person or persons in our wonderful Scotland Island community that saw fit to vandalise our planter boxes at the entry to our home last night.


I hope you're happy with your handy work, I had back surgery last week so the mess will not be moving anytime soon!



---
Free Fire Wood/Building wood /Cardboard packing boxes
Please feel free to take wood at the front of the property, we have other building wood & sleepers under the house if you're interested, plus wood for the fire.

A complete trampoline is also available left by the previous tenants, boxed.

All Free



If you would like to look at anything under the house please call Jules on 0438261252





---
---
Missed out on a previous Newsletters - HERE
A complete set of past electronic newsletters since May 2000 can be found and read at https://ymlp.com/archive_gesgjgm.php


---
To Contribute
If you would like to contribute to this newsletter it's easy!. Send an e-mail to the editor (editor@scotlandisland.org.au) or by clicking here. Type your contribution (100 words or so would be fine) and assuming it is of general interest to the community, does not include matter of a political nature and is not offensive, it will appear next month.


Subscription Information
To get on and off this newsletter, click here

or got to:

http://www.scotlandisland.org.au/signup .


To change your address, click the 'modify' link at the bottom of this newsletter or send an email to the

editor@scotlandisland.org.au


---
Follow the PON
---
The Online Local Contacts Guide
Click HERE to load
---
---
The views expressed in this newsletter are not necessarily the views of the Scotland Island Residents Association (SIRA), or the Western Pittwater Community Association (WPCA)
---