---
---
---
AUSGRID SURVEY
Recently SIRA and WPCA representatives have met with representatives of Ausgrid to listen to their plans and ideas regarding the Scotland Island and West Pittwater reliability project that is currently underway.

We were impressed with the amount of work that is being undertaken and the range of options Ausgrid is looking at. We were also told that the project has a high profile within the organisation and we therefore encourage that our community approaches the subject with a positive and open mind. The options under investigation range from additional submarine cabling to community solar and battery storage.

To read in detail about the project: click here

You may have received a letter and paper copy of a survey in your P.O Box. We are happy to let you know that there is also an online version of the survey. We encourage every one to fill this out. The more survey responses, the better the solution can be tailored to our needs.

FILL OUT THE ONLINE SURVEY

There are other methods of completing the survey:


   

Printed survey in your P.O. Box:

A printed copy of the survey which can be posted to the address above, or scanned and emailed to majorprojects@ausgrid.com.au
   

PDF survey

– download and print copy of the survey which can be posted to the address above, or scanned and emailed to majorprojects@ausgrid.com.au
   

phone survey

– you can phone the project office on 1800 604 765 to provide feedback or ask questions
   

community drop in session

–we plan to be at Church Point (details below) to answer any questions about the survey and the proposal on Friday 17 March.
Come to our community drop in session!
Representatives of the project team will be available to answer questions and collect your comments and feedback, see details below. Please drop by at any time, light refreshments will be provided.

Date: Friday 17 March

Time: 3pm to 6pm

Location: The Waterfront Café, Church Point
The feedback currently being requested, will assist Ausgrid confirm the feasibility of several options being assessed. Ausgrid will present these options for further comment at local community sessions planned for mid-2017. A summary of community feedback received and how it has been considered, will also be prepared and published on the project web page.

We thank you for taking the time to provide feedback, which is requested by Friday 24 March 2017.
If you have any inquiries you are welcome to contact us at any time by phoning 1800 604 765 or by emailing majorprojects@ausgrid.com.au



---
WPCA AGM
Sunday March 19 - 11.00am
West Pittwater Fire Shed - Elvina Bay
---
New Kindy Opening Hours
Due to high demand we have extended our Island Kindy opening hours.
New opening hours. 7am to 6:30pm
We are open Monday, Tuesday, Wednesday and Thursday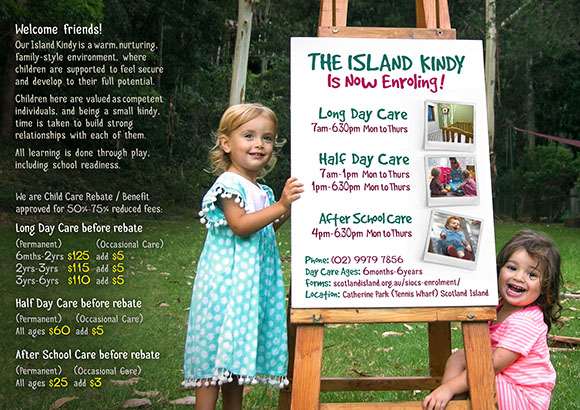 ---
REMINDER
Wine Tasting

SUNDAY MARCH 26th 2017

All the Wine that's fit to Drink :)




Here are the details:



DATE:

Sunday 26th March 2017


TIME:

3pm


PLACE:

Alan & Ruth Gaines, "Shiraz" Florence Terrace, Scotland Island.

Remember: No money changes hands! The committee are not paid. The host is not paid. The organisers at the highest level are not paid. This means you get quality wine at the lowest possible price. You can have it delivered to the PO at Church Point or pick it up to avoid the cost of postage.

Those of your hard working committee who still have a house, even those whose home may have been blown away in the recent storm will be there. The wine must keep flowing.



---
Free
    2 seater and 3 seater sofa – with inbuild bed
    Another 3 seater
    Desk 150 cm
    Exercise machine – make an offer
    ½ size violin and case $50

Call Hubert 0439 404 238



---
New Timetable Elvina Bay Bootcamp
Elvina Bay Bootcamp 1st Session FREE Trial
 
Join our Great Fun Fitness team… All Fitness Levels Welcome!
When:
Mondays  @ 6:30am
Thursdays @ 6:30am & 8:30am
Where:
Elvina Bay Park, near Fire shed
Length:

Trainer:
Cost:
1st session FREE Trial then just $20 per class J
Andy Derijk
Master Trainer
Fitter Forever Personal Training
www.FitterForever.com.au
0418 613 890



---
Maths Tutor Wanted
YR 7 and YR 10

Contact Shane 0413 514 825



---
For Sale
Gyproc 9mm, 3000 x 1240. 4 full sheets and 1 partially cut sheet (amounts to nearly a full sheet again).  A$ 50.
Miele in-built (fully integrated) fridge, working order:  1400 h  x 560w  x  570d, fits into 600 x 600 cupboard. A$ 50
Fitting white polyurethane door (only 2 years old!) with SS handle A$ 50
Miele washing machine Novotronic 828, very good working condition, has no top lid, as it was part of stacked dryer/ washing machine set, needs a benchtop, A$ 250
Freedom Lamp shade natural white, very good condition, 510 mm diameter x 280mm h, A$ 25 (see photos for pattern and shape)

All items pick up at 53 Robertson Road, Scotland Island (have a jetty)
 
Call Andrea on 0414922199/ 99995828, e: andrea@novaliving.com.au



---
Attention Piano Players..
Who would like to have the free use of this 1929 Bechstein Piano in return for having to play it and look after it?



I am looking for a home for my piano until I find a place to live where it will fit.

Loan offer for at least a year.

Piano loving attitude essential!

Call Hubert 0439 404 238



---
---
---
A complete set of past electronic newsletters since May 2000 can be found and read at https://ymlp.com/archive_gesgjgm.php  or by clicking here or by visiting the Mona Vale Library.

The Island website is at www.scotlandisland.org.au



---
To Contribute
If you would like to contribute to this newsletter it's easy!. Send an e-mail to the editor (editor@scotlandisland.org.au) or by clicking here. Type your contribution (100 words or so would be fine) and assuming it is of general interest to the community, does not include matter of a political nature and is not offensive, it will appear next month.
Subscription Information
To get on and off this newsletter,

click here

or got to:

http://www.scotlandisland.org.au/signup .


To change your address, click the 'modify' link at the bottom of this newsletter or send an email to the

editor@scotlandisland.org.au


---
Follow the PON
---
The Online Local Contacts Guide
Click HERE to load
---
---
The views expressed in this newsletter are not necessarily the views of the Scotland Island Residents Association (SIRA), or the Western Pittwater Community Association (WPCA)
---