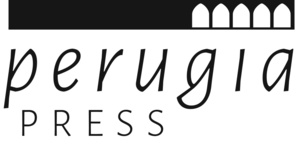 T H E   B E S T   N E W   W O M E N   P O E T S
S

U

BMISSIONS OPEN IN FOUR WEEKS!
for a First or Second Book by a Woman
Prize: $1000 and publication
Submit manuscripts between August 1 and November 15, 2019
YOU COULD BE THE NEXT PERUGIA PRESS POET!
N E W   R E L E A S E

:  AVAILABLE  SOON
HAIL AND FAREWELL

Winner of the 2019 Perugia Press Prize
for a first or second book of poetry by a woman
 

 

 

Photo by Jenny L. Miller

 




Abby E. Murray completed her MFA at Pacific University and her Ph.D. in English at Binghamton University in upstate New York, where this book was written. She's taught creative writing at high school and university levels and currently teaches argumentative writing to Army War College fellows sent to the University of Washington. Since 2016, Abby has been the editor of Collateral, a literary journal concerned with the impact of violent conflict and military service beyond the combat zone, and as the 2019-2021 poet laureate for the city of Tacoma, Washington, she offers free poetry workshops around Pierce County, including at detention centers for undocumented youth and military posts. This is her first full-length collection. 

Read more about Abby and 

her poetry at 

abbyemurray.com

 

 

 

 

 

 

 

 

 
ABOUT HAIL AND FAREWELL:
Abby E. Murray's debut Hail and Farewell is a bold examination of the intimate relationship between a soldier and a pacifist, bound together by choice. The collection reveals a wife's perspective during her husband's deployments to Iraq and Afghanistan, including the whiplash of infertility experienced between tours. Inseparable by heart, their marriage is also built on disagreement. Military spouses are often expected to express absolute patriotism, and to conform to gender roles shaped by sexist, archaic ideals. But these poems don't aim to accuse; rather, they call for compassion and community in the face of isolation. Capable of inserting levity into the most dire of circumstances, the poet never lets the reader forget what is at stake. Murray tears the idealized from the real, illuminating the brutality of battle and loss—traumas we tend to avoid in both military and civilian life. Hail and Farewell is an expertly woven treatise on love, war, and politics.
THANK YOU!
Thank you for your donations this spring during our Poetry Month appeal. We deeply appreciate your generosity to Perugia Press. We are thrilled to report that we raised over $4,000, which has directly supported the production of our new collection, Abby E. Murray's Hail and Farewell. Donations also help to promote the work of all Perugia poets. Your gifts enable us to work toward righting gender inequity in publishing and to meet our inclusive literary mission. Thank you for pledging for poetry!
Rebecca Olander, Editor/Director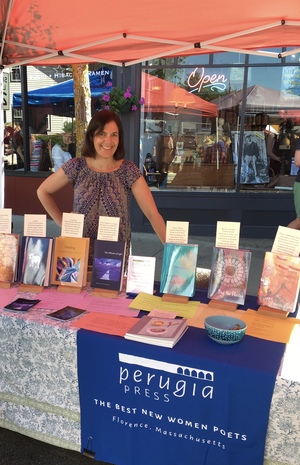 At Cultural Chaos street fair in Easthampton, MA in June 2019
PO Box 60364, Florence, MA  01062