Why not bookmark this AMPS Newsletter and read at your leisure!

AMPS Newsletter August 2015
Yorkshire Social coming soon, 2015 Emmy nominations, Resolution Creative Awards nominations, Walter Murch Fellow award, Studio Sound archive, future of music streaming, Soundscapes exhibition, new AMPS members, Giantsound new AMPS sustaining member, Sennheiser pro mic for your iPhone, news…
Header image courtesy of John Rodda.
Beerd, 157-159 St Michaels Hill, Cotham, Bristol BS2 8DB, 7.00pm on the last Wednesday of each month is the place to meet up with other AMPS members and like-minded people! Apparently, great craft beers and amazing pizzas are available!
Yorkshire Social - coming soon!

An enterprising AMPS member has been in touch with regard to arranging a regular meet-up in the Leeds/Bradford/Sheffield area. Dates and venue coming soon.
London Social
Make sure that you attend the AMPS Social at the De Lane Lea bar in Dean Street on the first Tuesday of every month - be social with your AMPS members! The first Tuesday in every month - 6.30pm.
… not in Bristol, Yorkshire or London?
Want a regular Social near you? It's easy to arrange one - contact us to find out how. Email
admin@amps.net
Have you made yourself familiar with the freshly designed AMPS website?
Log-in and discover all things AMPS!
2015 Emmy Nominations for AMPS Members

Many congratulations to our AMPS members who have been Emmy Nominated for 
Outstanding Sound Mixing for a Comedy or Drama Series (1 Hour)
David Lascelles as Production Mixer for Downton Abbey and -
Ronan Hill & Richard Dyer as Production Mixers for Game of Thrones.
Best of luck chaps!
Resolution Creative Awards Nominations

And congratulations also go to Simon Bishop and Andre Jacquemin for their respective nominations in Location Sound Engineer and Film/Post Sound Engineer categories in the Resolution magazine Creative Awards 2015.
Again, best of luck chaps!
Walter Murch AMPS Honorary Fellows Award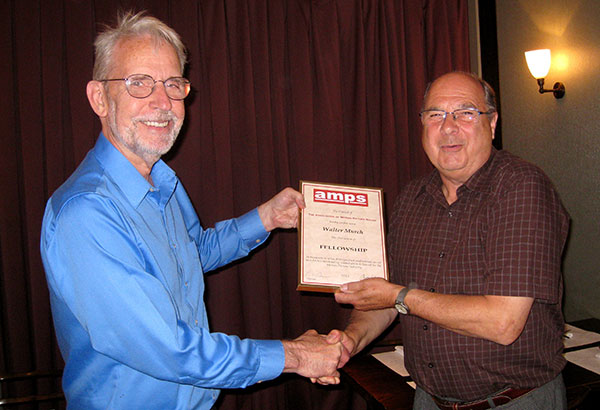 On Tuesday the 4th August a group of AMPS Fellows met for one of their
occasional lunches at the Cote Restaurant in Wardour Street. The Fellows
had invited Walter Murch to join them to be their special guest as they had
a surprise in store. Walter is working in London on a feature length
documentary for Working Title and expects to be here until Christmas.

Once everyone had arrived and before the meal Graham Hartstone, on behalf
of AMPS, presented Walter with his Honorary Fellow certificate. Graham
mentioned that the Association has awarded Fellowships to members for their
contribution to AMPS and the industry and to several other people such as
Ray Dolby and Stefan Kudelski.

The other Fellows present congratulated Walter and we all sat down to a
very pleasant lunch and discussed many sound and film issues both past and
present.

The list of Fellows who were able to attend were - Andrew Bolton, Colin Broad, Graham Hartstone, Pat Heigham, Peter Hodges, Peter Musgrave, Ivan Sharrock, Brian Simmons, & Lionel Strutt.
Walter Murch has credits not only as sound designer and re-recording mixer on films such as American Graffiti, The Godfather Part 2 & Apocalypse Now, but is also one of the world's leading film editors and has worked as a director and scriptwriter. He is widely known and respected as a theoretician and public speaker on the role of sound and image in motion pictures, inspiring those of his colleagues around the world who work in this discipline and new generations of sound practitioners who are entering the industry, to develop and further their own contributions to motion picture sound practice.
Tape Recorder & Studio Sound Archive
 

 

 

My attention was recently brought to an amazing PDF archive of Tape Recorder and Studio Sound magazines.

The vast majority of issues are available to view and download in this library - from February 1959 right through to August 2001!

 

The adverts are especially fascinating… and plentiful! You can get through 20 pages in some issues before you get a hint of Editorial! Ah, a sign of the times!

 

You'll find this treasure trove at -
The Finger's on the Self-Destruct Button -
The Ugly Truth about the Music Streaming Universe

These are insanely complex times for musicians. With virtually no consultation, musicians and independent labels are being led down the path of the streaming music construct controlled largely by technology companies. Streaming royalties for these services remain mired in mystery. Nobody is privy to how royalties are calculated or assigned to different players in the streaming ecosystem.
Yet here we are, with the majority of musicians and independent labels playing ball with the Apples, Googles and Spotifys of the world, as if their industry vision is the only way forward. It isn't.
"In what other industry would suppliers offer their goods to distributors without being told precisely how much they'll receive for their inventory?"
Soundscapes at The National Gallery

The National Gallery is currently holding an exhibition that may interest some AMPS members.
Soundscapes has commissioned musicians and sound artists to select a painting from the collection and compose a new piece of music or sound art in response. Immersive and site-specific, the experience encourages visitors to 'hear' the paintings and 'see' the sound.
The exhibition is being held in the Sainsbury Wing and is accessible until 6 September 2015.
Click on the above image to see The National Gallery's Soundscapes exhibition teaser on their YouTube channel.
New AMPS Member 1 - Anna Lakatos

I'm currently studying Advanced Audio Post Production at SSR School of Creative Media in London.

 

After finishing my Audio Engineering course I returned to education to develop my skills within Post Production as this is an area of Audio Engineering I am passionated about and in particular, Sound Design and Mixing. My final year dissertation is concentrating on these subjects along with practical assignments.

 

My career has been focused as a recording and mixing engineer for music based in London and I have worked in music management for number of years.

 

I was sponsored by Mark Apicella Head of Post Production at SSR School of Creative Media in London who is also my course leader.

 
New AMPS Member 2 - Tom Wilkin
 

Hello to all members and thank you for accepting me into the AMPS family. I would also like to give a big thank you to both Richard Manton and Stephen Fish for sponsoring my application.

I'm a Yorkshire based Sound Assistant currently working in West-London on ITV's Drama Lewis. I graduated from Leeds Metropolitan University a few years ago studying MSc Sound for Film and Television. Since graduating I went onto develop my skills by first working on independent productions, which later lead to several Industry work placements on both factual and TV Drama.
I feel honored to be accepted into the association and hope to both meet and work with many of you in the future.
AMPS Sustaining Member - Giantsound

| | | |
| --- | --- | --- |
| Tim White's Giantsound are the UK distributors of Aaton Digital sound products. After two years of design and development the new Cantar X3 recorder is now in production and has started delivering. "Whilst it was a surprise to be offered the UK distribution, as a Cantar user I had been working closely with Aaton on ideas for a successor to the X2, so it is a recorder I know very well." |   | |
Aaton was bought by Transvideo's Jacques Delacour two years ago and a decision was made to concentrate on the new recorder. Cantar X3 is completely new and records up to 24 tracks. There is a new on board linear mixer and inputs now include 8 of their legendary mic pres, AES3, dedicated AES42 mode B as well as Dante. There are 8 balanced line, AES and Dante outs. The basic ergonomics, tried and tested over 12 years are similar but there is a significant addition: a big high resolution screen, gorilla glass protected and engineered by Aaton's sister company, Transvideo.

The screen is a game changer: it is big enough to display PPMs for 24 tracks as well as record and metadata information, and is viewable even in bright sunlight. At IBC next month, Aaton will be showing their Cantarem 2 linear fader panel which has 12 full throw silky smooth faders and will be available later this year making the X3 a complete production recorder.
Sennheiser ClipMic Digital: Pro Audio through your

The iPhone's Lightning port is much more than a charging and headphone socket. You can use it to get high quality digital audio in to your phone. Sennheiser has taken advantage of this to make a very high quality microphone with an A/D converter - ideal for making voice-overs and pieces to camera out in the field.

Is there any limit to what you can do with an iPhone? Sometimes it seems not. I mean, it's a music player, a video player, a sat nav, a general purpose computer and - well quite a lot more besides. Oh, and it's a telephone, too! It's also a very good still and video camera? How good? Well, quite a lot better than a stand alone camcorder that would have cost a few thousand dollars just a few years ago. How they do that with such a small lens and sensor is still slightly beyond me but it's a fact.
The video camera is so good that it's now a reality that you could use it for broadcast journalism, as long as you understand that dedicated video cameras will probably always be somewhat better.

But what if it's the only camera you have on you, which as a "normal" person, going about a "normal" life, will usually be the case? What if you turn up at a news-making event and your iPhone is the only thing between you and making a complete piece for broadcast.

Well, you could just point it at the action and record the video. The onboard mic would pick up some ambient audio but it's not going to sound spectacular. After all, this is a telephone.

And if you plug an external mic into the headphone/mic jack, how well is that going to work? Well, probably quite well, but it will definitely be a few notches down from broadcast quality: good as the iPhone is, it's not going to have professional quality mic pre-amps.
Did you know that the Directory pages on the AMPS website are some of the most frequently visited?

 

Make sure that your profile is up to date - you never know where your next work enquiry will come from!

 

 
Can we help with your Professional Development?
We're keen to hear from you with ideas for seminars and training sessions which would contribute towards Continuing Professional Development.
We're very aware that keeping up with techniques and updates can be a full time job in itself, so if there's any way that AMPS can contribute towards maintaining and developing your industry knowledge and skills, please get in touch.
AMPS Address & Phone Number
27 Old Gloucester Street
London
WC1N 3AX
Tel: +44 (0)1753 669111
AMPS, 27 Old Gloucester Street, London, WC1N 3AX
www.amps.net / +44 (0)1753 669111