We love the view from the Library-Copter,
but we need your help to land!

Dear Friends,

Underground Dinner Parties!
Ongoing, sign up for the announcement list!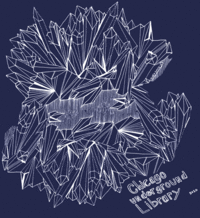 info@underground-library.org
Chicago Underground Library requests the pleasure of your company for our new series of Underground Dinner Parties in the lairs of librarians, the caves of catalogers, the homes of heroic reshelvers. The first dinner, An Appetizer, sold out but you can sign up to find out about the next top secret event!
Taking a cue from the underground supper club movement, CUL volunteers are opening up their homes, their hearts and their kitchens to bring you a delicious assortment of themed dinners with food, drink and handmade gifts.

All proceeds benefit Chicago Underground Library and if you're foodily-inclined, you can help us out by getting involved with planning!

Blog!
New blogs and podcast: Blog editors Meredith Carey, Thúy Ngo and castmaster Mike Birnbaum are looking for writers and photographers to add to our roster, and especially subjects to cover! As always, CUL's focus is on accessibility and inclusiveness, so we want to hear from you.
Why let Wall Street have all the fun speculating on the future?
Email editors@underground-library.org and tell us where culture-- print, digital, or physical-- goes from here.
Stay updated with the CUL volunteers by joining our discussion list. We'll always let you know when our monthly volunteer meetings are, but go here to find out about everything going on behind the scenes! Blog meetings, programming plans, cataloging nights, and even cool unrelated events and job postings from the CUL community. See you soon!


Follow the Library-Copter!
Thanks for reading,
Chicago Underground Library