In this issue
- Gift Certificates to Holden House for that someone who has everything. Can't getaway during February? Book a stay as a gift for March or April or buy a gift certificate for your sweetheart!

What's luckier than a wedding? A stay at Holden House! Let us be your choice for honeymoons, romantic getaways or friends of the family. Take advantage of our "WINTER WONDERLAND SPECIAL". Stay 3 nights and receive 1/2 off your 3rd night stay or stay 4 nights and receive one night absolutely FREE! (valid any days of the week through April 2009) We'll take a full deposit when you make a reservation, leaving a perfect stay at check-in! (Restrictions may apply and full amount of stay due when reservation is booked and non-refundable). Not valid with other discount specials.

More Specials

Perhaps a romantic & decadent breakfast en suite? Add it on to your stay for just $15.
What our Guests Say about Holden House...
"Our 17th stay-it was great meeting Ming...See you next time! "
Lyn and Doug
Aurora, CO
"Great place to celebrate my 40th birthday!"
Darren and Donna
Howard, CO
"Beautiful, romantic. Enjoyed every moment of our stay"
Tim and Teneke
Aurora, CO
"Very beautiful & comfortable. Thank you so much!"
Rick and Anita
Alberta, Canada
Irish Eyes Are Smiling...when you take advantage of our "Luck of the Irish Special"
We're goin' "green" when you stay 2 nights Sunday through Thursday because you'll receive the 2nd night at 50% off. Or, stay 3 nights and get the 3rd night free! Valid through April 2009. Full amount of stay due at reservation time and non-refundable. Must mention special when reserving your suite treat.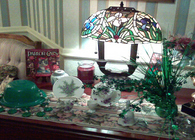 Stay in any of our gorgeous and romantic suites each with fireplace and bubble bath tub for two and add on a breakfast en suite "Romance Package" for just an extra $15. Enjoy a gourmet breakfast in the privacy of your room. Yes, the ultimate in relaxation. Consider treat her to a spa delight with an in room massage package for just an additional $75 (must be scheduled in advance). Keep the fires of love burning on a cool evening...
Book now!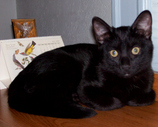 HAPPY ST. CATRICK'S DAY!
March 17th is little Mingtoy's 1st Birthday. Little Ming's mother was abandoned in a cardboard box in the parking lot of our local Westside Animal Hospital. Just a few days later, she gave birth to a healthy litter of kittens and innkeeper Sallie Clark, visited her when she was just one day old. Mingtoy was the only all black kitten in the bunch. Having lost our 16 year-old Mingtoy the year before and knowing that Mei-Lin needed a companion to keep her company, we waited 8 weeks and adopted our new furr-ball kitten. She'll be wearing her beautiful green eyes in honor of the official day. Mingtoy is 6th in a long line of Ming dynasty's. We accommodate cat lovers, but also offer pet-free lodging in the Carriage House (Silverton and Goldfield) and Independence suites for those with allergies.
Meet our InnCats Mingtoy and Mei-Lin
.
It's a hot time in the old town tonight! Colorado Springs and
the Pikes Peak Area has something for everyone. Check out our many arts and culture events starting with
Ain't Misbehavin'
on April 1-2, a musical revue and outrageously prodigious comic and musical soul of the 1930's. Harlem lives on in this rollicking, swinging, finger-snapping revue that is still considered one of Broadway's best at the
Pikes Peak Center for Performing Arts
. April 3-11,
The Thorn
is a dramatic portrayal of the passion of Jesus Christ featuring live music, dance, aerial acrobatics, special effects and more. New Life Church's production of this play continues to evolve into a bigger and more dramatic spectacle each year, and 2009's presentation promises to please. Don't miss this unique theatrical event which tells "the greatest story of all time." Romance is the word for
Cyrano de Bergerac
and the
UCCS Theaterworks
April 23-May 17 Thursday, Friday and Saturdays presentation of the
play with everything: swordfights, poetry, romance, French pastries, candlelight, and true panache. You'll soar
with love's wings up to Roxanne's balcony, pass through the fierce and smoky battlefield, then fall into ravishing heartbreak at the close. The brilliant Cyrano has a fiery wit, a quick sword, an enormous heart, and another prominent feature you must never ever let him hear you mention.
Shop 'til you drop in our many shopping areas including historic
Old Colorado City
, quaint
Manitou Springs
, the new
Shops at Briargate
or one of our two indoor shopping malls, the Citadel and Chapel Hills. Or perhaps you just love art, culture, heritage, museums and some spectacular scenery. El Paso County and our area offers something special for you. Your comfortable stay in historic Colorado Springs at Holden House can be fun and exciting or relaxing and romantic....you choose. We're also the perfect business traveler's retreat to take the stress out of a long day of work at the office. Visit
www.HoldenHouse.com
for more details on our great lodging options and many specials!
Celebration Metaphysical Fair
April 17-April 19 -
America's oldest psychic-holistic fair now in its 31st year. Quality vendors, skilled psychics and mediums, holistic bodyworkers, aura photos, free seminars, and more!
Rocky Mountain Wild
at the
Cheyenne Mountain Zoo,
May 2, 2008 - Ongoing... As America's only mountain zoo, Cheyenne Mountain Zoo is uniquely suited to showcase Rocky Mountain wildlife in its
natural setting. The Rocky Mountain Wild exhibit complex connects you with the wild heritage of the Rocky Mountain region-offering surprising, engaging and memorable encounters with moose, mountain lions, North American river otters, lynx, bald eagles and grizzly bears.
Our area restaurants offer the perfect lunch or dinner location to make your stay here a culinary delight. This month's restaurant profile is
Paravacini's
near Old Colorado City. The name Paravicini translates to "for the neighborhood" and owners Franco Pisani and Ted Sexton have definitely captured the neighborhood feel of this Italian eatery. Paravicini's Italian Bistro offers hearty Italian favorites along with Chef Franco Pisani's creative specialties. The prices are reasonable, the portions are large, so please join us for some fun, relaxation and incredible food. Named "Best New Restaurant" by the Colorado Springs Gazette. Don't forget to ask for recommended wine parings with your special dinner. For additional area restaurants visit
Restauranteur.com
or
ColoradoEats.com
Recipe of the Month
Italiano Eggs Florentine
Ingredients:
3 Pillsbury All Ready Crusts
#12 12 oz. size Quiche Dishes
7 eggs
3 cups milk
6 TBS. flour
1 1/2 package (16 oz. size)frozen spinach
1 cup shredded Swiss, jack or mozzarella cheese
6 slices turkey bacon sliced in half
Italian seasoning
Ground Nutmeg
1 small jar of marinara sauce
Fresh parsley
Shredded parmesan cheese for garnish
Directions: Divide each pie crust into four sections and place into greased quiche dish (will form a triangular shaped crust). Beat eggs, milk and flour together and set aside. Evenly divide thawed spinach and place into bottom of each quiche dish on top of crust. Pour egg & milk mixture over spinach, top with shredded cheese, lay 1 half slice of bacon over cheese and sprinkle with a dash of Italian seasoning and dash of nutmeg.
Temp. & Time: Bake in a 375 oven for 30-40 minutes or until quiche is firm and slightly brown on top. Remove from oven and place on a plate with lace doily if desired. Garnish with 3 TBS. of marinara sauce, a sprinkle of parmesan cheese & a sprig of fresh parsley.
Number of Servings: Makes 12
At Holden House, we pride ourselves on providing the perfect guest experience. Isn't it time you returned to enjoy your stay with us?
Make a reservation
now!