SAYING THANK YOU TO VETERANS!
Did

you know that Holden House is veteran owned? Innkeeper Welling Clark is a Navy veteran and Sallie is a military wife. Veterans Day is approaching in November and we are extending military and veteran discounts all month long during the month

of November. For more information, see our
Specials and Packages
page.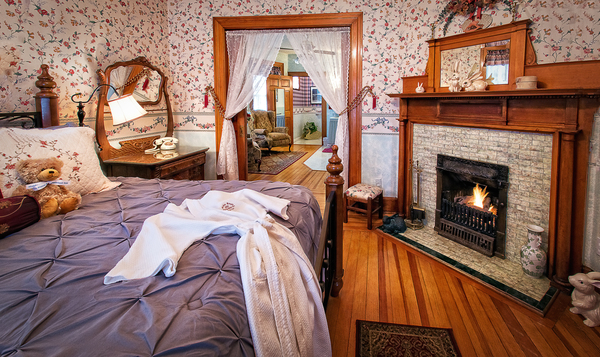 Our six spacious suites feature queen or king beds, private baths and include a full complimentary gourmet breakfast, served in the formal dining room or in the privacy of your suite for an additional fee.
---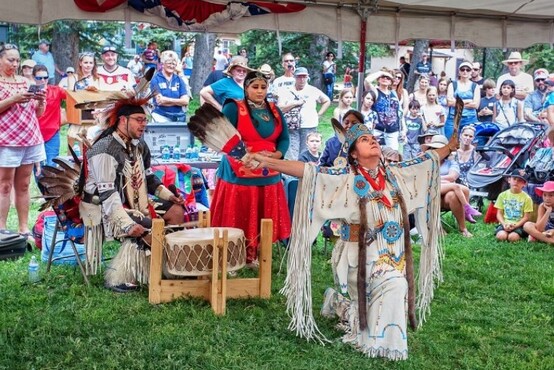 Rock Ledge Ranch Historic Site: On September 18, the Ranch invites everyone to the 11th Annual Garden of the Gods Rock Ledge Ranch Pow Wow. The powwow celebrates and honors the Native American cultures and history through song, dance and traditions. This gathering brings people together and before the grand entry of dancers, a storyteller and dance troupe will perform. Here, you can enjoy unique foods and explore vendors with an assortment of mostly homemade items.
On October 2, the Rock Ledge Ranch Historic Site is filled with activities and fun in the crisp autumn air with the Harvest Festival! Take a wagon ride, listen to old-time music, pick a pumpkin to take home, kick back on the lawn with a slice of pie, and take time to tour the Historic Homes, visit the Blacksmith, and more.
Planning ahead - A few other noteworthy events coming up:
September:
October:
December:
The Pikes Peak Area offers the opportunities for an amazing vacation or staycation with a plethora of attractions, activities and adventures. From museums to arts and culture, live music to theatre peformances, outdoor recreation to historic sites, and scenic views to wildlife glimpses, there's something for everyone. We pride ourselves at helping our guests find the best activities to match their tastes. Here are a few of our favorite places to check out before you stay. Once you're at the inn, our innkeepers will be available if you have questions before venturing out.
More Pikes Peak Area Visitor and Event/Activity Links:
---
Colorful Colorado Fall Hikes Await!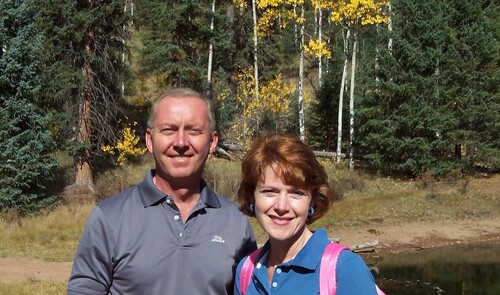 Innkeepers Sallie & Welling Clark enjoy a nearby hike to see the fall colors
You'll want to reserve now for mid-September to enjoy the upcoming "leaf-peeping" season that Colorado's high country offers.
An easy 10 minute drive from Holden House is the free and city-owned North Cheyenne Canon Park which offers some great mountain trails and a few easily accessible waterfalls and glimpses of Cheyenne Creek. An easy 45-minute drive from our doorstep are the historic mining gold camps and towns of Cripple Creek and Victor, with the scenic Florissant Fossil Beds National Monument and Mueller State Park nearby with extensive hiking trails, all great places to take a "peek of our peak" Fall colors. Sallie and Welling and the Holden House assistant innkeeper staff will point you in the right direction to the best views of the changing Aspens. We are starting to book up, so reserve ahead by visiting our Holden House 1902 Bed & Breakfast Inn website or calling us at 719-471-3980.
INN THE KITCHEN AT HOLDEN HOUSE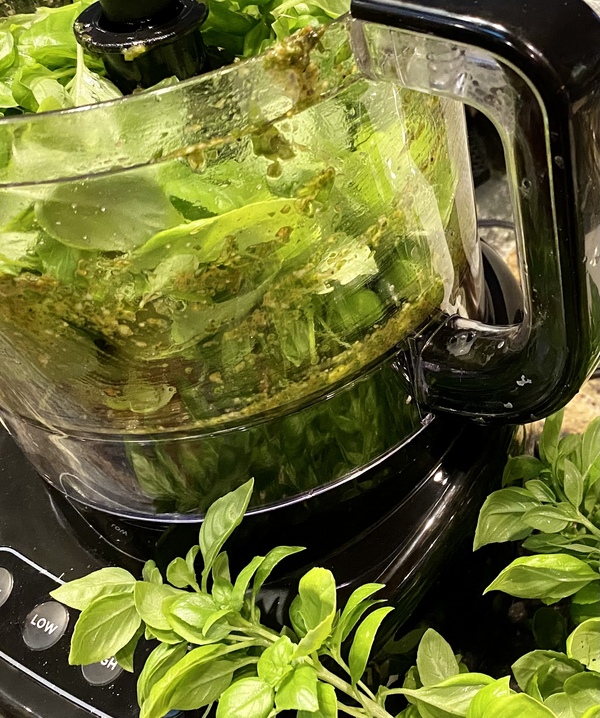 Fresh Pesto from the Holden House Garden
Holden House is known for using fresh herbs from of the garden for a variety of signature dishes and garnishes. One of our favorites is our homemade pesto sauce that adds a zesty flavor to a variety of recipes. It's also a delicious and simple addition to any pasta dish you may want to create and serve in your own home.
2 cups fresh, washed basil leaves
1/2 cup grated fresh Parmesan cheese
1/2 cup extra virgin olive oil
1/3 cup pine nuts (lightly toasted - walnuts can be substituted)
3 cloves fresh garlic, peeled and minced
1/4 each teaspoon salt and pepper (or to taste)
Directions: Wash the basil well and lightly dry. Remove the leaves from the stems to make approximately two cups. Push down into the food processor. Use the chopping blade attachment.
Lightly toast the pine nuts in the oven and add 1/3 cup of pine nuts on top of the fresh basil leaves. Pulse the food processor until chopped and lightly mixed.
Add garlic and cheese and pulse food processor again until mixed well. With a spatula, scrape the sides.
Slowly pour in olive oil while the food processor is running, so it emulsifies and mixes the oil well. Intermittently, stop and scrape the sides of the food processor to ensure it's well blended.
Add salt and pepper and additionally pulse processor. Pesto should be finely chopped and mixed well with the other ingredients.
Transfer pesto sauce mixture to a glass container (small Ball jars work well) leaving approximately 1/4 inch gap on top. Drizzle and float olive oil on top of pesto mixture to coat and prevent from drying out. Seal and store in the refrigerator for up to two weeks. If desired, jars can also be frozen and thawed. After each use, float additional olive oil over the top as it will stay fresh longer. Serve as a side to a variety of dishes including pasta, or as we do, with our signature dishes such as Italian Eggs Florentine and sprinkle Parmesan over the top.
Read our Holden House Blog

for inn updates,

recipes and more!

VIRTUALLY YOURS...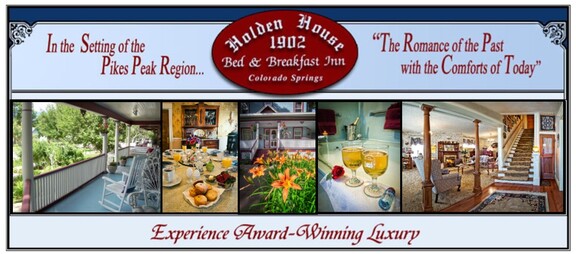 1102 West Pikes Peak Avenue
Colorado Springs, Colorado 80904