Ongetwijfeld heb je al gemerkt dat de online portal er sinds enkele weken net iets anders uitziet.
De portal is 'responsive' gemaakt. Dit betekent dat de site zich nu aanpast aan de resolutie van het scherm waarmee jij de website bekijkt. Of dit nu een desktop monitor is, een tablet of een smartphone.
Maar dat is nog niet alles. Als je nu op je smartphone inlogt, kom je direct in het invoerscherm van je logboek, op de huidige datum. Zo kun je direct na je training je logboek invullen.
En wil je vooraf of tijdens je training je trainingsschema bekijken, dan kan dat via hetzelfde scherm, want als je rechtsboven op het pijltje naast de trainingscode klikt, komt direct het schema naar voren.
En wil je nog even terug naar de training van een andere dag? Ook dat kan snel, door linksboven op de datum te klikken, dan de datum op te zoeken die je wilt en daarna op het pijltje te klikken rechts naast de datum.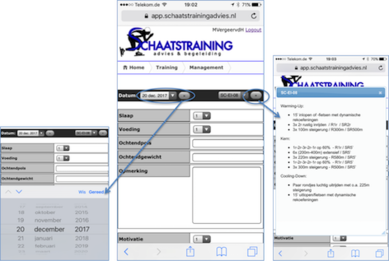 Ook in je desktop vind je deze toevoegingen in het invoerscherm. Daar blijf je wel in de normale layout binnenkomen na het inloggen zoals je gewend bent.
Hopelijk bevallen de verbeteringen je. En heb je er nog vragen over, dan hoor ik het natuurlijk graag!
Veel trainingsplezier weer verder!