Editorial:


As of August 2 the E86 limited stop bus service will

no longer be stopping at Warringah Mall

. This will seriously impact the many users on the Northern beaches suburbs who use this service to get to Brookvale for work and shopping.

Documentation regarding this particular change has been minimal and confusing to say the least, however part of the Sydney Buses Northern Region Guide clearly shows Warringah Mall is no longer one of the pickup and setdown points. see here

Islander Boyd Attewell has written a letter to the member for Pittwater, Mr Robert Stokes pointing out this absurd change and its consequences and seeks his intervention. We now wait and see what, if anything, happens!

Another Fire Shed dinner coming up this next weekend so be sure to get there early as it looks like it's going to be a big night. Details below.

Enjoy!


---
Contents:
---
Cartoon of the Month

Download a full version of this months calendar, ready for printing - click the calendar image to the right →

---

Along with many others

, I would like to thank 'our men' for their heroic and spontaneous actions at the boat fires in Pittwater this last month.

We are so lucky to have so many of our people working on and around the Island and Bays who are able to respond so quickly to a local emergency.

These are our unsung heroes. They leave their jobs at the drop of a hat, forfeiting wages and using their own equipment to attend to these local incidents.

On behalf of everyone, I'd like to thank –

Dave Shirley and the Laurel May – one of the first on the scene as usual, and is continuing to give assistance with the huge cleanup.

Zapper, Spike and Ben King and his amazing assortment of cranes, winches and barges have been there non-stop.

Thank you too to our Scotland Island and Elvina Bay firemen who are always ready to give their time and effort tirelessly.

Our men worked in co-operation with the local NSW Fire Brigade, Rural Fire Service and other emergency services but without their 'on the spot' reaction to the emergency, I'm sure the situation would have been much worse.

Thanks Guys

Annette Ritchie

photo courtesy SMH
more photos can be seen
here
in the Offshore Gallery

---
Bus Service becomes a Disservice


E86 will NOT stop at Warringah Mall


Mr Rob Stokes
Member for Pittwater

Dear Rob

I am writing in relation to the changes that Sydney Buses are making to bus timetables on the Northern Beaches effective from 2 August 2009. There is a very fundamental change they are making to the E86 service and I feel users have been inadequately notified. The change will seriously disrupt many journeys, particularly for peak hour trips to and from Warringah Mall for all residents from Bayview, Church Point and McCarrs Creek.

At present, residents in those 3 suburbs can join the E86 in the morning peak hours, and then get off the bus at Warringah Mall. Many passengers do this to get to work and to shop. In the evening peak hours, passengers can get on the E86 at Warringah Mall and be taken on a limited stops ride back to their suburb.

Incredibly, from 2 August, the E86s will not stop at Warringah Mall at all. The current stop costs other passengers on the bus about 20 seconds. Once the stop is abandoned, passengers who would normally get on and off at the Mall will have their journeys seriously delayed, plus there is the added stress and delay (for city bound journeys) of alighting at Dee Why to rejoin a long queue of commuters to catch an all-stops bus that will take them the last 3 km of their journey to the Mall. In the evenings, Sydney Buses are recommending catching the all stops 156 which is infrequent and half an hour slower than the limited stops E86. (The timetable might indicate a slightly smaller time difference than half an hour, but the reality is ALWAYS the all stops meanders up the beaches and is at least 30 minutes slower than the E86 by the time it reaches Bayview, so a 33 minute trip becomes well over an hour).

Sydney Buses are themselves confused about the E86 service. In their information booklet entitled Sydney Buses Northern Region Guide, Network Map and Service Information, effective from 2 August 2009, they say that the E86 serves "McCarrs Creek to City via Mona Vale, Narrabeen and Warringah Mall." This will be incorrect from 2 August, but it indicates their recognition of the vital and frequently used hub of Warringah Mall to the rest of the Northern Beaches population.

The cessation of the E86 Mall service will, I know, result in many Northsiders abandoning use of the bus services and, for those remaining, there will be serious delays and inconvenience.

I have made an initial complaint to the Sydney Buses info line, but they say that it will be up to a week before a Complaints Officer can call me back.

Thank you
Boyd Attewell


Boyd makes the following offer;

If any PON reader would like to contact me direct, they are welcome to on 0417 991 499 or boydatt@bigpond.com . Maybe we could car pool from Church Point to the Mall until this is sorted out.


---
Kindy News




July news:


Our Berkelouw Book Fair was a great success. Thank you to everyone who purchased books. The sales and donations enabled us to acquire twenty five wonderful new titles for the children.

Our Grandparents/ Special friends Day was also well attended and enjoyed by all. The children of course loved getting to the park to run run run. Thank you to Kylie Bennetts and Petra Godfrey for organising the sausage sizzle.

This month inside the Kindy there have been a number of new activities taking place. We have a new listening centre, with 8 sets of headphones. Many children enjoy the chance in the afternoon to take time out with a quiet story. During the mornings this month a variety of craft centres have been on offer. The children have enjoyed the opportunity to make their own books, hats and a creative assortment of vehicles.

Thank you to Emma Valente for the donation of the two CD walkman's. This month we are revamping our dress up collection. If you have dress up's that you no longer need your Island Kindy would love them. We do already have a lot for princesses. Thanks.

Regards,
Shona Forsyth
Director



Free to take:




Tumble Weed mulch maker


This spinning composter's lid does not currently slot in properly. Other than that, in good order.
Please come and take it if you want. This is the composter outside the Kindy gates not inside.
Thanks. Shona


---
Scotland Island Fire Shed Dinner
Saturday August 8 7 at 7pm

---
Old Photos of Offshore Life Wanted




A Historic Digital Collection

Islander Chuck Bradley, a professional photographer has been inspired to make the following offer.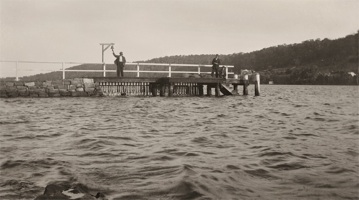 "A friend of mine came across some old negatives of the Island from a guy on the eastern side and asked me to copy and restore them. One of the shots of Bell Wharf you see here.

This got me to thinking how many other prints, negs, etc. may be laying around in boxes on the Island and in the Bays.

I would like to take the task on to gather all these bits and pieces and restore them and produce a digital collection for everyone to enjoy.
I'm very keen for people to dig into those old boxes and see what they may unearth"


Anyone with material that maybe useful can contact Chuck or the Editor. Historical negatives or photos will be copied, restored then collated into a collection? All submissions will be returned once copied,

Contact Chuck Bradley at
Phone: 61 (0)417 023 373
Studio 213/117 Old Pittwater Road
Brookvale NSW 2100 Australia
www.chuckbradley.com.au

---
| | |
| --- | --- |
| | |
| Local Council Notices | |
Free Battery and Phone Recycling Service


Pittwater Council announced the launch of a free battery and mobile phone recycling service that will come into effect from Monday 3 August 2009.

Residents can deposit their household and laptop batteries, as well as mobile phones and chargers, into specially marked containers at Council's customer service centres at 1 Park Street Mona Vale and 59a Old Barrenjoey Road Avalon.

Pittwater Mayor David James said the initiative was a vital step in preventing toxic metals contained in household batteries from leaching and contaminating the soil.

"When not disposed of correctly, heavy metals used in batteries can threaten the condition of our environment," Mayor James said.

"I encourage all residents to take advantage of this recycling initiative.

Mayor James said residents could minimise battery waste by choosing appliances that connect to mains power where possible and buying batteries that can be recycled.

"Rechargeable batteries can be reused up to 1000 times, resulting in a cost effective and eco-friendly alternative to single-use batteries," he said.

Residents wishing to recycle car, boat and Uninterruptible Power Supply (UPS) batteries can do so at Kimbriki Recycling & Waste Centre at Ingleside.

For more details about the Council's battery recycling program contact Michelle Carter on 9970 196 or visit www.pittwater.nsw.gov.au/services.




Pittwater takes on Global Poverty


Residents are invited to two free events on global poverty taking place in Pittwater.

The first presentation, called 1.4 Billion Reasons, will take place at the Newport Community Centre on Friday 14 August at 10am.

The 90-minute presentation will be hosted by Hugh Evans, a former Young Australian of the Year and member of the Global Poverty Project, along with members from advocacy group RESULTS Australia.

According to the team from the Global Poverty Project, 1.4 billion people in the world live in extreme poverty. Through their presentation the organisation is promoting a global movement to take effective action on poverty.

Event organiser Louise Lorimer from RESULTS Australia said the presentation was traveling the world, inspiring and empowering audiences in its path.

"We are very lucky to have Hugh Evans joining us here on the northern beaches for this event. Hugh is traveling across the country undertaking 40 of these presentations in 50 days!" said Ms Lorimer.

The second event will be a forum on poverty and will include parliamentary leaders the Hon. Julie Bishop MP and the Hon Bronwyn Bishop MP, along with other leading guest speakers.
The event will take place at Bayview Golf Club on Wednesday 2 September at 10.30am. Following a presentation there will be an open forum for the public to ask questions, followed by refreshments.

For more information or to RSVP for both of these events call Lili Koch on 9948 8892 or email lilikoch@bigpond.net.au
For more information about this poverty project visit www.globalpovertyproject.com or www.results.org.au

Newport Community Centre is located at The Boulevarde, Newport and Bayview Golf Club is located at the corner of Pittwater Road and Mona Street, Mona Vale.




Independent Review of Geotechnical Policy Adopted


Pittwater Council last night considered the recommendations of an independent peer review of its interim geotechnical risk management policy.

The peer review, by geotechnical consultants Douglas Partners, made several recommendations regarding the interim policy. The main recommendation is the removal of the geotechnical hazard zone in Pittwater known as 'H3', which has also removed the requirement for around 6000 property-owners in Pittwater to lodge a geotechnical report when submitting a development application.
The interim policy will be placed on public exhibition for comment between 25 July and 4 September. However, as the interim policy it will take effect immediately for residents.
Acting General Manager Steve Evans said as a result of the Council decision, a geotechnical report would no longer be needed as part of a development application for those properties deemed to be in the H3 category.

"However, the requirements of the policy will still apply to those properties within hazard zones known as 'H1' and 'H2'," he said.

He said affected property-owners in the former H3 zone would be notified of the outcome of the review in writing.
Pittwater Mayor David James said he was satisfied with the independent review of the interim policy and the Council's 'safety first' approach to the landslide issue based on expert advice from geotechnical professionals.
"The fact is that Pittwater is recognised as one of the most landslide-prone areas in the state and we have a duty of care towards our residents," he said.

"Our intention all along has been to have a robust landslide risk management policy to help protect residents and the general public, based on the best technical advice available. We are satisfied we now have this."

"Removal of the H3 zone from the requirements of the policy is a positive outcome for over 6000 local property-owners."
The interim policy will be on public exhibition for comment at the Council's customer service centres at 1 Park Street Mona Vale and 59A Old Barrenjoey Road Avalon or at www.pittwater.nsw.gov.au/documents_on_exhibition between Saturday 25 July and Monday 7 September 2009. A public meeting will also be held in August to discuss the policy.




National Tree Day at Bilarong Reserve


To mark Planet Ark's National Tree Day, Pittwater Council will hold a tree-planting day at Bilarong Reserve, North Narrabeen on Sunday 2 August 2009 from 9am to 1pm.

National Tree Day is Australia's largest community tree-planting event. Each year more than 300,000 volunteers plant native trees and shrubs at local sites across the country and since National Tree Day started in 1996, over 13 million native trees and shrubs have been planted.

Pittwater Mayor David James said National Tree Day provided benefits to the environment by planting species that provided food and shelter for local wildlife.

"Pittwater is well-known for its native tree canopy and it's important we retain native vegetation wherever possible," he said.

Council's Bushland Management Officer Karin Nippard said the planting day would link with work underway on the Narrabeen Lagoon Catchment Project.

"Pittwater Council will provide tools, training and some morning tea. We suggest participants wear sturdy shoes, a hat, and sunscreen and bring a drink with them," she said.

Bring the kids and make it a family day! Participants should meet at the Scout Hall, off Wakehurst Parkway from 9am on 2 August.

Further details about National Day and other planting sites to mark this occasion can be found at www.planetark.org.au




Snap a Prize for your Canine Companion!


Pittwater Council is looking for local dog-owners to enter the Pittwater Dog of the Year Photo Competition. The photo competition will be just one of the highlights of the annual Dog Day by the Bay event on Sunday 27 September 2009, with the winner of the competition announced at 12 noon on the day.

Entries are now open and online submissions are invited via Pittwater Council's website www.pittwater.nsw.gov.au The closing date of the competition is Friday 4 September.

The winner will receive a gift pack of doggy goodies for their pet, valued at over $100.

Dog Day by the Bay will be held at Rowland Reserve, Bayview between 10am and 3pm on 27 September and is a free day of fun for all the family, including four-legged members!

There will be dog agility trials, dress up competitions, the popular 'doggy dash' race and other events for dog owners to enter with their pet.

Stalls will exhibit and sell a wide range of products for pet-related health, hygiene, grooming and play, as well as a variety of food and drink stalls.

A band will entertain while the kids can keep busy in the 'kiddie's corner' with fun activities and the jumping castle.

All money raised at the event will be donated to the local Animal Welfare Leagues and the Guide Dogs Association.

For entry forms for the photo competition and full details on Dog Day by the Bay visit www.pittwater.nsw.gov.au


---
Pilates Classes




New Timetable


Wednesday class will now be 8am only.
Monday class will remain at 9am
and the Tuesday class at 7pm.

Newcomers welcome. Drop in classes in the Scotland Island Hall, 1 hr including meditation, $15.

For more information go to www.belladonnafitness.com


---
Author Talk@ Mona Vale Library

The Weight of Silence


Catherine Therese, memoir on Tues 4 August at 6.30pm at 6.30pm



In her achingly funny, heartbreaking childhood memoir, Catherine Therese takes the reader inside her head, and upside down on a unique coming-of-age rollercoaster. From picking her belly button in her backyard in Blacktown to hiding inside her wardrobe interpreting silence, to the bedroom of a boy with half a thumb, to the labour ward …

THE WEIGHT OF SILENCE is an unforgettable story of forgetting, pretending, remembering, of becoming who you are. A girl who carries a shard of glass, votes for herself and believes in holding rain.



Click image to load the synopsis



Cost $7.50, concession $5.50 for Friends of Mona Vale Library, Pensioner, Student. Cards must be shown. Also, a reminder, payment is required within 3 days of booking.


---
WPCA Reference Group Representatives



Pittwater Council's Reference Groups and the WPCA elected members of the Pittwater Estuary Working Group :



Penny Gleen (WPCA representative)
Alan Yuille (offshore representative)
Lisa Atkins (offshore representative)
Marita Macrea (Pittwater Natural Heritage Association)
Margaret Makin
Kristine Martin (Careel Bay Pittwater Protection Association)
Garth Wilson (geologist/bush regenerator)

Also – Michael Wiener, WPCA President was interviewed for the article published in 'Pittwater Living' on community infrastructure "Councils' Maintenance Dilemma" - which you find below.



Pittwater Council's Reference Groups



The Pittwater Council Reference Groups had their first meetings in May 2009. The following are details of their top priorities. Should you have any issues you would like to submit please contact the WPCA and we will pass them on to our representatives.



Community, Recreation & Economic Development


WPCA Representatives: Paul Purvis & Penny Gleen
Top Priorities -

To increase the feeling of connectedness
To increase the level and effectiveness of volunteering
To promote life-long learning
Natural Environment


WPCA Representatives: Alan Yuille - alternate rep. Michael Doherty
Top Priorities -

To enhance water quality & improve the condition of creeks
To protect, enhance, conserve & restore remnant bushland & creek line ecosystems & to maintain abundance & diversity of Pittwater's native plant & animal species
To minimise production of waste & increase reuse & recycling
Planning An Integrated Built Environment


WPCA Representatives: Lesley Stevens & Michael Wiener
Top Priorities -

To encourage land use that caters for all community needs
To encourage well-built development that adheres to sustainable design principals
To encourage Pittwater's villages to be liveable & amenable
To encourage the use of public transport & alternative travel means incl. issues such as reduction of speed & road safety
Governance


WPCA Representatives: Graham Earl
Top Priorities -

To provide open, ethical & transparent decision-making processes
To maintain Council's financial sustainability
To promote proactive & effective community engagement & consultation

---
Boat Launching Procedures




So here it is.


Just bought a new boat and decided to take 'er for the maiden voyage this past weekend.
This is my first boat and not quite sure of the exact SOP (Standard Operating Procedures) for launching it off a ramp, but I figured it couldn't be too hard.

I consulted my local boat dealer for advice, they just said

"don't let the trailer get too deep when you are trying to launch the boat".


Well, I don't know what they meant by that as I could barely get the trailer in the water at all!

What am I doing wrong?



---
You Asked..




Septic Pump Out


Septic needs to be pumped out and it will be considerably cheaper if we get a few households on the island done on the same day. If anyone needs their septic pumped could get in touch with Ben or Sarah on 99792131, or 0403153950.



Reliable Repair Company Found!


Thanks to Sam Collins found a reliable white goods repair company, so for all those people who asked

Alpha Appliance repair. 99595473

---
For Sale
If you have something for sale that you think locals would like - let us know and we will put a SINGLE line entry in the PON at the beginning of each month...
---
The Local Guide
Emergency Contact Numbers:
| | |
| --- | --- |
| ALL EMERGENCIES (Police - Fire - Ambulance) | 000 |
| Police Assistance Line & Information | 13 1444 or 9281 0000 |
| Broken Bay Water Police | 9910 7899 or 0412 162 093 |
| NSW Fire Service General Information 9265 2999 | 9265 2999 |
| Rural Fire Service General information | 9450 3000 |
| State Emergency Service, Warringah/Pittwater SES | 9486 3399 |
| National Parks & Wildlife Service: 000, general information | 9457 9322 |
| Dept of Community Services: general information | 9977 6011 |
| Sydney Water | 132 090 |
| Energy Australia | 131 388, (ah) 131 909 |
Airlines, Buses and Railways:
Weather:
---
Join SIRA

You can now join the Scotland Island Residents Association by

clicking here.

Please print the page and return the completed form to SIRA at this address: The Treasurer, SIRA, PO Box 70, Church Point 2105. Please NO CASH. Contact SIRA at

sirapittwater@gmail.com

Join WPCA

To join the Western Pittwater Community Association, contact Michael Wiener at

m2wiener@bigpond.net.au
---
Archived Newsletters:
A complete set of past electronic newsletters since May 2000 can be found and read at https://www.ymlp.com/pubarchive.php?sira or by clicking here

or by visiting the Mona Vale Library.
The Island website is at www.scotlandisland.org.au


---
Finally:


If you would like to contribute to this newsletter it's easy!. Send an e-mail to the editor by clicking here. Type your short contribution (100 words would be fine) and assuming it is of general interest to the community, does not include matter of a political nature and is not offensive to your neighbours, it will appear next month.

SUBSCRIPTION INFORMATION

:


To get on and off this newsletter, click here or got to: http://www.scotlandisland.org.au/signup . To change your address, click the 'modify' link at the bottom of this newsletter.



The views expressed in this newsletter are not necessarily the views of the Scotland Island Residents Association (SIRA), or the Western Pittwater Community Association (WPCA)

---