Springtime in the Rockies Means Blooms, Barns and Baby Goats -
By Linda DuVal
When Gina and D'Arcy Marcell bought the Mountain Goat

Lodge near Salida nearly three years ago, it didn't allow pets or children. Now, it welcomes both with open arms. "Were very pet-friendly – VERY," Gina says. Guests can bring their dogs, cats, even horses. "And we're family-friendly, too. Kids are welcome."
Has it been good for business? "When we took over, the occupancy rate was about 20 percent. Now it's over 60 percent. That's the difference it made."
And spring is an especially wonderful time to visit this central Colorado B&B.Why? Baby goats. "They start arriving in mid-March and the guests just love them," Gina says. "You might say goats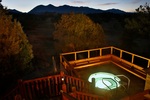 are my passion. We have pictures of goats on the walls. Breakfast usually features goat cheese I made, and goat-milk yogurt, as well as free-range chicken eggs." (She also has cow's milk products on hand, for those who prefer it.)
Gina also teaches goat- and chicken-raising, cheese-making and other cooking classes.
With four guest rooms and two suites (with king beds), the inn was built in 2003 on 19 acres with views of the Sawatch Mountains. It's just 8 miles from Salida, known for its art galleries and good restaurants.
Guest rooms have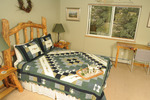 balconies and private baths. There's an outdoor hot tub, too. The communal great room has a two-story fireplace a
nd comfy places to read or play board games.
Plan to hike or bring y
our bike for some exercise, or take advantage of nearby rafting, skiing, hot springs and horseback riding, depending on the season. Located in what's sometimes called Colorado's "banana belt," spring comes earlier to the Salida area than the deep mountains. That's good news for guests – and baby goats.
Springtime also comes early to southern Colorado, to towns like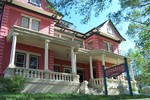 Trinidad, on the New Mexico border. The historic Tarabino Inn, built around the turn of the last century, was a family home for decades. In 2000, Teresa Vila and Kevin Crosby bought it and spent two years transforming it into a bed-and-breakfast inn.
"I know spring is coming when the crocuses start to poke up through the snow in March," she says. She also plants lots of tulips. "By May, everything is in bloom."
You can't miss the hot pink Italianate Victorian house just two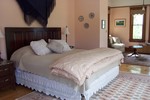 blocks from downtown. It's also just a couple of blocks from two historic homes – Baca House and Bloom House, which represent how the common folk and the rich folk lived during the town's boom years.
"We have a lot of heritage tourism here," Teresa says. Trinidad also is a key point on the Scenic Highway of Legends driving route, a stop on the Amtrak train line, and a popular stop-over for would-be spring skiers coming by car from New Mexico, Texas, Oklahoma and parts of Kansas.
Guests are treated at the 4 p.m. check-in with cookies, fruit, chocolates and tea, and a full breakfast each morning. Though she does not do public tours of the house, guests can get an informal tour from the owners, detailing the history and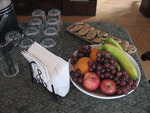 architectural high points of the home. Each of the five guest rooms is different and decorated in period style.
Trinidad has become something an artist's colony in recent years, so guests also can admire (and buy) works by local artists hanging in the rooms and public spaces, or wander downtown and visit the local arts galleries.
"Trinidad has changed a lot in the past decade," Teresa says. "We have lots to offer, and some great new restaurants. People are amazed."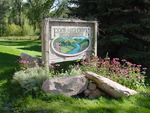 In 1997, Sharill and Jim Hawkins moved from Denver to Glenwood Springs to open a bed- and-breakfast, Four-Mile Creek. The property they found included a 1919 barn that was totally collapsing. It took them four years to rebuild the property enough so it could be listed on the National Register of Historic Places.
Once they rebuilt the barn, it became a focal point for guests, who loved to explore it. So, four years ago they added a suite in the barn's milking area. It's a popular accommodation among guest seeking that "rustic" experience. The property also offers two classic B&B rooms, and two log cabins.
For several years, the Hawkins' have hosted a small spring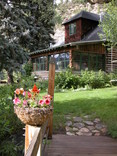 show featuring local artists, titled The Whimsical Women of the West. It happens the weekend after Mother's Day (May 17-19 this year), when the barn and grounds are filled with displays of artwork, collectibles, folk art, fine crafts and other works by 20-25 local women.
"It's a true celebration of spring in the mountains," says Sharill. "Each year, we choose a non-profit in our area to give a percentage of sales to. Guests and visitors to the show can enjoy refreshments and also the warmth of a fire near the barn if the weather is cool. We also include cooking demos in the main house on Saturday."
On Sunday that same weekend, the loft of the barn becomes a music venue. "It's the first barn concert of season. Guests and up to 50 neighbors and friends fill the loft to listen to a local band and enjoy an incredible pot-luck."
There are three more concerts planned -- in June, September and October.
-Linda DuVal is an award-winning freelance travel writer from Colorado Springs who has been writing about Colorado for more than 30 years.
Mountain Goat Lodge,
9582 Hwy 285 North, Salida, CO 81201 (719) 539-7173 or (877) 495-GOAT (4628)
(719) 846-2115 or (866) 846-8808
Four-Mile Creek,
6471 County Rd. 117, Glenwood Springs, CO 81601 (970) 945-4004
COLORADO CULINARY CREATIVITY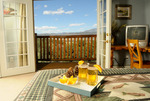 Mountain Goat's Greek Frittata
• 3 whole eggs and 3 egg whites
• 1/2 cup red onion, chopped
• 1/4 cup cherry tomatoes, cut in half
• 1/4 cup Greek black olives without pits
• 2 tablespoons feta cheese
• 2 tablespoons extra virgin olive oil, plus more for drizzling
• Salt and freshly ground pepper
1. In a small 8-inch frying pan, heat the olive oil over medium heat.
2. Add the onions and saute until they begin to caramelize (about 5-7 minutes).
3. Add the spinach and quickly wilt it. Season with a little salt and pepper.
4. Add the egg mixture to the pan. Top the eggs mixture with the cherry tomatoes, placing them cut side up, and the olives. Sprinkle with feta and drizzle with olive oil. Season with salt and pepper.
5. Continue to cook for a few minutes until the frittata begins to set.
6. Transfer the pan to the oven and cook under the broiler until the eggs are fully cooked (the top will puff up a little).
7. Allow to rest for five minutes before cutting into four pieces.
Check out the latest specials and packages from Colorado B&Bs and see what's "Inn-style" for your upcoming bed and breakfast stay!