---
CLEAR OUT – MONDAY, AUGUST 13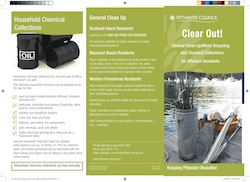 PLEASE READ COLLECTION GUIDELINES ATTACHED BEFORE PUTTING YOUR MATERIAL OUT!



The total quantity per household should not to exceed 3 cubic metres (3m x 1m x 1m)



UNACCEPTABLE ITEMS



Asbestos, batteries and household chemicals
Building materials – wall linings, gyprock, studs, timber beams, tiles, concrete
Car, motor and boat parts, rubber tyres – rims are accepted
Food, full gas bottles (open valve), glass including windows, panes, mirrors, panels, shower screens, picture frames, liquid paints, oils, fuel, soil, earth, fill, bricks
Recyclable materials – paper and cardboard, soiled wrappings, vegetation, plants
Unacceptable Items will not be collected



IMPORTANT NOTE: NO ASBESTOS TO BE PLACED OUT FOR COLLECTION



Asbestos is extremely hazardous to everyone's health. This includes what is known as "fibro" which is an asbestos based product.
URM is legally bound and reserves the right to close down the collection should any asbestos be found thrown out for the Clear Out
ACCEPTABLE ITEMS
Appliances such as stoves and fridges – remove doors; frames with glass removed – break glass into newspaper, wrap securely and put in household garbage
Paint tins and fuel containers – with the lid off and no liquid
Manageable quantities of: delivery pallets, wooden stairs, decking, gates, fencing, guttering, down piping, iron sheets and water tanks – cut down to 1.2 metre lengths and able to be lifted by one person; nails must not stick out – please hammer down; hot water systems – emptied
Metals to be kept separate, where possible, to be taken to Kimbriki Recycling & Waste Facility for re-processing and re-use
Place metals in a separate pile to other general clean up materials



Click image to load pdf poster



---
Scotland Island Winter Fire Shed Dinner
Saturday August 11th, 7pm
INDIAN CURRY NIGHT
Adults $20
Children under 12 $5
---
Letter to the Editor



Recently Pittwater Council painted Bell Wharf. To do this they untied my commuter boat, which was moored with a new length of rope, and undid the new padlock which they then secured on the mooring chain (under quarter tide level).

Last Sunday I retied my boat and tidied up the rope, wrapping the chain around it as I had forgotten to take my keys with me and could not undo the lock. Today I went to my boat and saw the chain had been cut with a pair of bolt cutters and that the rope had also been cut, and retied much shorter. I have been mooring in the same place for nearly 30 years. While my boat has not had an engine on for sometime, not only was the rope, padlock and chain new, the boat was painted in the last two weeks and I have only been waiting for a suitable tide to anti-foul it before putting the engine back on. The boat is registered.

Tinnies are a more important lifeline to us than cars to mainlanders, because we made need them on a moment's notice. I know this better than most because I have been called on by my work and neighbours to use mine at all times of the night. In trying to keep Bell Wharf problem free I have been approachable and willing to offer assistance to people with any mooring problems. I really don't think we need people who maliciously damage others' boats and property on the island and will be reporting this to the Water Police as the offenders have committed several criminal offences.

Steve Pollard



---
Church Point Ferry Service
on Google Maps and


Transport Info App.





Public Transport customers, including Church point Ferry Service users will now be able to use Google Maps and/or a Transport Info App.



Customers searching for directions on Google Maps traditionally have the choice to drive, walk or cycle, but from today they will see another option providing convenient public transport journeys to their destinations. This means that Sydney, and the Church Point Ferry Service now joins global cities including London, New York and Hong Kong that also have public transport on Google Maps.

Transport Info 131500 is still the best tool for information about public transport routes, and the app "transport info" will tell you when the next ferry is using your location. Go to your App Store and search for "transport info". Download the free official Department of Transport NSW Info app for up-to–date trip planning details.

Includes next service, from your current location If you have GPS capabilities on your phone
A to B trip planner,
Maps and public transport updates.
Search for destination
Use your contacts to plan trips
View service information
Save your favourite trips and locations.

---
Wanted to Rent



My partner and i are looking for rentals on the island or surrounding bays.
I have seen some through real estates but just wondering if there is any word in the community of other places for a couple. I grew up in Mullumbimby, a nice community environment like the island. A few of my friends grew up on the island too. My partner comes from the northern beaches. We are looking for an alternative to Sydney hectic unit living.

I am a massage therapist and my partner is a music technican for international bands and festival tours. Like blues fest, stevie wonder and george benson.

We are reliable, clean and mindful people. We have no kids, pets and do not smoke.

Contact Sarah - Sklive@iinet.com.au



---
Missed out on a Newsletter?




Go to the archives to download previous notices



A complete set of past electronic newsletters since May 2000 can be found and read at https://ymlp.com/archive_gesgjgm.php


---
The Online Local Contact Guide

Click HERE to load
The views expressed in this newsletter are not necessarily the views of the Scotland Island Residents Association (SIRA), or the Western Pittwater Community Association (WPCA)
---