Who, what, where?

Every month we give you an update on the projects that have been completed by our applicators with Liquid Rubber®. Some are large (in terms of volume), others are smaller, but this way you get an impression of the many possibilities with Liquid Rubber. If you have any questions about these projects, please contact us.
Project:
Sealant parking deck
Description:

Liquid Rubber is constantly trying to innovate as you can see in this project. Many parking decks or parking garages are leaking. These leakages cause major problems. That is why they need to be fully waterproofed.

At this project the HBS200 was applied directly on the concrete in a thickness of 2mm. This layer of Liquid Rubber ensures a fully waterproofed deck. The HBS200 has a little rough finish. Therefore, the product is not conducive to be in contact with rubber tires for example. That is why we never advice to use Liquid Rubber as a final product if cars will be driving on it.
To ensure a resistancy of the friction from the car tires, we added a split granulate on top of the wet layer of HBS200. The Liquid Rubber HBS200 will absorb the granulate like a glue and functions as a wear layer. This way, the Liquid Rubber HBS200 will be resistant against the friction and cars can drive on it.
This is a very solid and cost effective way of renovating these kind of parking decks.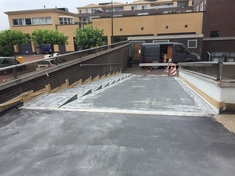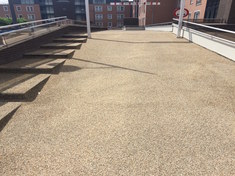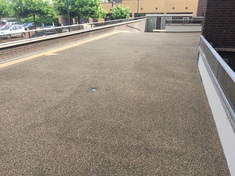 Photos: Liquid Rubber Europe (LRE Coatings BV)
------------------------------------------------------------------------------------------------------------------------------------------------
Project:
Roof sealant with Liquid Rubber SprayGrade

Liquid Rubber is frequently used as a seamless roof sealant. The product can easily be applied on top of existing roofing products.
As usual, the surface is cleaned very well. The HBS200 combined with geotextile was applied on all the details and outlets. Afterwards, the Liquid Rubber SprayGrade was spray applied in 2mm. This ensures a fully waterproof layer.
A very easy but durable way of renovating a roof. Liquid Rubber SprayGrade is 100% UV resistant and has a flexibility of 1200%. This way, the product can easily work with the flexibilty of the connections and details on the roof.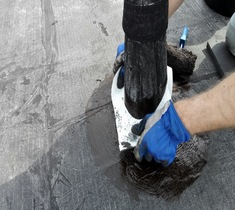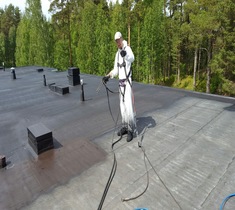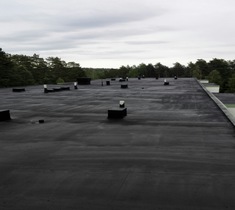 Photos: Liquid Rubber Europe (LRE Coatings BV)
------------------------------------------------------------------------------------------------------------------------------------------------
Project:
Foundation sealant with

HBS200
Waterproofing the connection at the foundation is a very essential part of the construction. Liquid Rubber is very often used to seal this connection because of the seamless flexibility.
After cleaning the surface thoroughly, the Liquid Rubber HBS200 was applied in a thickness of 2mm. The product was spray applied with a rapid spray system. Because Liquid Rubber cures very fast, the next day the constructer started with a next phase.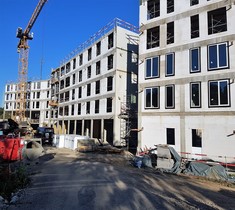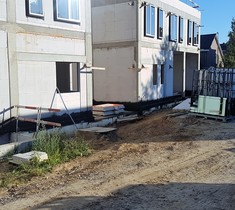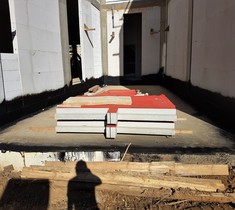 Photos: Liquid Rubber Europe (LRE Coatings BV)
The construction holiday is as good as over and new projects are ready to start.
If you have any needs for a solid waterproofing, air barrier or protection of a surface, you can always reach out to us for a free advice of the Liquid Rubber possibilities. We have the possibility to supply you with our high quality Liquid Rubber, or we can do the entire job for you with one of our certified applicators.
Do you want a solid advice? Please contact us at +31297-587866 or send an email to info@liquidrubbereurope.com
Photo: Liquid Rubber Europe

On our social media account we post informative, interesting and entertaining posts. On YouTube we post videos that are informative and demonstrate the large number of possibilities of our product range. Besides following our developments you can also share your opinion about Liquid Rubber with the rest of the world.
 
Click the following buttons to follow Liquid Rubber Europe.
Liquid Rubber Europe, Groot Mijdrechtstraat 15, 3641 RV  Mijdrecht, The Netherlands