From this month's guest blogster Stephanie
(on the right in the picture above):
My name is Stephanie, I come from Brazil but I live in The Netherlands and I'm the guest blogster for this newsletter.
I have followed several Dutch courses through the last years.
Most of them have the same way of approaching the language: Books, repeating, writing, repeating again, lots of grammar, classroom, etc.
This technic kind of works, but always brought me a lot of
anxiety and frustration.
(See picture below with some of my notes from former courses).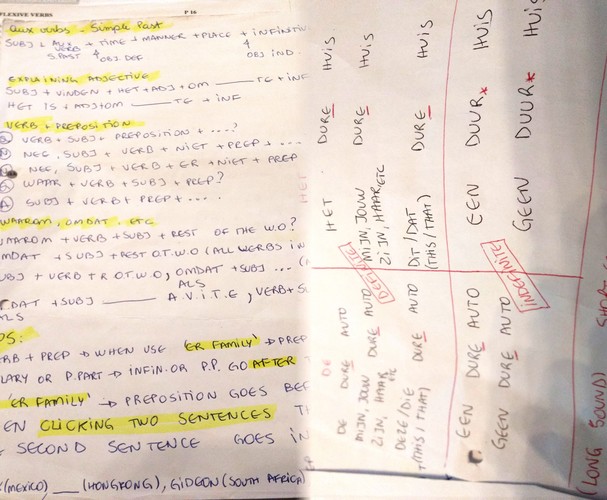 When I saw the ad for Sylvia's course, I found it quite interesting. She mentioned learning Dutch while doing different activities and as to learn a language you must also learn a bit of the culture,
I thought was a good idea to try it.
I must admit that after the first day I thought Sylvia was crazy
and I was wasting my money
(although it was a very "gezellige" dag and I had lots of fun).

On the second day, I woke up in the morning thinking about all I had learned the day before while walking in the park.

I second-guessed myself and wondered that maybe there was something going on in my brain and that Sylvia could be right.
On the third day, I was just astonished. Her technic is great and she has a vast knowledge of the psychologic/physical aspects of the learning process.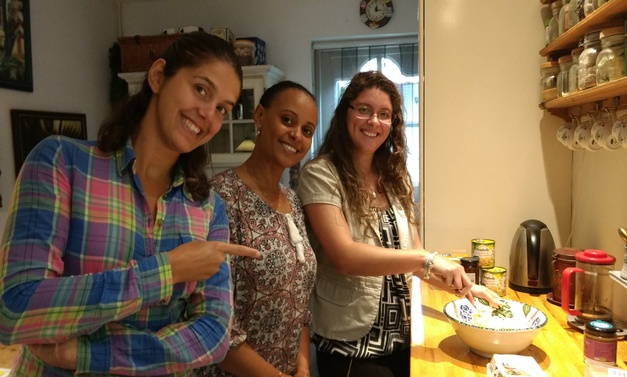 I would like to advertise this course to all my colleagues at work… However, I can imagine some of them would not understand the method and walk away in the first hour, because they think it is not possible to learn while doing these fun activities.

But boy, would they regret that later on!
If you are open to get out of your comfortable zone,
like nature, you are animal-friendly
(her whole environment relates to animals/pets),
you like socializing in a genuine way,
you want to improve your communication skills in Dutch, then give Sylvia your full trust and go for it.
It is definitely worth it!
Stephanie

-----

Reaction
to this blog by
Sylvia
(owner & teacher of Learn Dutch Fast):
My advice to everyone who is thinking about joining a Dutch course, with me or with any other company, to request a free intake. That way, you can ask all you want and meet the teacher to see if there is a connection. Because, no matter how good a course can be, it is very important to be able to like and trust your teacher in order to have a good time while learning
(and therefore learn faster!).
That is why I always offer a possibility to have a free intake for 30 to 45 minutes, either in my house or during a walk in the woods.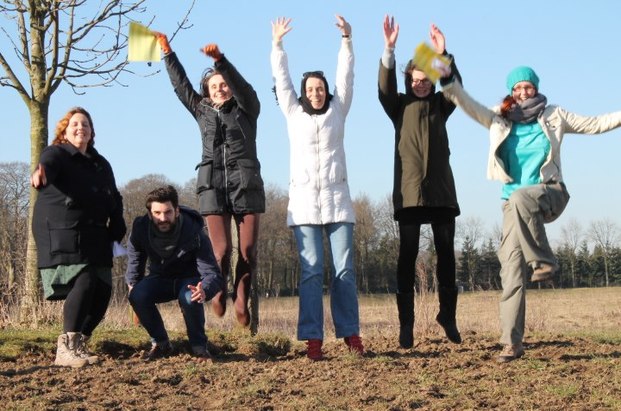 Although my approach to teaching is to find the best way for each participant to learn Dutch (so I don't use just one method), it might of course be that I'm not the best option for you.
For me, it is always hard to explain what a course will look like, because it is so different each week. I make my plans in the evenings before the next course day, so I can take into account everything that happened the day before and work towards your goal as fast as possible.
To be honest, if I hear colleagues tell that they take their students out for shopping or other outings, I have second thoughts towards that, although I'm doing the same thing. It is very important what the teacher does before, during and after an activity like this.
I always make sure the activity will be useful, not just a diversion/break, but real learning experience.
How?
That is my little secret ;-)
(Yes, I do offer Train the Trainer Courses
for those who would like to find out).
The guest blogger of today, Stephanie, was in my course a couple of months ago. The evening before her course started, she called me to tell me that she had just read we would spend one morning during her course around horses for a coaching session.
She was worried about that being a waste of her time and money, and she wanted to know whether I could confirm that at least 70% of her time with me would be spent on learning Dutch. I explained as well as I could that, in fact, 100% of the week would be "learning Dutch time". She decided to trust me and came for her course. You can read her thoughts in her text above in case you haven't done it yet.
So, , do you want to make 2017 the year you really learn Dutch (fast) & do you dare to give me a try?
Mail me for a free intake
or come to a "Use Your Dutch Adventure" like this one
(painting Dutch heather) to check out my teaching style!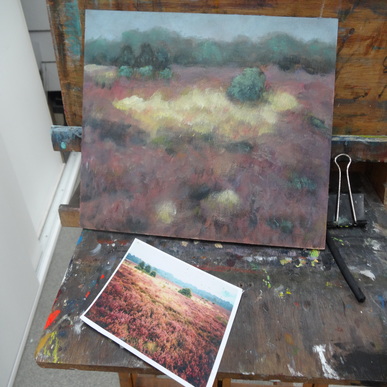 And for those who already have enjoyed one or more of my classes,
I would be very grateful if you could write a review
for this site about expat-friendly locals.
Thank you!
The
schedule for after June 25th will be posted a.s.a.p.
,

before that date all courses are fully booked, sorry.

That was it for now, tot ziens!
or share on social media:


Thank you!