July 30, 2015
Newsletter for Offshore Residents of Pittwater, Australia
---

Vale Philip Bond - A True Gentleman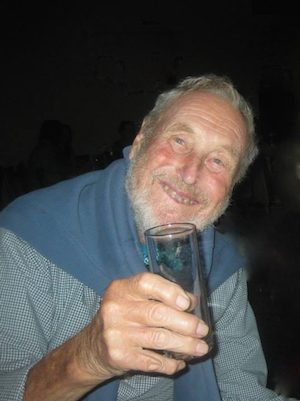 Philip passed away peacefully in his sleep after a few sips of Johnnie Walker on Sunday afternoon, 26th July 2015 surrounded with love by Trilby, his grandson and partner Tina.

Philip was a highly respected member of the Scotland Island community for 30 years.

He was a founding member of the Woody Point Yacht Club back in the early 80's and became Commodore in 1994.  That year he and Arthur Spithill, wrote the WPYC Charter commencing with the line "Founding Members were a group of social drinkers with a boating problem"!

He started the Gentleman's Launch division at the Australia Day Putt Putt Races by racing  his timber half-cabin boat Aldrych against Brian Wetzler of bottle shop fame. He continued to race Aldrych for another 20 years winning many bottles of champers on the beach at Treharne Cove for Best Dressed boat.

Philip was a long time member of the Bush Fire Brigade and a Harmonica player and clown in many Scotland Island Player revues.

Philip was a British war veteran of the Korean War and his main contribution to the off-shore community, along with Old Brucie and Michael Moxey,  was organising the Anzac Day Ceremony at Church Point and making it into the special event that it is today.

A private cremation for Philip has been organised according to his wishes.





---
---