As summer begins, our garden is in bloom to greet you. At Holden House, you'll find six beautiful and luxurious suites featuring
king or queen beds, private baths, and
sitting areas as well as wide verandahs and cozy porches to enjoy with rocking chairs, porch swings and our "secluded" back garden with fountains, umbrellas and a gazebo. We've been sprucing up the inn with new exterior paint on all three buildings, front sidewalks at the Rose Victorian and our Victorian garden is blooming with color. Let our outdoor areas be your place to rest, reflect and de-stress. You deserve it.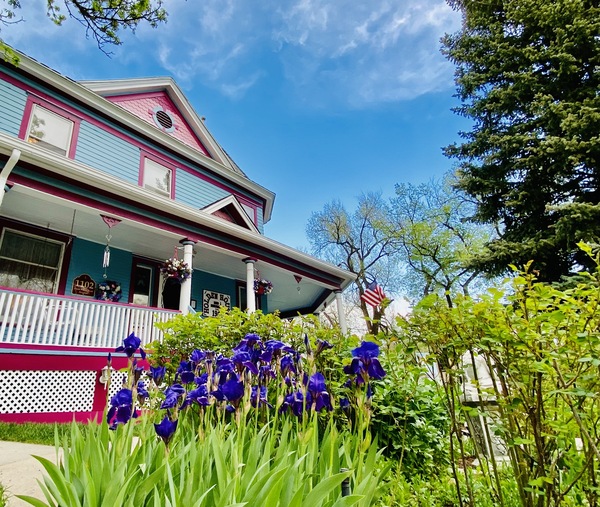 ---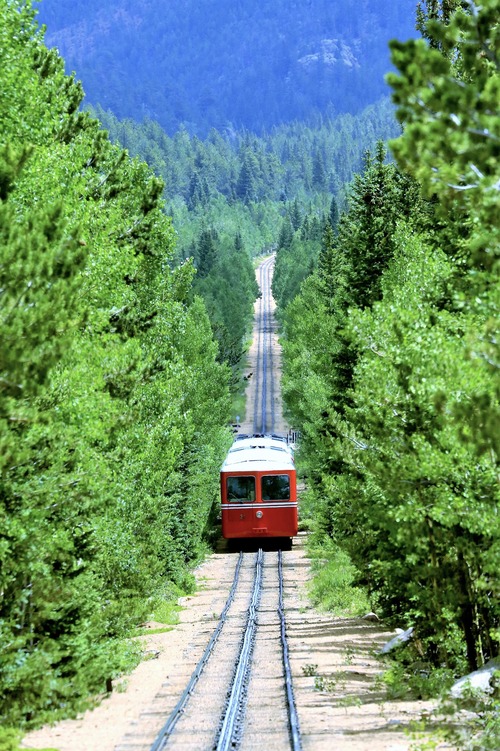 A visit to Colorado Springs is not complete without a ride on the rails on one of the area's local trains. These are must stops, especially for railroad enthusiasts and an easy drive from your basecamp at the historic boutique-style and award winning
Holden House 1902 Bed & Breakfast Inn
located in Colorado Springs.
Certainly one of the most well-known trains is the Broadmoor Manitou & Pikes Peak Cog Railway that winds its way up to the top of 14,110 foot Pikes Peak, known as America's Mountain. Reopened and upgraded with new cars and new track this May, the nine-mile trip provides camera enthusiasts wildlife viewing opportunities including yellow bellied marmots (also named whistle pigs), bighorn sheep, deer and more. According to local legend, author Katharine Lee Bates penned the words to the hymn America the Beautiful while standing on top of Pikes Peak, which evokes "Purple Mountains Majesties". The Cog's history began in 1889 when the Manitou and Pikes Peak Railway...
- Read More Click Here
---
35 Years and Going Strong
On June 9, 1986 - Sallie and Welling Clark welcomed their first bed and breakfast guests to Holden House. The Clarks had worked for over a year in restoring the 1902 Victorian fixer-upper, including a complete replacement of the home's original foundation, plumbing, wiring and installing new bathrooms, kitchen updates and many other projects.
Looking back on that day, they remember that the first guests to stay were a couple from Silverton, Colorado and a young military couple on their honeymoon heading to Fort Huachuca, Arizona, who were to begin their married life in the Army. At the time, Holden House included the main house with three standard guest rooms with private baths, each named for the Colorado mining towns of Cripple Creek, Leadville and Silverton for which the Holdens (the historic name of the home's first owner, Isabel Holden) owned mining interests. At the time, Sallie was the sole innkeeper during the day, completing all innkeeping tasks. During the day, Welling was busy at his job outside the home, returning each evening to assist Sallie with additional chores and guest service. On the weekends, you would see them both working hard as innkeepers in their seven-day-a-week profession. In 1987, the Clarks helped establish the statewide bed and breakfast association, Bed & Breakfast Innkeepers of Colorado, which continues to support the B&B industry with a website and marketing efforts.
Fast forward to 2021 and many changes throughout the years; expansion first to the Carriage House and then the Rose Victorian, converting rooms into suites and adding amenities such as TV's, fireplaces, oversized tubs and afternoon wine and beverage social, just to name a few. Here you'll find attentive and friendly assistant innkeepers who help the Clarks maintain the personal service and attention to detail.
Today's Holden House 1902 Bed & Breakfast Inn may look a bit different than it did in 1986, but guests will continue to experience the warm and friendly hospitality they have come to expect. Say a "Happy Anniversary" to Holden House and Sallie and Welling Clark for 35 years of hospitality!
---
The Pikes Peak Area offers the opportunities for an amazing vacation or staycation with a plethora of attractions, activities and adventures. From museums to arts and culture, live music to theatre peformances, outdoor recreation to historic sites, and scenic views to wildlife glimpses, there's something for everyone. We pride ourselves at helping our guests find the best activities to match their tastes. Here are a few of our favorite places to check out before you stay. Once you're at the inn, our innkeepers will be available if you have questions before venturing out.
A Few Great Local Outdoor Hiking Options:
More Pikes Peak Area Visitor and Event/Activity Links:
---
OUR LOCAL SHOPS & RESTAURANTS ARE OPEN!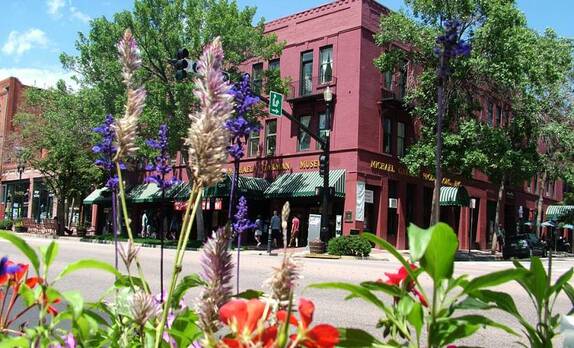 The historic district of Old Colorado City is only a short 1-mile drive from Holden House and will be one of the highlights of your visit. The original "Colorado City" was founded in 1859 and served as the first Territorial Capital of Colorado during the state's early days. The old west is still alive in the historic district where history abounds. The local Bancroft Park is home to concerts during the summer months and over 100 shops and restaurants call the Old Colorado City area home. At one time, the area housed over 20 saloons, gaming and parlor houses. The gold rush of the 1800's greatly influenced the area as a commerce and supply location to the gold and silver mining taking place in Cripple Creek and to the west.
The restored and well-maintained historic district is now known for its unique local shops and a variety of dining establishments. Visit the Old Colorado City Merchant website for more information and Holden House innkeepers will be happy to recommend a place to grab a bite or enjoy a relaxing dining experience.
Holden House Baked Islander French Toast
Needed: Twelve 16 oz soufflé dishes
Ingredients: 2 loaves sliced French Bread (24 medium slices)
1/2 teaspoon. pineapple flavoring
1/2 teaspoon coconut flavoring
1/2 teaspoon banana flavoring
2 medium bananas, sliced into rounds
12 rings of canned pineapple for garnish
Whipped Cream for garnish
dash of nutmeg for garnish
Directions: The night before, grease 12 small 16 oz soufflé bowls and place two bread slices cut into halves in bottom of dishes. Whip eggs, milk, and flavorings together. Pour egg mixture over slices of bread. Melt brown sugar, butter and corn syrup in microwave, and mix well. Ladle sugar mixture evenly over bread slices, top with coconut, almonds and banana slices. Cover & leave in refrigerator overnight.
Temp and Time: Bake at 400 for 20-30 minutes. When serving, top with a dollop of whipped cream. Garnish additionally with a ring of pineapple, a few mint leaves and sprinkle a little coconut and fresh ground nutmeg over the top. Remove from dishes and place on a plate or set the bowls on crocheted doilies on a plate and serve.
Number of servings: 12, but can easily be adapted for more.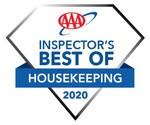 As a AAA Diamond "Inspected" property, we continue to receive excellent housekeeping ratings, including our award for "
Housekeeping Excellence
".
Here at
Holden House 1902 Bed & Breakfast Inn
, our innkeeping staff has years of combined experience in the hospitality, restaurant and medical fields. Our inn first opened its doors in 1986 and is still under the same ownership today of Sallie & Welling Clark, ensuring staying power and meticulous attention to detail. Here are just some of the ways in which we are continuing our commitment to provide a clean and safe stay, especially during the current public health situation.
Read more
...
Update: 100% of our Holden House staff have been fully vaccinated for
COVID19
and your safety is our priority.
Read our Holden House Blog

for inn updates,

recipes and more!

VIRTUALLY YOURS...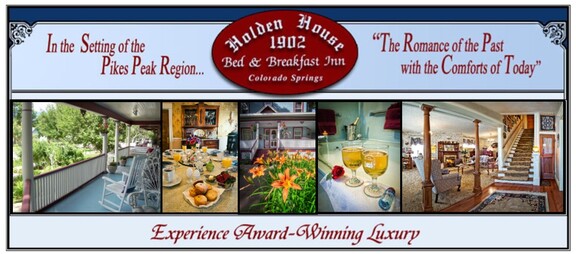 1102 West Pikes Peak Avenue
Colorado Springs, Colorado 80904