Dear Plot Holders and Co Workers,
I hope you are all keeping well in these difficult times. Sadly, due to the virus, we had to cancel this year's AGM. However, we hope to bring you the advertised talk on No-Dig gardening at a future date.

We have been updating the corona virus guidance for allotmenteers on our website

and

Facebook page and Facebook group.



Our Facebook Group is very popular for sharing growing tips and advice and we encourage you to join.
We are still permitted to visit our plots, but I would ask that we all follow the suggestions in the guidance. I have had a few messages from non plot holders asking me 'what makes plot holders so special? You should stay at home too!' I can imagine that for some people looking over fences at us on our plots might raise some envy, especially if people are not actually working their plots. I'd suggest we all bear this in mind.

There was some confusion about water being turned on at our sites across the city, we have been told by Rob Walker that all water supplies are planned on being turned on as usual and most sites will already have had their water turned on. Plot letting by site reps and plot inspections have all been suspended.
AGM
In order that BHAF can continue to function in a legitimate way, we are sending out the key information we usually provide at the AGM below.

Please review these. We propose that the accounts, along with the committee nominations for 2020 are accepted on a provisional basis until we are able to return to the normal AGM cycle. Let us know if you have any questions or objections.

Last year we again suggested that those plot holders who were able to, should consider making a voluntary donation over and above their rent. In doing this they would be supporting those plot holders who would find it hard to manage a large rent rise, which we want to avoid. We have raised nearly £5000 in voluntary donations last year! This is again an outstanding amount, thanks to all those who donated.

There was going to be members' vote on the BHAF proposal for city wide site rep elections, unfortunately that could not happen.

The Allotment Service suspended all site rep elections last year and the old system by which the Council 'appoint' site reps at sites has been reverted to. It's an unsatisfactory situation. Hopefully we can get a representative system later in the year. The Allotment Strategy requires that Site Representatives should be elected if they are to legitimately represent their plot holders.
We are aware that there are many groups operating on the city's allotments which provide services for the wider community. We all know the benefits that we get from allotments and it's great to see groups sharing these, we should celebrate these initiatives and encourage more. We asked for people to tell us about their groups and here are a few that we have already heard back from. If you are are group using an allotment which reaches out into the community please let us know about yourselves.
BHAF members in the Community!
Migrants and vulnerable people
A team of allotmenteers works with the Migrant English Project (MEP), which provides free English lessons for asylum seekers, refugees and migrants. Students can get involved in growing veg on the plot. Produce is donated for free lunches for the MEP.
PLOT 22 is a charity for local residents to get access to nature. It has projects for women experiencing disadvantage and abuse, people living with dementia, young parents, people with mental health problems, refugees and deprived young people
Regular programme of visits and activities with Patcham Junior School children and members of the Eco Club, including development of new wildlife plot
Contact: Jo Watson, Site Rep.


Keston Allotments Association
Linked up with Patcham Infants School. Activities include visits to the allotments, support with vegetable planting at the school and taking part in 'The Big Soup Share.'
Contact: Colin Osborne, Keston Allotments Association Treasurer
The Weald
Weald Community Fridge is a new project, combining 'growing your own' with preventing food waste to support people in food poverty and encourage healthy eating and community food sharing.

Includes a monthly Soup Sunday for elderly and isolated local people to enjoy a free bowl of home-made soup and a chat, and then stock up on food from the Community Fridge (bought using the BHAF Development Fund)
Contact: Kaye Sexton, Weald Association community organizer.
Donations of vegetables to the Westdene lunch club and the Brighton Junk Food Project.
Fuller information on community outreach projects will be made available on the BHAF website. Please tell us about any others.
We want to facilitate exchange of ideas and information across initiatives
We will be encouraging sites to apply for development funds for community outreach.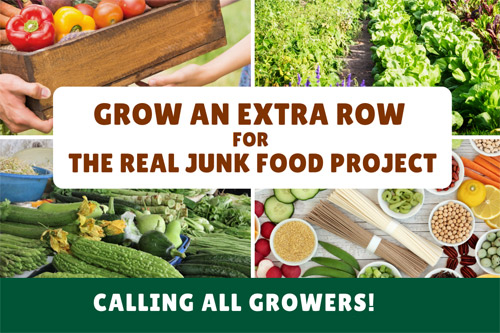 Grow a row for the real Junk Food Project
The Real Junk Food Project (RJFP) runs cafes across Brighton using surplus food to create delicious, nutritious meals. The cafes are open to all and operate on a pay-as-you-feel basis. They help combat loneliness and provide training opportunities for volunteers. The cafes are currently suspended but they are still operating 'Take out' meal services at some locations.
RJFP can always use more produce, and as part of the Veg Cities campaign they have teamed up with the Brighton and Hove Allotment Federation and the Food Partnership to run a 'grow an extra row' campaign. Vegetables, herbs or fruit… whatever you like growing will be gratefully received, so why not put an extra row of a crop in and donate it to them when you harvest it later in the year. This is another great way in which we can share the benefits of allotments.

Treasurers Report
Development Fund
This year we had £6000 allocated from the council for site developments across Brighton and Hove.
Metal box store – Walpole Road £427

Notice Board – Racehill Farm £192

Materials for shop – St Louie £194

Concrete base for box – Walpole Road £213

Community shed – Thompson Road £1297

New base for manure box – Hoggs Platt £182

'Soup Sunday' setup inc Community Fridge- Weald £931
Total £3436

Accounts
| | | |
| --- | --- | --- |
| Start Balance | 4881 | |
| BHAF Expenses and Site Rep Expenses | | Includes web hosting, email facilities, poster printing and distribution, transport, postage, site rep mobile phone top-ups, printer ink, envelopes |
| | | Includes room rentals, meeting supplies |
| | | BHAF membership via Council for BHAF Running Costs |
| | | Additional money spent by BHAF on Development Fund projects |
| End Balance | 6299 | |
BHAF Committee 2020
BHAF would like to thank Jane Griffin and Milda Liuolyte for all their work. They are stepping down due to other commitments. The following have put themselves forward for re-election and new election for 2020.
Mark Carroll
Proposer: Lucia Manca (Roedale Valley)
Seconder: Samuel Hoare (Roedale Valley)
Hannes Froelich
Proposer: Pat Dauncey (Keston)
Seconder: Jim Mayor (Roedale Valley)
Hilary Standing
Proposer: Christine Zaniewicka (Keston)
Seconder: Colin Osborne (Keston)
Josephina Salamone
Proposer: Jane Griffin (Whitehawk Hill)
Seconder: Hilary Standing (Keston)
Simon Powell
Proposer: Jane Hawkins (Craven Vale)
Seconder: Michelle Lediert (Whitehawk Hill)
Andrew Amos
Proposer: Emily Gardiner (Keston)
Seconder: Alan Phillips (The Weald)
Angela Jane Swinn
Proposer: Rowena Bennett (Windmill Hill)
Seconder: Sara de Marco (Windmill Hill)
Victoria Williams
Proposer: Andrew Amos (Roedale Valley)
Seconder: Sarah Waters (Roedale Valley)
Allan Brown
Allan is currently taking leave for family reasons but hopes to rejoin later.
Personal statements from the Committee members can be seen on our website here
Good luck for the coming season!
BHAF Committee
Heirloom plants: Saving the nation's seeds from extinction
Urban land could grow fruit and veg for 15 percent of the population
What is clear now, more than ever, is the need to restructure our food system within the principles of food sovereignty.
Coronavirus: Will food supply fears see a rise in home-grown veg?