---
---
A Memorial for Joe Leckie
A much-loved member of this community and dear friend to many.
To be held at Joe's house
69 Robertson Road Scotland Island
2nd house on the water West of Tennis Wharf
Saturday 19th March 2016
From 2.00pm-4.00pm
Food will be provided
BYO alcohol
All Welcome
RSVP to
suzievboyd@gmail.com
or text to 0408 22 99 31.
---

Council Communication
---
Tender awarded for Church Point works
Council has approved the tender for the next stage of the Church Point Plan of Management including, the realignment of McCarrs Creek Road, a new seawall, boardwalk and a 120 space car park.



Pittwater Mayor Jacqueline Townsend said that she was pleased that Council is ready to commence the design and construction of this major project after working closely with the Church Point and offshore communities for a number of years.

"These works will help to alleviate parking issues in the area as well as improve connections to the commuter wharf and foreshore access via a new boardwalk. It's a complex project that has drawn varied community views, but we are working towards achieving a good balance for all involved in the outcome of this project.

The project will be funded through loan funding, income generated from user pays car parking, a low interest loan from the state government via the Local Infrastructure Renewal Scheme (LIRS) and from the Special Rate Variation.

Mayor Townsend said the project will address a range of issues identified in the Plan of Management including safety concerns raised by residents on McCarrs Creek Road and the shortage of parking in the area.

"Council will continue to meet the interests of both the on-shore and off-shore communities. The project will now move into the delivery phase and we will be inviting representation from key community stakeholders on the final aesthetics of the project such as landscape treatments, walkways, lighting and facades.

"We are committed to creating infrastructure that can address the future demands of this important local and regional transport hub and tourist destination," she added.

Construction work is expected to commence in May 2016.

For more information about this project visit www.pittwater.nsw.gov.au/major_projects

Contact: Media contact:
Phone: 9970 1172 or 9970 1119


---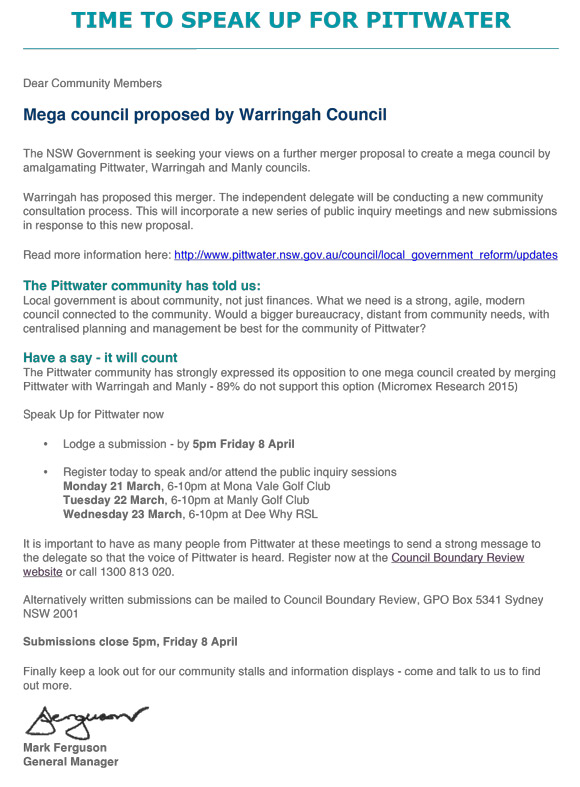 ---
Switch off to protect places we love
In the lead up to Earth Hour, Pittwater Council invites residents to a free Citizen Science event at the Coastal Environment Centre on Thursday 17 March from 7-9pm.



Residents will hear from four expert speakers who'll share their knowledge about our local waterways, marsupials, birds and marine life.

Earth Hour, originally an Australian campaign, is now celebrated in over 162 countries and over 7000 cities and towns worldwide.

Pittwater Mayor, Jacqui Townsend said our natural environment makes Pittwater unique and this year's Earth Hour campaign urges us to switch off and protect the places we love!

"So I encourage all our residents to celebrate Earth Hour, come along to our Citizen Science event on Thursday 17 March or switch off the power on Saturday 19 March from 8.30pm," said Cr Townsend.

The free Citizen Science presentation is followed by a Q&A session and light refreshments.

The event is being held at Pittwater Council's Coastal Environment Centre, Lake Park Road, North Narrabeen.

Bookings are essential and can be made by calling 1300 000 232 or online

Find more about the global Earth Hour initiative at www.earthour.org

Contact: Community Relations
Phone: 9970 1172, 9970 1119



---
Dynamic Yoga
Saturdays in the Community Hall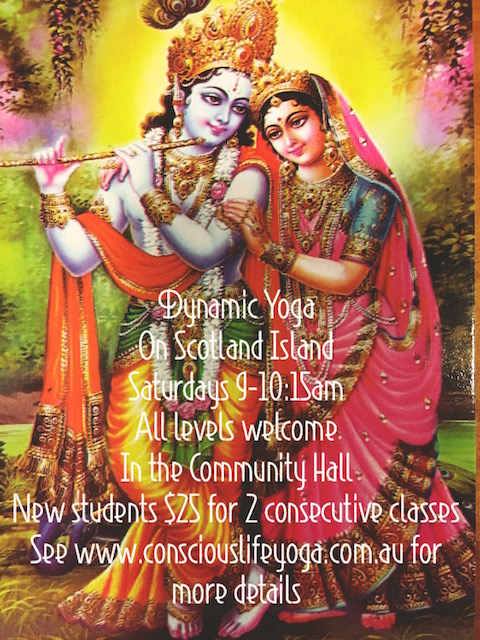 ---
Dog Sitter Wanted
Looking for someone to mind my dog during work hours on the Island on week days.

Please contact Jean for more info on 0449 101 680



---
Savage commuter boat for sale

Classic savage fibre glass hull with Yamaha 70 2 stroke and hydride steering.

355 hours on motor.

$4,900.00 ono

Ring Chuck at 0417 023 373



---
Free Bunk Beds


Steel frame Ikea bunk bed with ladder.
Good condition.
All screws, tools and instruction manual available.

Call Anne on 0431 149 182





---
---
---
A complete set of past electronic newsletters since May 2000 can be found and read at https://ymlp.com/archive_gesgjgm.php or by clicking here or by visiting the Mona Vale Library.

The Island website is at www.scotlandisland.org.au


---
To Contribute
If you would like to contribute to this newsletter it's easy!. Send an e-mail to the editor (editor@scotlandisland.org.au) or by clicking here. Type your contribution (100 words or so would be fine) and assuming it is of general interest to the community, does not include matter of a political nature and is not offensive, it will appear next month.
Subscription Information
To get on and off this newsletter,

click here

or got to:

http://www.scotlandisland.org.au/signup .


To change your address, click the 'modify' link at the bottom of this newsletter or send an email to the

editor@scotlandisland.org.au


---
Follow the PON
---
The Online Local Contacts Guide
Click HERE to load
---
The views expressed in this newsletter are not necessarily the views of the Scotland Island Residents Association (SIRA), or the Western Pittwater Community Association (WPCA)
---