Inn the News [more]
Inn the Kitchen [more]

Inn Specials [more]
Colorado Scenic Byway Feature [more]
Check out our past issues of Colorado Inn-Spirations!
Subscribe to our Monthly E-newsletter!
Hot Off the Press! Order the Newly Released 2009 FREE Colorado B&B State Guide!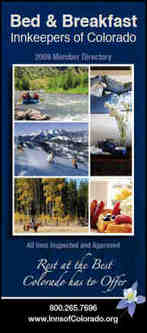 MEET AN AFFILIATE BBIC MEMBER

Named after Tomboy, the once-thriving turn-of-the-century company-mining town that today is a ghost town, hovering more than 1,000 feet above Telluride, Tomboy Soaps got their start in Telluride, Colorado, where dry skin is a way of life. Owned by former bed and breakfast innkeepers, the company handcrafts the soaps from a potpourri of meticulously measured combinations of pure essential oils, vegetable oils, herbs and spices, each bar of Tomboy soap is cold-processed (so as to preserve precious nutrients). Individual soap's characteristics range from super-sudsy to gently exfoliating to lushly emollient to odor-lifting, their complex combinations belied by names that are simplicity itself - Peppermint Poppy, Herb Garden Scrub, Lime Grapefruit, Lavender Rosewood, Oatmeal Spice.
For additional affiliate membership information,
click here
.
Join us on Sunday-Monday November 8-9 for the 2009 Annual BBIC Conference and Aspiring Innkeepers Day workshop.
This year's theme is "Golden Opportunities for B&B Success" to be held in beautiful Golden, Colorado. Golden is known for the Colorado School of Mines and Coors Brewery in addition to a quaint community. Be sure to mark your calendars now. Are you a B&B hospitality vendor? We have opportunities for sponsorships now! Check back soon for details...


Volume 2 Issue 5 2009
Colorado B&Bs Announce 2009 State Guide - BBIC Member Inns Provide Special Offers and Summertime Events!
Colorado's state flower is the Blue Columbine and wildflowers are at their "peak" during the month of July. In the high country, you'll want to book your getaway or vacation now to assure that the best B&B places to stay have a place for you! Our Bed & Breakfast Innkeepers of Colorado (BBIC) B&Bs are waiting for you to start your adventure or relaxing vacation.
BBIC has just announced the full-color 2009 State Guide which includes over 80 B&B member inns throughout Colorado, a statewide map, easy amenities grid, scenic byways map and detailed information on each property including rates, website addresses and guest policies. Colorado offers everything you could possibly imagine in a holiday trip - arts, culture, music, outdoor markets, and historic sites, just to name a few. But adding to that, our state's scenery is as varied as our accommodations, tailor-made just for you. Perhaps your travel plans include activities such as biking, hiking, horseback riding, whitewater rafting or fishing?
Or, you're really wanting to explore our state's historic areas: take a stroll through ancient cliff dwellings, walk in dinosaur tracks, visit one of the many restored trading forts, view magnificent mountain vistas, listen to traditional cowboy music or upbeat mountain jazz. No matter your interests, tastes and abilities, your Bed & Breakfast Innkeepers of Colorado innkeeper-hosts are always pleased to help you find your perfect activity. Whether you prefer an historic Victorian, a cozy cottage, a stately castle, rustic log home or a modern mansion, our Bed & Breakfast Innkeepers of Colorado (BBIC) member inns are ready to serve.
Whether traveling for business or pleasure, a Colorado B&B is waiting for you.
This month, check out our special Scenic Byway feature in South Central Colorado on the Gold Belt Tour in the Pikes Peak and Canon City area while you plan your stay in Colorado Springs, Chipita Park, Cascade, Woodland Park, Divide, Cripple Creek, Pueblo or Canon City...
Our distinct Colorado B&Bs are ready to welcome you with a genuine smile, personalized service, clean and comfortable accommodations and a delicious homecooked breakfast. Savor special delights, prepared by loving innkeepers. This month, try Ambiance Inn's creative Breakfast Pizza It's the perfect accompaniment to your breakfast brunch and so delicious that you'll want to travel to one of our Bed & Breakfast Innkeepers of Colorado member B&Bs just to personally sample our breakfasts inn-style!
Front Range Special Packages
(Boulder, Central City, Denver, Estes Park, Georgetown, Golden)
Denver, Colorado
Queen Anne Urban Bed & Breakfast (Milan Doshi)
Email 2147 Tremont Place, Denver, CO 80205
Reservations: 1-800-432-4667 Local: 303-296-6666
Summer Specials at the new Greener Queen Anne-

In celebration of the greening of our Inn, we here at the Queen Anne would love for you to stay with us. We're giving out any of our rooms for $135 a night, and any of our suites at $150/night (usually $215). This rate includes a full breakfast made with local and organic foods, local appetizers and Colorado wine in the evening, free parking, wireless internet, and a close walk to the downtown Denver attractions.
Dates: through July
Cost: $135 for a Room ; $150 for a Suite

Estes Park, Colorado
Black Dog Inn
(Carlos and Sheree Albuquerque)
Email
650 S. Saint Vrain Avenue - PO Box 4075, Estes Park 80517 Reservations: 866-786-0374 970-586-0374
Babymoon Package -
Before your bundle of joy arrives, pamper yourselves with a romantic getaway at the Black Dog Inn.
2 night stay Babymoon gift basket- filled with fun items for
baby, mom and dad. $449.00 (tax not included) Optional 1 hour prenatal in room massage by a certified massage therapist is also available for $120.00 extra (tax not included)
Dates:
through September 30
Cost:
$539.00 tax not included
South Central Special Packages

(Colorado Springs, Breckenridge, Salida, South Fork, Alamosa)
Cascade, Colorado
America's Rocky Mountain Lodge & Cabins
(Debbie Reynolds)

Email
4680 Hagerman Ave., Cascade, CO 80809 Reservations: 888-298-0348 Local: 719-684-2521
Procrastinator's Special - Don't make plans until the last minute? We've got a special just for you! Make reservations within 48 hours of your arrival for 2 nights or more in our Mantiou Room, Ute Indian Trail Room, or Midland Room, Sunday thru Thursday nights, and take 20% off your stay!
Dates: through December 31, 2009
Cost: $168 - $208 for 2 nights, depending on dates and room of choice
Colorado Springs, Colorado
Holden House 1902 Bed & Breakfast Inn (Sallie Clark)

Email 1102 West Pikes Peak Avenue, Colorado Springs, CO 80904 Reservations: 888-565-3980 719-471-3980 Economic Stimulus Discounts - Carriage House Suites $135 (regular $145), Main House Suites $140 (regular $150), Adjacent Rose Victorian $145 (regular $155). Other Discount Rates: AAA - additional $5 off per night (with ID), AARP - additional $5 off per night (with ID), Military, Law Enforcement and Fire Personnel -additional $10 off per night (with ID). Rent our entire Carriage House for 3 or more nights: $225 per night (regular $290/night) * Maximum guest occupancy 4 guests - Goldfield and Silverton suites each accommodate 2 persons in one queen bed and feature private bath. Single Business Guests can stay Sunday-Thursday: $110/night (Regular rate $145-155).
Dates: through October 1, 2009
Cost: Vary (see above). Special offer rates are subject to sales tax, require full amount of stay as deposit and are non-refundable when confirmed.
Old Town GuestHouse
(Don & Shirley Wick)
Email
115 S. 26th St., Colorado Springs, CO 80904
Reservations:888-375-4210 719-632-9194
Rejuvenation Package -
15 minute chair massage, between 8:30 & 11:00 am. Ask when making reservation.
Dates: August through September
Cost: No extra charge
The St. Mary's Inn
(Conchita Nolet)
Email
530 North Nevada Avenue, Colorado Springs, CO 80903
Reservations:719-540-2222
Top of the Best - celebration of winning the Top of the Best of The Rockies 2008-2009 Award by BedandBreakfast.com, we are offering our 2 bedroom Apartment at the Government Employees and Contractor (per diem) rate of $88/person. Breakfast will be extra $10 pp. The accommodation will be a large bedroom with queen size 4 poster bed, a large office with desk, living room, fully equiped and functional kitchen and a bathroom with tub/shower. Separate private entry. Extended stays welcome!
Dates: Visit St. Mary's website for availablity
Cost: $88 per person single occupancy
Manitou Springs, Colorado
Blue Skies Inn
(Sally Thurston)
Email
402 Manitou Ave., Manitou Springs, CO 80829
Reservations: 800 398-7949 Local: 719 685-3899
Short and Sweet Wedding -
Wrapped as a pretty wedding package,
imagine a marriage that is stress-free and beautiful. As an innkeeper who is also an artist and gardener, Sally uses her skills to create beautiful weddings. From arranging the floral bouquet to photography to seamlessly co-ordinating the wedding, every detail is treated as Art. That the wedding is gentle on the Planet and economical are just lovely bonuses. Located at the base of Pikes Peak, Blue Skies Inn hosts weddings any day of the year.
Dates: Year round
Cost: $1695 plus two nights' stay at the inn
North West Specials Packages
(Steamboat Springs, Grand Junction, Vail)
Check back next month for New Specials...
South West Special Packages
(Antonito, Gunnison, Ouray, Durango, Pagosa Springs, Paonia)
Antonito
River's Inn & Swiss Cottage B&B
(Ursula Armijo-Knobel)
Email
317 River Street, P.O. Box 457, Antonito 81120
Reservations:719-376-6029
Readings (Automatic Writing) from May through November
- In downtown Antonito, Colorado, very well known by train buffs from all over the world, coming to ride the Cumbres & Toltec train, by fishermen, artists, gourmets (5-course dinners upon request), now offers on-site readings. Call Ursula for more information. Reduced rates for readings apply when you stay 2 nights or longer.
Dates: through November 15th
Cost: Readings: $ 200 instead of $300 with 2 nights stay
Paonia
Email
312 Onarga Avenue, Paonia, CO 81428
Reservations:970-527-6776
Summer Deals 2009
- Thrifty Nifty Vacation, Be thrifty. Vacation mid-week (Sunday through Thursday) and claim a 10% discount on your hotel stay. Play in the great outdoors: hike, bike, fish, swim, climb, you-name-it. Or, just enjoy the beauty that is the Western Slope, including the Black Canyon of the Gunnison National Park, the Colorado National Monument, Blue Mesa Reservoir, the West Elk Scenic Byway, etc. Get a 10% discount on a reservation for two or more nights, but you must tell us you're doing the Thrifty Nifty Vacation when you make your reservation.
Dates: through October
Cost: 10% off your mid-week stay
Mark Your Calendar for Special Area Event: Mountain Harvest Festival
Dates: Sept. 25-27, 2009
Cost: $300 double occupancy, $230 single occupancy
Eastern Special Packages
(Limon, Burlington, Trinidad, Pueblo, Sterling, Hugo)
Stratton (Burlington area)

The Claremont Inn
(Dave Dischner) 800 Claremont Drive, Stratton, CO 80836 Reservations: 888-291-8910
Email
Romance Stimulus Package
- A Romantic Mini-Vacation in Colorado: 2 Nights Luxurious Accommodations for two, 2 Wine Cellar Dinners for two, 2 Gourmet Breakfasts for two, "Too" Perfect!
Dates: Book online now through September 30, 2009 (this package can be booked online or by phone)
Cost: Special price of $474 (dbl occupancy for 2 consecutive nights any room)

Bed & Breakfast Innkeepers of Colorado received Rocky Mountain high acclaim in the June 2009 issue of Southwest Flair online magazine! Included in the article were BBIC members: Hooper Homestead in Central City, Queen Anne B&B Inn in Denver, Black Dog Inn in Estes Park, Holden House B&B Inn and St. Mary's Inn in Colorado Springs, Blue Skies Inn in Manitou Springs, River's Inn in Antonito, Elkwood Manor in Pagosa Springs, Bross Hotel in Paonia and a great recipe by Van Horn House in Carbondale. Congratulations!
Look for the upcoming special section on Bed & Breakfast Innkeepers of Colorado in the Gourmet Summer Issue of
Inns Magazine
featuring eight BBIC member inns. The magazines will be distributed to Barnes and Noble nationwide and 7,000 magazine subscribers will receive a complimentary
2009 BBIC State Guide
inside their individual copy.
Check out BBIC's editorial coverage in BBIC Marketing Chair Sallie Clark's
Examiner.com
editorial columns. Coming in the next issue will be a "Unique Critique" of BBIC members.
*HAVE YOU OR YOUR BBIC MEMBER INN BEEN "INN THE NEWS OR RECEIVED A RECENT AWARD"? If you're a BBIC member and have recently been featured, send us an
Email
and let us know. Your inn will be mentioned in the next issue of Colorado Inn-Spirations enewsletter.
BBIC Member Inns - Send us your recipes and you can be featured here!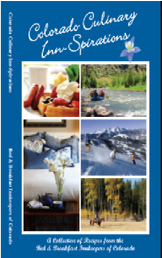 And Announcing...a culinary preview of our new Bed & Breakfast Innkeepers of Colorado cookbook to be released in July 2009!
Breakfast Pizza
1 pound sausage
1/2 cup onions, chopped
1/2 cup green pepper, chopped
1 (4 ox.) can mushrooms, drained
1 (8 oz.) package crescent rolls
1/4 cup milk
4 eggs, beaten
8 oz. shredded mozzarella cheese
Directions: Brown sausage, drain, saute peppers, onions and mushrooms. Line a 9"x12" baking pan with crescent rolls, pat into pan. Pour on the sausage mixture, add combined eff and milk mixture, sprinkle cheese over the top. Bake at 325 degrees for 30 minutes.
Visit our website for More Recipes...
Coming soon- BBIC's new cookbook "Colorado Culinary Inn-Spirations!" More next month on how to order your personal collection of recipes from the Bed and Breakfast Innkeepers of Colorado association and take home a taste of the state!
Scenic Byway Feature-Gold Belt Tour
(Photos - public domain with permission by the Colorado Department of Transportation)
Simply driving the Gold Belt Tour in Colorado is an adventure in itself. While following
historic railroad and stagecoach routes leading you to North America's greatest gold camps, you will find yourself traversing between narrow canyon walls and along excitingly steep drop-offs. Although the area is no longer bustling with the activities of the gold rush, you can still "strike it rich" with views of outstanding scenery and limitless recreational activities. (Photo left: Royal Gorge Bridge)
As you drive the byway, watch for the hundreds of historic gold mines that surround the
communities along the way. Get a real feel for the gold rush days when you visit Victor's National Historic District and Cripple Creek, the historical hub of the mining district and a National Historic Landmark. Most of the buildings built in the early 1900s have been restored to their original likeness, and will give you an authentic look at what life must have been like on the road to riches. Once you've discovered gold mining of the past, visit Victor's new active gold mine. See for yourself the toil and backbreaking labor that went into gold mining in the 1890s and how technology has improved the miner's endeavors today.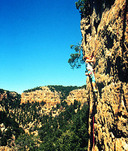 Mining isn't the only attraction from the past to be found on the byway. Get a glimpse of what life may have been like long before gold miners came to the area when you visit the three fossil finds located on the byway. See evidence of Earth's prehistoric life in the 80,000 fossilized specimens of tree stumps, insects, seeds and leaves at the internationally renowned Florissant Fossil Beds National Monument. It's a great place to stop for a picnic lunch and to learn about the past. (Photo left: Red Canyon)
Communities along the byway supplement the rich culture of this area. Cañon City is currently the byway's largest community. The Royal Gorge Route Railroad is one of the city's most distinctive historic sites. You can go to the Santa Fe Depot to purchase tickets for a ride on the Royal Gorge Railroad. Enjoy community events such as the Music and Blossom Festival. In the summertime, old-fashioned entertainment thrives in Cañon City's Park. Visit the Rudd Family cabin, and then spend the afternoon shopping and exploring the city's two museums. For more history and museums, make a stop in Florence. The Pioneer Museum contains pieces of Florence's past. The area downtown is filled with more shops and restaurants.
You'll find plenty of recreational opportunities on the Gold Belt Tour. If you love the great outdoors, this is the place to be. Enjoy some great fishing, camping, and hiking areas. Or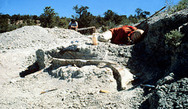 take advantage of the dirt roads for mountain biking and horseback riding. If the steep rock cliffs of the Shelf Road don't intimidate you, you may want to go over the edge and do some rock climbing. For a thrilling adventure, take a drive over the Royal Gorge Bridge. The drive can be a little nerve-wracking and you may find yourself holding your breath as you drive across the world's highest suspension bridge spanning the Royal Gorge 1,053 feet above the water of the Arkansas River. You can walk or drive over the bridge, or take the world's steepest incline railway to the bottom of the Royal Gorge. Whatever adventure you may be after, the rugged terrain of the Gold Belt Tour has something in store for you. (Photo above: fossil dig)
The
Pikes Peak Region
offers unparelled beauty and variety. From the plains to the east and south to the mountainous terrain on the west, there is outdoor adventure including local, state and national parks and monuments, historical attractions and museums, archeological finds, nightlife, festivals, fairs, arts and culture. For events and more to do and see, check out
www.PeakRadar.com
Where you'll find a list of many of the area events throughout the area. To watch a video of the Pikes Peak area attractions,
click here
.
Gold Belt Tour area B&Bs
include
Colorado Springs
(Crescent Lily, Holden House, Hughes Hacienda, Old Town GuestHouse, Our Hearts Inn, Summit House Inn, The St. Mary's Inn),
Cascade
(America's Rocky Mountain Lodge, Blue Spruce Inn, Eastholme in the Rockies),
Chipita Park
(Chipita Lodge),
Divide
(Stonehaven Inn),
Woodland Park
(Pikes Peak Paradise, Pikes Peak Resort, The Woodland Inn),
Manitou Springs
(1892 Victoria's Keep, Avenue Hotel, Blue Skies Inn, Two Sisters Inn),
Cripple Creek
(Carr Manor, Whispering Pines),
Canon City
(Jewel of the Canyons),
Pueblo
(Abriendo Inn, Edgar Olin House) For details on
Colorado and National Scenic Byways
, visit
www.ColoradoScenicByways.com