#IsraeliApartheidWeek campaign to focus on racism against Africans
(12 -18 March 2018)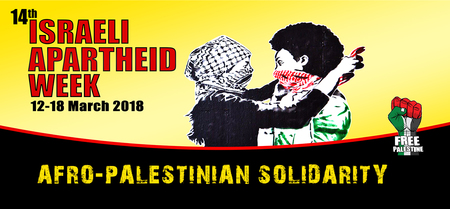 08 February 2018

Interviews available in English, Afrikaans, Setswana, Zulu (see below)
Racism against Africans by the Israeli regime will take centre stage during the South African leg of this year's 14th international #IsraeliApartheidWeek campaign. #IsraeliApartheidWeek is an international series of self-organized rallies, protests, lectures, cultural performances, concerts, sports events, films and workshops held annually in over 250 cities, communities and campuses across the globe. With "Afro-Palestinian solidarity" as this year's theme, #IsraeliApartheidWeek in SA will focus on both Israel's apartheid policies against the Palestinians as well as the the regime's discriminatory policies against Africans.
Israel is
expelling
thousands of Africans, giving them an ultimatum: leave by 1 April or risk indefinite imprisonment. Israel has offered one hundred thousand rands in bonuses to civilians who aide in forcibly deporting African asylum seekers. Israel has portrayed non-Jewish Africans as a threat to Israel's Jewish character calling them "infiltrators" with
Prime Minister Benjamin Netanyahu
repeatedly calling for their expulsion saying that Africans "threaten the social fabric of society." Israel's Minister of Interior, Eli Yishai, has said that African immigrants "think the country doesn't belong to us, the white man." And the Israeli Minister of Culture and Sport,
Miri Regev
, has compared Africans to "a cancer". In 2013 Israel was revealed to be
forcibly sterilising African women
without their consent.
Under the theme "Afro-Palestinian solidarity" this year's #IsraeliApartheidWeek will highlight the
African community in Palestine
and will host events that celebrate the historic support and solidarity that African liberation struggles and countries received from the PLO and the Palestinian people during the 1970s and 1980s. While Israel supplied the Apartheid regime with weapons used to kill our people, the Palestinians provided the ANC with arms, military training, financial resources and various other forms of support in the fight against Apartheid.
—————————— * ——————————
#IsraeliApartheidWeek is endorsed, in South Africa alone, by more than 110 organisations, trade unions, embassies, youth movements and other groups including South Africa's governing party, the country's largest student formation and SA's largest trade union federation (
click here for a list of all endorsers or if you would like to endorse the campaign
). #IsraeliApartheidWeek has previously hosted former South African president Kgalema Motlanthe, the National Speaker of Parliament Baleka Mbete as well as several Government Ministers, Mayors, Ambassadors, sports-people, artists, actors, comedians and many other well-known South Africans.
United in our diversity, South Africans from various racial and religious groups participate in #IsraeliApartheidWeek including members of the Jewish, Hindu, Christian, Tamil, Muslim and other communities. A group of Jewish Israelis have written an open letter urging South Africans in general and members of the South African Jewish community in particular to participate in IAW (
click here
). The Grand Mufti of Jerusalem has written a letter to South African muslims and clergy to participate in #IsraeliApartheidWeek (
click here
) and, writing from the Holy Town of Bethlehem, Palestinian Christians have publicly called on South African Churches to participate and support #IsraeliApartheidWeek (
click here
).
In a 2009 report commissioned by the South African government, the Human Sciences Research Council concluded that Israel is guilty of apartheid. This position was then confirmed by the Russell Tribunal on Palestine, which sat in Cape Town in November 2011. Again in 2012, both the United Nations Committee for the Elimination of Racial Discrimination as well as the Human Rights Council made similar findings. A 2017 report by the UN Economic and Social Commission for Western Asia detailed how Israel has established "an apartheid regime that oppresses and dominates the Palestinian people as a whole". At the UN's January 2018 Universal Periodic Review, South Africa slammed Israel as "the only state in the world that can be called an apartheid state". Amnesty International, Human Rights Watch and various other legal and human rights organisations have issued similar reports and called for action to hold Israel accountable.
Click here to find out how to get involved in #IsraeliApartheidWeek.
For media interviews with the IAW South Africa Team, please contact:

Justin De Swart, #IsraeliApartheidWeek National Spokesperson [Afrikaans, English +27 (0) 65 915 3803]
Alex Mdakane, #IsraeliApartheidWeek Deputy Spokesperson [Zulu, English, +27 (0) 78 526 8663]