---
SCOTLAND ISLAND VEGETATION COLLECTION
MONDAY, FEBRUARY 17
A maximum of 2 cubic metres of vegetation for each household
Leaf litter, grass clippings and prunings

TO BE PLACED IN HARD SIDED CONTAINERS

Branches to be no longer than 1.2m and

BUNDLED AND TIED TOGETHER WITH TWINE

No plastic, hessian or nylon bags
No cardboard, foam or polystyrene boxes

No soil or untied bundles



Any material not complying with collection guidelines will be left on the road side for residents to arrange private collection
Please place your vegetation out on the roadside BY SUNDAY, FEBRUARY 16 - as described
View link
Download Vegetation Brochure here
---
---
Scotland Island Kindy News




Qualified Early Childhood Teachers Required





Our beautiful Community based Island Kindy is seeking motivated and professional Early Childhood Teachers to work on a casual basis.




We are a small, nurturing 20 place centre catering for 2-5 year olds. We're passionate about play based learning and the promotion of the Early Learning Framework.

If this interests you please submit your resume to

rebecca.tringham@yahoo.com.au

or
call 0421526434 to find out more.



---




Committee Members Needed



The Scotland Island kindy is part of the fabric of the off-shore community and has been in operation through thick and thin for over 25 years. It is currently undergoing an exciting phase of re-development with a new Director, new staff, a new committee and some inspiring and fresh ideas to help bring it into the future. The kindy is a community concern and relies heavily on strong cooperation from the local community.

The Kindy's Management Committee is currently in need of some more members. You don't have to have children attending the kindy to be on the Committee, in fact not having children there would make you a valuable and unbiased Committee Member.

Do you have a particular skill that could be of use to the kindy? Are you a retired educator with a myriad of valuable information and knowledge that would benefit the kindy? Perhaps you have a life skill or an occupational skill which may be advantageous to the kindy.

Committee meetings are held monthly and typically last for 2 hours.

Please contact the Director Rebecca Tringham on

rebecca.tringham@yahoo.com.au

or call 0421526434 to express your interest or find out more.


---
---
Thanks for all your hard work..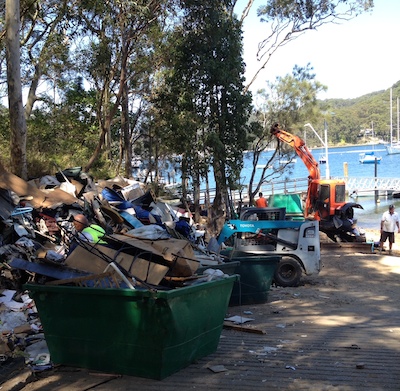 I would like to say a huge thank you for the work done by the "boys" in clearing this year's household clean up!



I am always amazed to see on how much "memories/junk" we can accumulate over such a short time... it is wonderful though to see that a lot of it can be "re-located" by passers by, around the island.

But the huge work done by the ones who have to dispose of it is really amazing! Even working on weekends to make sure that our lives are back to normal as quickly as possible is a huge task so, thank you again to Matt, Scotty, "Waggs", Peter and all the others (sorry I don't know all of their names).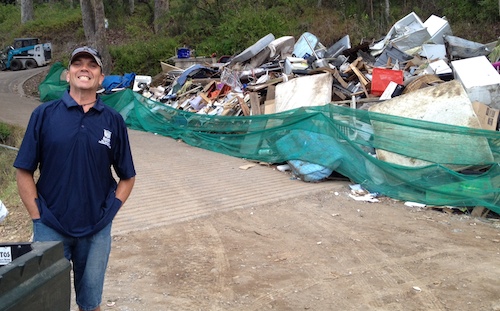 Although you stay in the background, we appreciate your hard work!



Nathalie



---
If you have a problem with where my boat is tied up please don't damage it - JUST talk to me !



I went down to Bell Wharf the other morning to find the bung had been removed from my dinghy and one of the securing anchors untied. The boat, in accordance with SIRA and AUSGRID requirements, has been temporarily re-located along the waterfront and at the time I did this I made a point of speaking to any water resident who might be effected. I also spoke with those inshore residents who also moor there, and explained the position which appeared to be appreciated by all concerned, so I don't believe it was any one of those who are directly impacted by the boat's presence.

The problem of this temporary mooring is not of my making as alternative moorings were not made available for the duration of the AUSGRID repairs. During the last hiatus in AUSGRID's work I returned it to the Bell Wharf mooring !

When I found my boat like this I was on an errand for a fellow resident who is ill and needed supplies for the weekend. This is what for over 30 years, I've appreciated about the island: helping each other is what Islanders are renowned for, while damaging mute items for some perceived wrong, while a criminal act, doesn't resolve the situation in any sense. If there is a problem tell me because it can't be rectified unless I know what it is. Although the boat doesn't have a motor on it, I do have one for it, but it is registered which is all that is required by law for a vessel permanently in the water. I would also add that mine isn't the only dinghy around here that doesn't have a motor.

Regards
Steve Pollard



---
Women on Water Meeting





Saturday 22 February @ Suzie Boyd,s on Scotland Island.



A talk will be given by Rob Gourlay RFD, B.App.Sc M.App.Sc on the quality of water and the benefits to our health and also to the growing of plants.This subject is a follow on from the Seed Freedom Movement we discussed on 15 Sept. 2013 and Rob is also a farmer from Braidwood.

For those of you coming on 10 30 Ferry please disembark @ Tennis Court Wharf and walk across Catherine Park on your right and Suzie,s house is the second waterfront with a boat shed.

Everyone contributes by bringing a platter / bottle and to learn more about the topic please go to Rob,s site


www.phion.com.au

and see papers at http://phion.com.au/blog/index.php/papers/magnetic-water/

Sydney,s water supply has a positive charge, perhaps in order of +550 and is toxic water and Rob,s device can correct the water to the right negative ionic charge which is vital for our health.

Antonia Hoddle
PO Box 87 Lovett Bay
Sydney NSW 2105 Australia
P: + 61 02 9999 4201 M: 0410 594201



---
Island Yoga
Tuesday Evening & Saturday Morning
click to load PDF flyer

---
Sly Dogs at Church Point Cafe




Sunday 16 from 3 to 6pm



Sly Dogs performing at the cafe on Sunday the 16th of Feb. 3-6 on the new Church Point Music Shed stage!!
Come along and find out what is happening on the music scene at the Point this coming year.

Chuck Bradley



---
Kayak Wanted



If you have a kayak that you don't use I may be interested in it.

I am after a sit-in kayak, not too narrow - not too wide. Something like a Mirage possibly ?

Contact Paul Smith at paulsmith@estudioeditions.com.au





---
---
Join SIRA
You can now join the Scotland Island Residents Association by
clicking here.
Please print the page and return the completed form to SIRA at this address:
The Treasurer, SIRA, PO Box 70, Church Point 2105.
Please NO CASH.

Contact SIRA at
sirapittwater@gmail.com
Join WPCA

To join the Western Pittwater Community Association, contact Michael Wiener at
m2wiener@bigpond.net.au
---
Archived Newsletters


A complete set of past electronic newsletters since May 2000 can be found and read at https://ymlp.com/archive_gesgjgm.php or by clicking here or by visiting the Mona Vale Library.

The Island website is at www.scotlandisland.org.au


---
To Contribute


If you would like to contribute to this newsletter it's easy!. Send an e-mail to the editor (editor@scotlandisland.org.au) or by clicking here. Type your contribution (100 words or so would be fine) and assuming it is of general interest to the community, does not include matter of a political nature and is not offensive, it will appear next month.

Subscription Information


To get on and off this newsletter,

click here

or got to:

http://www.scotlandisland.org.au/signup .


To change your address, click the 'modify' link at the bottom of this newsletter or send an email to the

editor@scotlandisland.org.au


---
Follow the PON
---
The Online Local Contacts Guide
Click HERE to load
The views expressed in this newsletter are not necessarily the views of the Scotland Island Residents Association (SIRA), or the Western Pittwater Community Association (WPCA)
---