---
SIRA Committee



Congratulations to the following office bearers who were elected at the SIRA AGM April 18, 2010. It is great to have seven new Committee members this year. Information on Project Teams and their Leaders will be posted after the first meeting of the new Committee in May.


President:

Bill Gye

Vice Presidents:

Kerry Borthwick
Sue Dickson

Secretary:

Victoria Jay

Treasurer:

Cass Gye

Other Committee Members:

Alan Gaines
Betsi Beem
Carol Floyd
Ellen Shore
Emmie Collins
Ian Souter (Church Point Design Group)
Jaya Param
Jeremy Stacey
Sharon Kinnison



All correspondence can be forwarded to:


SIRA, PO Box 70, Church Point
sirapittwater@gmail.com

A communiqué regarding the Church Point Plan of Management fee structure for carparking and commuter mooring will be issued shortly, following information and discussion at the AGM by Mark Eriksson, Principal Officer – Landscape Architect, Pittwater Council.


---
Scotland Island Rural Fire Brigade

Update




Kindy Visit


On Thursday, May 13, we are visiting the Scotland Island Pre School to talk to the kids and any parents that will be there. Graeme and myself are planning to do the visit and we would welcome any other members who are available that morning to come and assist.
Meet at the station at 10.30am for an 11am visit.



Pile burns on the Island


Just a reminder that we are planning to burn the piles at Pathilda Reserve on Sunday 16 May with the assistance of West Pittwater.

We will need as many members as possible to assist with this burn and get it completed in a good time. Lunch will be provided. It is a great opportunity to practice the basic skills we all need to maintain in a more realistic environment and dealing with fire.

For those members who have not been to a training session for a while, this is a great opportunity to reintroduce yourselves to training with the Brigade.

We also have piles on the Thompson Street walking track (western side of the Island) and the top of Elsie Street to burn in following weeks.

Tim Byrne
Captain
SIRFB


---
Fresco Workshop
Learn the ancient art of fresco painting with Tracy Smith.
Date Sat 29th May 2010



$120.00 (All materials included)

For further details contact
Tracy Smith 0400311157

tsmith@estudioeditions.com.au

Or visit my web site
www.tracysmith.com.au


---
Mother's Day Breakfast



Kindy Ten Dollar Tables



Don't forget that every Sunday there are interesting and unusual things to buy from the Kindy Ten Dollar Tables.

This week, to celebrate Mother's Day, there will be a number of stalls selling children's toys, clothes, books and baby equipment. There will also be massage and other therapies available.

If you would like a table, no need to book, just turn up at 9.30am to set up your stall.
If you have anything that you would like me to sell for you, please contact Barbara 0400 377 056.


---







Mona Vale Library's - Biggest Morning Tea



Mona Vale Library will once again host the popular Biggest Morning Tea to raise funds for cancer research from 10am to 12 noon on Thursday 27 May.

Event coordinator Heather Thomson said that Australia's Biggest Morning Tea was an enjoyable social event and the Cancer Council's premier fundraising event.

"Since the event began in 1994 it has raised over $70 million to fund cancer research, education and support services for patients and families" she said.
"Just the simple act of enjoying a morning tea can help Cancer Council support the 1 in 2 Australians who will be diagnosed with cancer before the age of 85," said Ms Buddin.
The morning tea will see kettles switched on across Australian homes, schools and community centres throughout May to help the fight against cancer.

Entry to the Mona Vale Library morning tea which will include homemade cakes is a $5 donation and all proceeds will be donated to the Cancer Council.

Donations over $10 will be entered into a competition to win a European holiday valued at $12,800.

For more information about Australia's Biggest Morning Tea visit www.biggestmorningtea.com.au
For more information about the Biggest Morning tea at Mona Vale Library call 9970 1600.

Media contact: Heather Thomson, Mona Vale Library Ph: 9970 1614


---
Women Workshops
Lovett Bay resident Penelope Star
Presents a series of women workshops :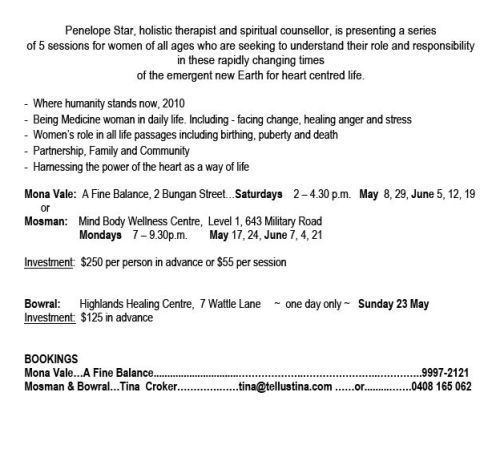 ---
The Local Guide - Community Information


Click HERE to load
---