DAN E-NEWSLETTER | FEB 2013
I am delighted to advise details about the 2013 DAN Conference, to be held in Adelaide from 8-10 July 2013.  In order for you to apply to your school to attend, Preliminary Conference Information is detailed below, and a Registration Form is available for download from the DAN website.  
We look forward to seeing many of you at the Hawke Centre in Adelaide - seats are limited, so don't leave it too late to register!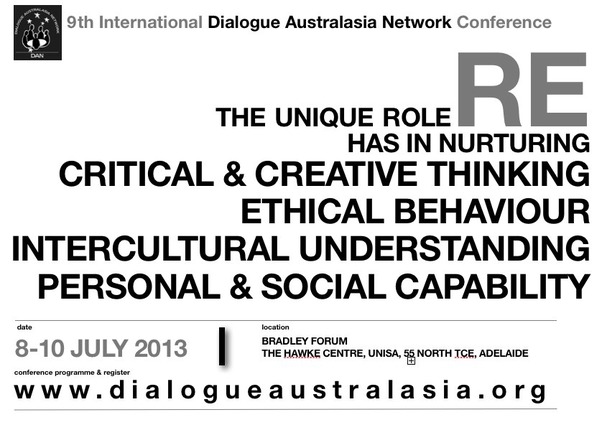 Contemporary Religious Education has a unique opportunity to:
* engage directly with students' questions about ultimate meaning, value and purpose,
 * introduce students to religious and secular philosophies as sources of wisdom and insight,
* equip students with the knowledge and skills to explore their own beliefs and values and those of others, 
* critically grapple with and respond to complex ethical issues
As such, good RE has a special role in nurturing the General Capabilities prescribed by the Australian Curriculum, 
including 
Critical and Creative Thinking, Ethical Behaviour, Intercultural Understanding and Personal & Social Capability. 
The 2013 International Dialogue Australasia Network Conference is designed to support teachers of 
RE, Philosophy and Ethics in their important and challenging task.  Outstanding educators and academics will explore and share examples of 
creative pedagogy, curriculum planning
and teaching resources focusing on the relationship between the content of RE and 
Critical and Creative Thinking, Ethical Behaviour, Intercultural Understanding and Personal & Social Capability. 
CONFERENCE SPEAKERS include:
Christopher Gleeson SJ, Provincial Delegate for Education and Mission Formation and DAN Patron 
 Prof. Terence J. Lovat, Emeritus Professor, The University of Newcastle, Chair of Theology, Ethics & Education, Broken Bay Institute, Senior Research Fellow, University of Oxford
Dr Nigel Fancourt, Department of Education, Oxford
Jo Fargeant, Diocesan RE Advisor, Oxford
Dr Leigh Burrows, Department of Education, Flinders University
Dr Rod Pattendon, Chair of the Blake Prize for Religious Art
Rev Richard Browning, Chaplain and Director of Community, Radford College, ACT
(Final Conference Programme and Speakers TBC)
 

2013 DAN CONFERENCE VENUE:

 

We are delighted to be able to hold the 9th International DAN Conference in the Bradley Forum within

The Bob Hawke Prime Ministerial Centre

.  This superbly designed building is located at the City West Campus of The University of South Australia, Level 5, 50-55 North Terrace, Adelaide.  

The venue is within easy walking distance (and free tram) of many CBD Hotels and the Adelaide

YHA

.
CONFERENCE REGISTRATION FORM NOW AVAILABLE AT:
Updated Conference Programme and other information will be posted on the DAN website &
 a confirmed Conference Programme emailed to all registered delegates
ENQUIRIES
: Please
contact
 the Conference Convenor: Belinda Hill, DAN EO
 

LIFE OF PI RESOURCE from Damaris




In recognition of how the beautiful and surprising film The Life of Pi offers rich possibilities for the classroom, the Damaris team have partnered with Twentieth Century Fox to develop a special free educational resource. Two episodes from the film are linked to questions and information supporting learning objectives from both Philosophy & Ethics and the IB. This material would work well in both class as well as for a 1/2 or day programme for a whole senior year group.

 

What Does it Mean to be Human?




- Consider the distinction between humans and animals

 

- Evaluate perspectives on personhood and ethics with specific reference to Peter Singer's 

Preference Utilitarianism 

 
Can We Decide what to Believe?
- Consider whether fundamental logical laws are important to our knowledge of the world, with specific reference to Aristotle's 
Principle of Non-contradiction
- 

Evaluate critiques of logical reasoning, with specific reference to Hume's 

Scepticism
- Understand the concepts of 
Foundationalism 
and 
Properly Basic Beliefs
Another resource, The Meaning of Life in Pi? explores spiritual ideas raised by the film around the concepts of hope, truth and faith.  Clips from the film are linked with comments from Andrew Copson (British Humanist Association), Krish Kandiah (Evangelical Alliance) and Shaunaka Rishi Das (Oxford Centre for Hindu Studies).
 

DISCUSSION GUIDE FOR Spielberg's LINCOLN

 

Whilst we're at the movies, Damaris have also produced a discussion guide for the recent release Lincoln.  The film focuses on President Abraham Lincoln's historic push to aboish slavery, as well as juggling the conflicting political imperatives of ending the war, and explores key concepts of c

ompromise, justice, equality, politics, integrity and slavery.
Questions for discussion include:
- 'The inner compass that should direct people to justice has ossified.' (Thaddeus Stevens)  
Why do you think that tolerating injustice affects people's moral compass? What can we do to prevent ourselves being compromised in this way?
- How did you react to Lincoln's reply to the above quote, pointing out that a compass only points to true North; it doesn't tell you how to get round the obstacles you might find while travelling towards it?
- To what extent can comparisons be drawn between Lincoln's ability to appeal to different sides of the political debate and the apostle Paul's claim that he became, 'all things to all people so that by all possible means I might save some' (
1 Corinthians 9:22
)?
- At one point Thaddeus Stevens is told to, 'Compromise, or you risk it all.' Are there things that should never be compromised, regardless of the cost?
 

 

GREAT WEBSITE FOR SECONDARY PHILOSOPHY & ETHICS
You can also read an article by Peter Baron on Moral Education and Critical Realism in the upcoming May 2013 issue of Dialogue Australasia journal.
 

61ST BLAKE PRIZE EDUCATION KIT

 




There are 4 sections, the first of which discusses the three chosen themes of the 61st Blake Prize: Spirituality and Religion, Nature, and Smoke and Threads. The second section provides information on those artists who were Highly Commended and the 5th Blake Poetry Prize, whilst the third section looks at the process of Choosing a Winner and includes student activities. 

The fourth provides formal Questions for Discussion and Creating and Making activities that are split into lower secondary Years 7-9, and upper secondary Years 10-12.
DOWNLOAD the 61st Blake Prize Education Kit - compiled by Dr Rod Pattendon, Chair of the Blake Prize for Religious Art and 2013 DAN Conference Speaker.
 

MULTIFAITH GOLDEN RULE POSTER - AUSTRALIAN PUBLISHER

 

The Australian version of the Scarboro Missions Golden Rule Poster has recently been published by the Columban Mission Institute's 

Centre for Muslim-Christian Relations

 in Sydney

.

This new version features changes including the

inclusion of Indigenous text and symbol.  

  




 

A new Rotating Golden Rule Slide Programme has also been recently designed and is available for free download at:




As each of the 13 Golden Rule texts rotates, the audience is provided with a reflective, informative and meditative experience.
 

THE PROBLEM OF EVIL:  Those of you who have alreadt ordered this latest resource from EthicsOnline have commented on how powerful it is.

The DvD contains five films of varying lengths (12-19 mins) and addresses:




2. The Augustinian Theodicy

4. Protest, Process and Monist Theodices and Free Will Defence




There are accompanying teacher's notes which include questions, ideas and activities for learning and explanatory notes based on each film.
Read more about other films and accompanying teaching resources from EthicsOnline
(Environmental Ethics, Sexual Ethics, War & Peace, Abortion) 
EthicsOnline films can be purchased directly from Dialogue Australasia Network at:
Contact the DAN Executive Officer
T|  08 9367 8903
A|  34 Douglas Ave  SOUTH PERTH WA 6151