We nodigen je van harte uit / We warmly invite you to join Maurice Meewisse at Zandmotor on May 12.

Followed by 'TIJD MAKEN - MAKING TIME' with Masha Ru, Nishiko, Atelier NL, Maurice Meewisse and Lotte Geeven on May 19, 20 & 21 at and with Tempel, department of Archaeology, Nature and Environmental Education during Festival
Designkwartier The Hague.
During the fall this program will continue with the exchange of artists, designers and scientists during a lecture program at and with the Tempel in The Hague.
INVITATION MAY 12

PUBLIC EXPEDITION ZANDMOTOR#11: IJZER - IRON
BY MAURICE MEEUWISSE
Location: Zandmotor, between F1 and F2 (check our
website
for directions)
Time: 10:45 - 18:00
Please note: COFFEE BREAK at 10:45 - 11:00
Artist Maurice Meewisse is fascinated how the Zandmotor is in a way also the accomplishment of industry, the result of human endeavour, even though it is experienced as nature. With a mixture of natural and human-made materials he starts a small scale industry: with charcoal he produced himself from driftwood that washed ashore on the Zandmotor and the low quality iron ore he found at the Zandmotor, Maurice will attempt to make iron on May 12.
With special thanks to Mondriaan Fonds Binnenland Gastatelier program.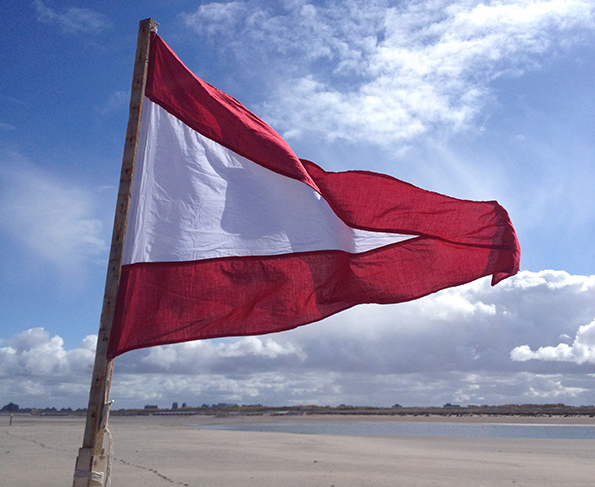 TIJD MAKEN - MAKING TIME
Satellietgroep at Festival Designkwartier, The Hague

With Masha Ru, Nishiko, Atelier NL, Maurice Meewisse, Lotte Geeven and experts of the Tempel.

Location: Tempel,
department of Archaeology
, Nature and Environmental Education
Prins Hendrikstraat 39
, The Hague
www.denhaag.nl/archeologie
WORKSHOPS & MORE FOR CHILDREN & ADULTS:

Explore what the world looked like through a microscope and help wash and paste shards with the experts of the Tempel.

Each day 12:00 - 13:00 Making your own Fossils with Nishiko

Each day at 16:00 - 17:00 Collective Soil Tasting with Masha Ru
Join Atelier NL and you can buy your Zandmotor ZandGlas!
Volgend op het succes van vorig jaar werkt kunstenaarscollectief Satellietgroep ook dit jaar weer tijdens Festival Designkwartier 2017 in en met de Tempel, centrum voor Archeologie, Natuur- en Milieu Educatie Den Haag.
'TIJD MAKEN - MAKING TIME' gaat over een gedeelde passie voor grondstoffen, scherven, constructies en reconstructies van tijd en plaats. Er bestaat een wijdverspreide fascinatie om in het landschap sporen te onderzoeken, verzamelen en archiveren. Waar die passie vandaan komt is een van de vragen waar we samen met kunstenaars, vormgevers en de medewerkers van de Tempel bij stil staan.


Following the success of last year, artists collective Satellietgroep works again during Festival Designkwartier 2017 at and with the Tempel,
department of Archaeology
, Nature and Environmental Education The Hague,
'TIJD MAKEN - MAKING TIME' is about the shared passion for raw materials, shards, constructions and reconstructions of time and place. There exists a wide spread passion for exploring, collecting and archiving traces in the landscape. The origin of this passion is one of the questions we relate to together with artists, designers and experts of the Tempel.
With special thanks to all participants, the municipality of The Hague, Mondriaan Fonds, and Festival Designkwartier.
EATABLE CERAMICS & EARTH TASTING
BY MASHA RU
Join Masha during the Collective Soil Tasting.

For Festival Designkwartier Masha selected 60 soils from around the world and presents 'Eatable Ceramics'.
Geophagy is a phenomenon of eating earth and soil-like substances. In a number of countries all over the world geophagy is a cultural and spiritual tradition. However, in Europe and United States it is officially regarded as a psychological disorder, which is included into DSM-IV. This installation presents 'edible' soils from various countries. The clays can be tasted. We tasted all of it. Some of it we eat regularly. However, we did not analyse all of it yet. Thus, eating is at your own risk.
With special thanks to Mondriaan Fonds for the support of Masha Ru in 2015-2017.
http://masharu.nl/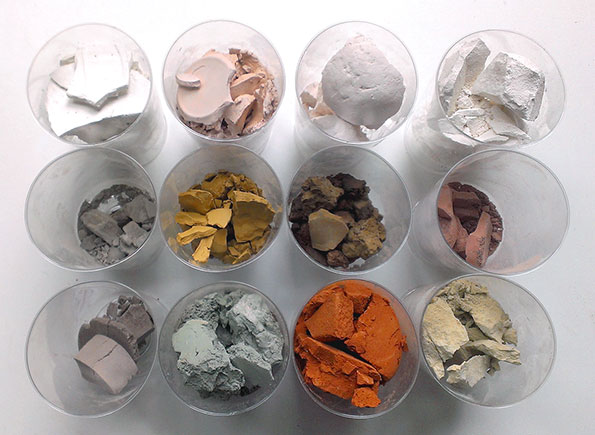 MAKING YOUR OWN FOSSILS

BY NISHIKO
Join Nishiko for Making your own Fossils.


Shells, mammoth bones, insects, footsteps. A great duration of time is one of the key ingredients of becoming a fossil. Christiaan Rieffe, geologist at the Tempel, explained that almost anything which survived 4000 years can be considered as a fossil. Taking that as a starting point, visual artist Nishiko organises the workshop "making fossils", in an attempt to design our own fossils. Let's hope, someone will uncover your fossils in 4000 years!
REPAIRING WORK OF VALERIE DEMPSEY AND RONALD BOER 'BEACH LABORATORY'
BY NISHIKO


A broken wine glass, four broken glass bottles and shards of specimen dishes, plaster and things made, found and received during the process.


The original artwork 'Beach laboratory; Coastal Reckoning' of Valerie Dempsey and Ronald Boer consisted of distilled seawater and extracted sea salt, which the artists collected at four points on the beach in Scheveningen, during the residency program at Badgast organised by Satellietgroep in 2010. During exhibition at Nest in summer 2011, the salt was displayed in four specimen dishes, and behind these, the water stored in four bottles. An accident took place during the opening, when someone placed a wine glass on the shelf on which the work was displayed. It fell to the ground, and the work was completely destroyed.
When Nishiko witnessed the incident, she was concurrently occupied with repairing broken objects, and so was moved to keep the shards, promising the artists to repair their work. The work is a hommage to the numerous coincidences Nishiko has had through her 'Repairing Earthquake Project' that started in 2011, just after she encountered the fallen artwork.
With special thanks to Elizabeth Ogilvie for the exchange residency program with Satellietgroep at Sea Loft, Scotland in 2016.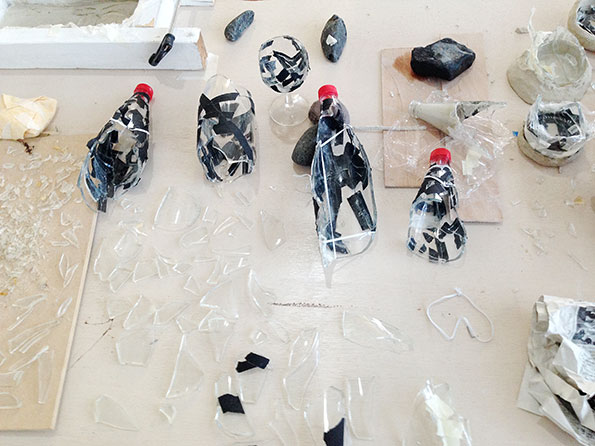 ZANDMOTOR ZANDGLAS
BY ATELIER NL
Join Atelier NL and you can buy your Zandmotor ZandGlas!

Last year during Festival Designkwartier designers Nadine Sterk and Lonny van Ryswyck of Atelier NL presented the research, this year the product!
Atelier NL used the sand from the Zandmotor and developed ZandGlas in collaboration with our network of scientists. For the manufacture of this limited edition, the designers worked together with Gert Bullée, top glassblower in the Netherlands. At high temperatures, the wild sands of the Zandmotor melt and eventually transform into characteristic, pale green glass. Sleek and elegant design in a sophisticated colour, and with charming imperfections that make each object unique. These are the very first glass products in a larger series that Atelier NL is crafting out of sand from dunes, beaches, rivers, deserts, mountains and sandpits in the Netherlands and beyond. Photo: Teun van Beers.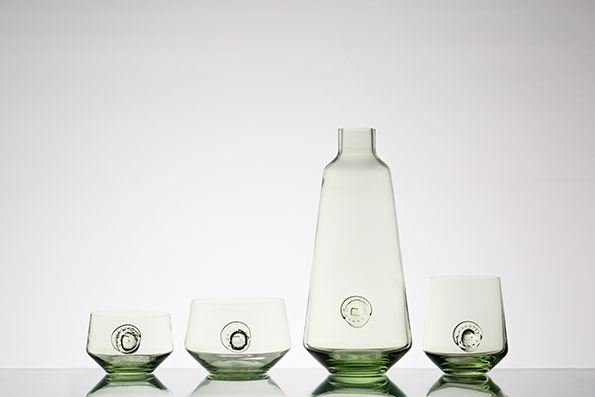 We warmly invite you to join during Festival Designkwartier also the Zandmotor research in progress by parallel artist-in-residence Lotte Geeven and Maurice Meewisse as part of the Mondriaan Fonds Binnenland Gastatelier Program during March-May 2017.
THE NOISE OF TIME

BY LOTTE GEEVEN
If you listen carefully you can hear a very soft and constant rustling sound in the background wherever you are. This is the noise of time. Resident artist Lotte Geeven - who is at the moment researching acoustic sand - created a small edition of acoustic hourglasses entitled ' The Noise of Time' after the eponymous novel by Julian Barnes in which time can be heard.
These instruments, filled with fine sand, can be played by one simple hand-gesture that sets c.a.. 1.5 millions grains in motion creating a humming sound composition. This is one small hand out of the monstrous amount of seven quintillion five quadrillion grains of sand on earth that are in constant motion; choreographed by winds and currents.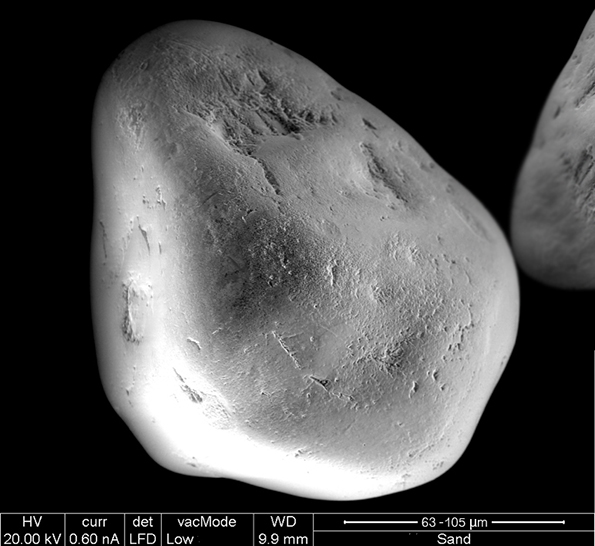 WERKLANDSCHAP ZANDMOTOR - LABOUR LANDSCAPE ZANDMOTOR
BY MAURICE MEEWISSE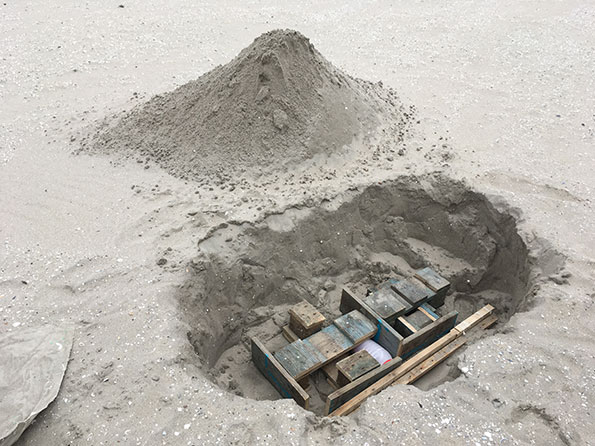 CONNECTING TO YOU!
You can also contribute to the activities of Satellietgroep! Spread the word or invite us for a presentation, research, collaboration or exchange project. Satellietgroep works also on commissions. Feel free to contact us at satellietgroep@gmail.com or browse our website
www.satellietgroep.nl
for ideas. 
DCR GUESTSTUDIOS
Satellietgroep programs 3 DCR Gueststudios at DCR, the cultural incubator in The Hague that also houses 35 permanent studios for artists and designers, including the studio of Satellietgroep, Zaal 3 - laboratory for performing arts of Theater aan het Spui, sound studio Loos, Cloud Danslab and exhibition space Nest.
Contact our coordinator Lotte Bosman at dcrgueststudios@gmail.com if you are interested in a short or long term cultural visit in The Hague. More at www.gueststudio.com | www.dedcr.nl

Looking forward to meet you!
Jacqueline Heerema,
Francois Lombarts & Lotte Bosman.