To ensure that my newsletters arrive safely, please add my email address to your address book.
As a business professional, delivering seminars or workshops, or a toastmaster doing the same at conferences, it is imperative for your success to take heed to these tried-n-true tips!
See below for final mention of the  Certified World Class Coaching Course....as of right now...ONLY 5 SPOTS AVAILABLE!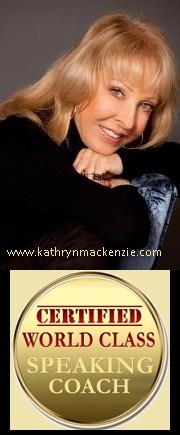 April 30, 2016 District 65 'Out of the Box' Spring Conference, NY
Keynote speaker "Go Somewhere Over the Rainbow"
Want to drive home a point when you are training?
One method is to Anchor the point using an ACTIVITY...
If THEY DO it, they are more likely to believe it, 
than if you simply tell them the point!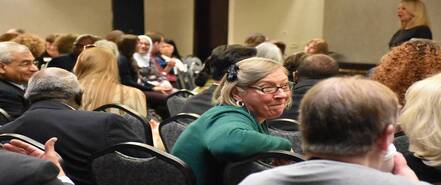 Attendees at my keynote doing an activity to anchor a point
Quotations of the month:
"I  never teach my students; I only provide the conditions in which they can learn. " - Albert Einstein
'The art of teaching is the art of assisting discovery."
 - Mark Van Doren, poet
Part 2 cont'd from last month: more tips for Awesome Training!
As a seasoned educator, instructor amd trainer, I strongly suggest that you adopt a mindset that encompasses the following, especially when it comes to adult teaching. 
                   Mindset precedes
teaching others a new skill set!
·         believe that "the answer is in the room." Your task is not to tell them, but to guide and facilitate discussions respecting the diverse academic backgrounds and experiential knowledge of the attendees.
·         make the complex simple
·         understand attendees have a variety of learning styles
·         give clear directions
·         don't say things that lose credibility with your attendees
·         know that nothing is left to chance, everything is planned
·         don't give an oral bio of credentials; credentials are clearly demonstrated by         what you say and do
4 "C's"
to enhance your training sessions
1. Be CLEAR in your intended outcome
Focus on

your purpose: what you want your attendees to take away and act upon. If you give your conclusion first, they know right away what the most important take away message is and that the rest of the presentation is built on that main premise. 
2. COMMUNICATE your main complex points or concepts simply
Avoid speaking using abstractions.
Communicate to them in a way that is easily understood by sharing personal experiences and flesh and blood examples. Provide opportunities for stimulation, human engagement and emotional connection AND possibly activity  (if they do it, they will likely remember, since an actvity can serve as an anchor for your point)
3.  CHECK IN with the group periodically
Use the art of questioning  either rhetorical, giving them a valid reason to reflect, or open-ended ones that allows them to openly answer. It keeps them mentally and emotionally engaged and creates a 'conversation' between you and your audience.
4.  CONNECT the dots for your listeners
Check for comprehension before moving on to next point in order to ensure they are still with you and will keep them with you. Effective transitions remind them where they were in the previous point and where you are moving to next by stating either what they want to avoid and its negative consequencs or what they want to attain and its benefits.
Until next month, successful seminars to you!  Stay tuned for final training pointers!  

____________________________________________________________________
Final mention of this course!
As of today...only 5 SPOTS left!
Ever thought of earning the logo below and earning the
 privilege of being recognized as an top calibre coach?
Competence

 

and

 

Credibility

 

as a Coach
helping others in business and in competitions
Roger Caesar 4 time district 86 champion in the
International Speech Competition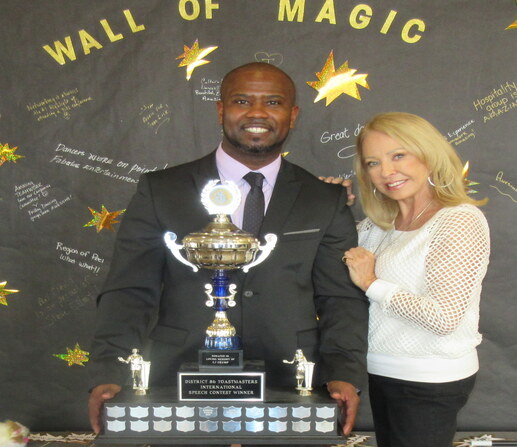 Click on link below and read how other 

fellow coaches have benefitted from completing this course! 
You TOO can profit by enhancing

 

Competence

 

and

 

Credibility as a speaker, a coach, an instructor!
 Craig Valentine and Mitch Meyerson offer this 12 week program  
 

ONLY 1/year

 

starting on 

June 15,2021
-
all course is done on phone or internet
-
24/7 access to all templates and materials for your own use as a coach or instructor
Call or email, if you wish more info on any aspect of the course and I will fill you in on specifics...I have actually talked some people OUT OF taking the course, as I didn't believe they were ready for it until a later date.
MY OFFER TO YOU:If you decide to take the course, I will split my commision with you or take it out in trade, helping you with any course needs/issues, etc. Your choice!
If you go through the WORLD CLASS LINK below or link on my website (OTHERESOURCES page), I will receive notice that 
 

   

 

 

Kathryn MacKenzie, BA  M.Ed.  DTM




Presentation Skills Instructor/Author

 

 Keynote Speaker/Coach





Was this newsletter passed on to you by a subscriber?

Want to MAGNIFY your speaking skills?




Then I invite you to visit my website: www.kathrynmackenzie.com and SUBSCRIBE to my FREE monthly 'Keys to Your Speaking Success' newsletter.




Email: kathryn@kathrynmackenzie.com | Phone:

416.489.6603




 

© 2021  All rights reserved