DAN E-NEWSLETTER | OCTOBER 2012
The 28th Issue of Dialogue Australasia Journal will be sent to current members and subscribers in early November 2012.  Please keep an eye out for the accompanying 2013 Membership Renewal Invoice which will be included!  
We value the support of our 300+ members and want to stay in touch with you, so please let us know if there are staff changes planned for 2013 so we can update our contact records.  Contact the DAN EO.
IMPORTANT PD opportunity for Primary RE Teachers
and anyone contributing to the Spiritual, Moral, Social and Cultural development of Primary Students
Dr Peter Vardy, supported by The Coexist Foundation (UK Charity), is offering a unique PD opportunity, free of charge, for primary teachers in NSW, SA and QLD.
Sessions will include:

Towards Rigour and Relevance in primary Religious and Values Education

Using movies to engage with  The Gospels

What is God?

Good and Evil: Tackling Big Questions with Little People

Citizens of Tomorrow's World

 

A Moment of Stillness
Participating teachers will be provided with a DVD of resources, including the revised guide to the Five Strands Approach, an editable model curriculum and RE policy statement and schemes of work suitable for students of different ages.
  .....................................
Download a copy of Laying Strong Foundations Brochure
  .....................................
(NOTE: this is not a DAN event.  To book, please email respective contact in each State)

**NEW

 FILM*
* - THE PROBLEM OF EVIL
The latest film and accompanying teaching resources from EthicsOnline is a must have for teachers committed to helping their students confront and grapple with The Problem of Evil.  
"The Problem of Evil is one of the oldest and most documented issues in philosophy. This DVD series does not seek to offer new answers to the debate. Rather, it brings the various arguments and counter-arguments to life through graphic visual media. I found the sobering historical film on the holocaust to be an excellent introduction to this topic. Students will sit in silence during this film and engagement with the problem of evil is guaranteed. Film One explains the problem of evil clearly and I found it useful with Year 9 students. Films Two, Three and Four are best saved for senior students as they navigate the various theodicies in a more challenging academic style. Overall, this is an excellent resource that has application across year levels." 
  Dominic Hodnett, Head of Philosophy, Christ Church Grammar School, Perth, WA   
            .....................................   
Read more about other films from EthicsOnline (Environment, Sex, War & Peace, Abortion).  
Order resources from EthicsOnline.      
NO, YOU'RE NOT ENTITLED TO YOUR OPINION...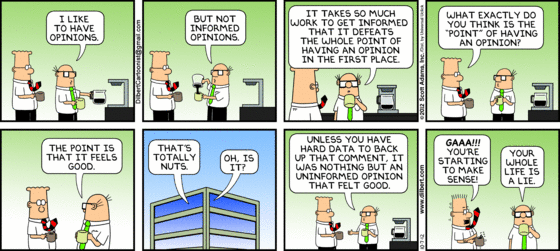 E

v
er
y year, I try to do at least two things with my students at least once. First, I make a point of addressing them as "philosophers" – a bit cheesy, but hopefully it 
encourages active learning.
Secondly, I say something like this: "I'm sure you've heard the expression 'everyone is entitled to their opinion.' Perhaps you've even said it yourself, maybe to head off an argument or bring one to a close. Well, as soon as you walk into this room, it's no longer true. You are not entitled to your opinion. You are only entitled to what you can argue for."
A bit harsh? Perhaps, but philosophy teachers owe it to our students to teach them how to construct and defend an argument – and to recognize when a belief has become indefensible.
The problem with "I'm entitled to my opinion" is that, all too often, it's used to shelter beliefs that should have been abandoned. It becomes shorthand for "I can say or think whatever I like" – and by extension, continuing to argue is somehow disrespectful. And this attitude feeds, I suggest, into the false equivalence between experts and non-experts that is an increasingly pernicious feature of our public discourse.
Read more of this most pertinent article from Patrick Stokes, Lecturer in Philosophy at Deakin University.  It would be a good one to share and discuss with your students (in all classes, not just Philosophy!)  Hat Tip:  The Conversation.
 

A World of Prayer: Spiritual Leaders, Activists and Humanitarians share their favourite prayers and personal reflections




Orbis Books Maryknoll, New York 2012

 

This is a wonderful new resource for your school (classes and assemblies) and as your own spiritual companion. The prayers include classic and familiar texts from every religious tradition. But some of the selections are surprisingly personal, offering a glimpse into the heart of many great souls of our time.

 
Contributors from every religious tradition around the globe include Nobel Peace Prize winners Lech Walesa, Mairead Corrigan, Nelson Mandela, Desmond Tutu, and the Dalai Lama join Archbishop of Canterbury Rowan Williams, theologian Hans Küng, spiritual writers Richard Rohr and Sr. Joan Chittister, artists and musicians such as Pete Seeger and Yusuf Islam, and many more. 
A review by Frank Sheehan and excerpts from A World of Prayer will appear in the
28th (Nov) Issue of Dialogue Australasia journal.
 

QUESTIONS:  BUDDHISTS (ed. Stephen Pett, September 2012)




This new resource provides thoughtful and creative ideas for deepening an understanding of Buddhism.  The practical activities explore core Buddhist teachings, while seeing that Buddhism is a path rather than a set of beliefs, and that there is real diversity of paths to follow within Buddhism. It includes the words of Buddhists from the Theravada and Mahayana traditions, including Tibetan Buddhism, the Thai Forest Sangha, Soto Zen and the Triratna Buddhist Order.
Questions: Buddhists offers students the chance to begin to understand how Buddhism says that the knot of existence is tied, as well as how it may be untied. It points students towards the kind of Engaged Buddhism espoused by Thich Nhat Hanh and others. It also takes the example of Aung San Suu Kyi's fight for freedom and justice in Burma.
ORDER Questions: Buddhists (from RE Today)
 

 

 




9th International DAN CONFERENCE

 

Monday 8 - Wednesday 10 July 2

013,  

Adelaide
The unique role good RE has in nurturing 
Critical and Creative Thinking, 
Ethical Behaviour and Intercultural Understanding 
(the General Capabilties and Competencies 
of the 
Australian & New Zealand Curriculums)
                     .....................................
If you are interested in contributing to the Conference, or have any suggestions for Keynotes and Workshops, the DAN EO would be delighted to hear from you.
For budget purposes, the cost of the Conference will be similiar to 2011 prices
(approx $480 for DAN Members/ $550 for non- DAN
incusive of Programme, Lunches & Morning/Afternoon Teas, Conference Dinner and Resources)
Further information will be posted on the DAN website and in e-newsletters when confirmed
Contact the DAN Executive Officer
T|  08 9367 8903
A|  34 Douglas Ave  SOUTH PERTH WA 6151