~ FREE ~
~ VALUATION ~
Need a free valuation for a pre-1979 Gibson or Fender guitar?

Or maybe you own an old valve amp Marshall, Vox, etc...?
~ WANTED ~
We are always interested in your pre-1979 Guitars, Amps, etc. Gibson, Fender, Marshall, HiWatt, Orange, Selmer, Vox, etc.
~ GET IN TOUCH! ~

Call or email us now
~ NEW! ~
GUITAR AVENUE
WORKSHOP

Checkout the Guitar Avenue Workhop for all your instrument repairs, customizing and modifications
Click Here
GuitarAvenue News & Listings Update
Issue No.10 15 October 2011
H
ello and welcome to GuitarAvenue listings update #9. See below for
some
of the latest additions.
Further details of all listings at
GuitarAvenue.com
.
We are now able to take secure credit card payments via the
Nochex
payment system direct from the GuitarAvenue website.
Please note
: this facility currently only applies to selected items in the
Amps
and
Effects
pages. Just look for the "Buy Now" button. More items will be added soon that can be purchased direct via Nochex.

Need a repair?
Don't forget our own expert guitar repair and customizing service -
GuitarAvenue Workshop
. Click the link for further details or just call or email to discuss your requirements.
If you have any other questions or feedback, please
get in touch
.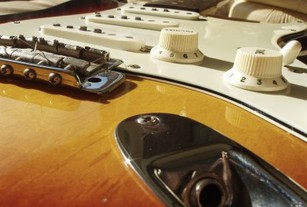 ~ NEW LISTINGS ~
Please note - we have more new additions
on the GuitarAvenue website
GUITARS
1968 Gibson Les Paul Std - £8995.00
GuitarAvenue are pleased to offer this very rare Gibson Les Paul Standard made in 1968, the first year which re-introduced the single cut Les Paul... read more
Ex-Chris Rea 1962 Fender Stratocaster - £POA
This guitar has been owned by Chris Rea and has been in a private collection for many years.

See it in action here -
1960 Airline Guitar
- £995.00
It's very clean, twin humbuckers, only one in stock. Grab it quick!

read more...
Other New Additions...

* Gibson Les Paul Custom 1959 - £CALL
No tow bar! No boat anchor! Three PAFs. Excellent all-original condition and finish.

See our other new additions in the Les Paul section.
* Fender Duo-Sonic 1960 - £995.00
A real rarity in the UK. All original parts and finish...

* Fender Jaguar 1963 - £2750.00

Fender Jaguar pre-CBS 1963. Sunburst finish. Good condition, all original parts and finish. Complete with HSC.
Bass Guitars
Gibson EB3 1968 - £1175.00
Gibson EB3 bass, short scale, made in 1968, the first year of Walnut finish. This is also a hard guitar to find... read more
Acoustic Guitars
*Gibson LGO 1965 - £795.00

Great little player, collectable guitar, small but sweet tone, good all-round condition...
* Gibson J50 1953 - A real players guitar. And it's been well-played! Sounds great. New HSC. £2750.00

* Gibson Nick Lucas - Ressiue from 2001. A rare guitar in the UK. Mint conditon with OHSC. Photo to follow. £2200.00
*Gibson J45 1963 - £3250.00

Beautiful all original no cracks or repairs. Plays and sounds amazing...
AMPS
Marshall Popular Combo - £1375.00
Rare near-mint condition made in 1969. 10 watts. We can upgrade to 15w...
Watkins Dominator - £1500.00
15 watts early model in excellent condition, light blue has turned greenish. Original transformers & Elac speakers. These are one of my favorite amps, a great future collectable. Comes complete with cover.

EFFECTS
* Fuzz Face - £175 (free shipping UK/EU) - made by Denis Cornell for Arbiter in 1999, this was a limited edition pedal made with original AC128s. We have aquired some unsold units.

* CORNELL Pedals - 'The 1st Fuzz'; 'M.T. Boost'; 'Overdrive Special' all with free shipping to UK/EU
---
Phone: 01245 401066 - Int'l: +44 1245 401066
Privacy Statement:
All customer information and correspondence is treated in the strictest confidence.
We do not buy, sell or exchange any of your details.
The information in this newsletter is correct at time of publication. E&OE.
The address this email was sent to is: