We are looking to rent or borrow a wheelchair or golf buggy, or similar, to transport our 90 year- old granny to and fro between Tennis Court Wharf and the Scotland Island Lodge during her stay with us from Christmas to the 17th January.
If you can assist, please ring Derry on 0416 206 546.
The Rocky Horror Show - A Review
The last time I saw Rocky Horror Reg Livermore was in the lead and it was so long ago I can't remember who else was in the cast. It was an extravagant and lavish production which well deserved its excellent reviews. The recent production by the Scotland Island Players, tightly directed by Barbara Labram was right up there with it.
The story centres around Brad and Janet and the fantastic inhabitants of a Transylvanian castle. As their car breaks down and they go for help in a nearby castle, innocent Janet (Emmie Collins) and her recently engaged fiancé, naive Brad (Brian Frankel) go to the old castle for help. Here they encounter some weird and wonderful characters including Riff Raff (Larry Woods), Dr Frank-n-Furter (Karl Mallon), Magenta (Tracy Smith), Columbia (Justine Kirri), Dr Scott (Bob Bolton) and Rocky (Phil Meek). John Travers as the narrator, Ruth Tedder as the Usherette and Andy Moy, Denise Catt and Bec Erdman as Phantoms as well as Andrew Bain, Lizzie Brand and Leslie Woods as Time Warp Phantoms wrap up the cast.
The casting was brilliant and each performer seemed eminently suited to their roles. They all gave excellent, tight and very professional performances. They were all so good it is hard to pick out particular performers, but with my word limit, I can't discuss the entire cast in detail. Just to say that Phil Meek was an hilarious Rocky, Bob Bolton did a great German Dr Scott and certainly Karl stood out as an absolutely fantastic (and gorgeous) Frank-n-Furter.
The costumes were fabulous (thanks Lizzy), and the music, directed by David Richards supported by Maddy Banfield, Petra Godfrey, Gordon Floyd, Jon Hazelwood and Matt Lakeman was, as expected, extremely professional. As too was the make-up by Kerry Borthwick and the choreography (Denis Catt) . All those others that worked behind the scenes did a fantastic job'
And also a gold star has to go to the audience. On the night I went their costumes were great and they participated in great spirit as usual. And congratulations to all those guys who wore fishnet stockings!
As usual the standard of the Scotland Island Players goes from strength to strength.
JN
Church Point Plan of Management



Pittwater Council will hold a public meeting to discuss the draft plan of management for Church Point Reserve. The meeting will take place on Tuesday 4 December at 7pm at the Mona Vale Memorial Hall in Park Street, Mona Vale.

The meeting is the third in a series of public meetings to discuss the future use of the Reserve, and follows refinement of a draft plan of management first developed in 2004.
The draft plan of management is designed to resolve longstanding concerns about the future use of the reserve, especially in relation to parking.

The Council's landscape architect Mark Eriksson said the current plan incorporated the views of offshore residents and comments from the NSW Department of Lands.


"The key issue is what proportion of the reserve should be used for parking by offshore residents and what proportion should be maintained as open space," he said.

Mr Eriksson said the meeting would include an overview of the current draft plan and outline the remaining steps for the plan to be presented to the Council and then placed on public exhibition.


He said that representatives from the Scotland Island Residents Association, the Western Foreshores Association, the Bayview-Church Point Residents Association and the Church Point Reserve Association would attend the meeting.



"If residents have any enquiries at this stage they can contact their local representative or the Council."

The contacts are Ian Souter on 0414 991 991 (Scotland Island); Michael Weaner on 0413 396 080 (Western Foreshores) and Frank Makin on 9999 2233 (Bayview and Church Point).
I found a pair of binoculars on Cargo Wharf on Saturday 17 November. If you have lost them, please contact Gordon on 9997 2035
The Federal Election

The Hon. Bronwyn Bishop MP was returned to the seat of Mackellar in the recent federal election. Residents of the offshore communities congratulate her on her re-election and wish her well in her most important role as our representative to the federal government. Mrs Bishop has always been a strong

supporter of our community, with it's special needs and it's ambition to be an example to the rest of Australia in areas such as water conservation and sustainability.
Each edition of this newsletter has her contact details in the summary below. You can always ring her office or email her if you have a problem that you think needs the help of our federal representative.
The Fine Print - how did we vote?
You may be interested in the way in which we, as a community, voted. The details below show the polling results from the booth on Scotland Island. The two links following the results will take you to the electoral web site and will give you results that are very up to date.
POLLING PLACE - SCOTLAND ISLAND
Location

Premises

Scotland Island Kindergarten, Tennis Wharf, SCOTLAND ISLAND NSW 2105

Division

Mackellar

State

New South Wales

First Preferences

Candidate

Party

Votes

%

Swing (%)

BISHOP, Bronwyn<![if !vml]><![endif]>

Liberal

82

26.71

+0.58

McLELLAN, Matt

Independent

2

0.65

+0.65

SHARPE, Chris

Labor

84

27.36

-2.37

HUBBARD, Mike

Christian Democratic Party (Fred Nile Group)

2

0.65

+0.65

ADAMS, John

Climate Change Coalition

28

9.12

+9.12

McWHIRTER, Craige

The Greens

106

34.53

+12.46

BARNES, Clinton

Democrats

3

0.98

-1.72

......

Pauline Hanson's One Nation

0

0.00

+0.00

......

The Fishing Party

0

0.00

+0.00

......

Family First Party

0

0.00

-1.80

......

Other

0

0.00

+0.00

FORMAL

307

95.94

-2.29

INFORMAL

13

4.06

+2.29

TOTAL

320

0.35

+0.10
Reps: http://vtr.aec.gov.au/HousePollingPlaceFirstPrefs-13745-1738.htm
Senate: http://vtr.aec.gov.au/SenatePollingPlaceFirstPrefs-13745-1738.htm
Christmas Cocktails - Cosmopolitan Champagne
Ingredients (serves 6)
* 250ml (1 cup) cranberry juice
* 2 tbs Cointreau liqueur

* 2 tbs fresh lime juice
* 6 sugar cubes
* 1 x 750ml bottle chilled pink Champagne or sparkling wine
Method
1. Place cranberry juice in a medium saucepan and bring to the boil over high heat. Cook, uncovered, for 10 minutes or until reduced by two-thirds. Remove from heat and set aside for 30 minutes to cool.
2. Combine the cranberry juice, Cointreau and lime juice in a small jug. Place a sugar cube in each serving glass. Pour the cranberry mixture over the sugar. Top with Champagne or sparkling wine and serve immediately.
Source: Australian Good Taste - December 2004 , Page 167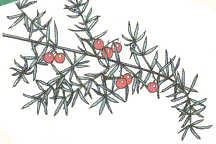 - Pittwater's worst weed!

Ken Hughes, secretary of the Northern Beaches Asparagus Fern Steering Committee, has emailed me thanking all Scotland Island residents who assisted in the anti - asparagus fern event held in October and apologising for the delay in collecting same. Inclement weather on the first two days that the boat had been booked was the initial problem and this was compounded by "Human Error" - a forgotten booking - the next time. Ken promises that they will do better next time!

Boat Licences - Police & NSW Maritime checking
The Broken Bay Water Police and NSW Maritime will be out on the water in the weeks leading to the holiday season, checking that the controller of a boat has a current licence and that the vessel is seaworthy. Here are the current requirements for boat licences:
Boat Driver Licensing
The speed at which a boat is driven determines whether a person needs to be licensed.
Any person who drives a recreational powered vessel on NSW waters at a speed of 10 knots or more must have a boat driver's licence.
Ten knots is the speed at which most accelerating boats will start to plane – that is rise up and skim on top of the water instead of ploughing through it.
The exception is anyone who drives a personal watercraft (PWC) at ANY speed must have a PWC Licence.


General Licence
A licence for people aged 16 years and over to drive any vessel, except a PWC at 10 knots or more.
General Young Adult Licence
A restricted licence for those aged from 12 to under 16 years. A Young Adult Licensee must:
(i) be accompanied by the holder of a General Licence when travelling at 10 knots or more
(ii) never exceed 20 knots


(iii) never travel at 10 knots or more after sunset and before sunrise
(iv) never travel at 10 knots or more when towing an aquaplaner
(v) never tow a water skier or wake boarder
(vi) not drive in any race, display, regatta or exhibition without prior consent from the NSW Maritime and
(vii) never operate a PWC unless the holder of a Young Adult PWC Licence.
The Scotland Island kindy needs more carers!
Are you interested in working with children in a Steiner based education environment? We are looking for more people to join our team in caring for the offshore community's next generation. Our new Director has helped to create a loving and creative environment, and more staff are needed to allow the program to expand.
Work hours are flexible, Tues – Thursday, minimum 4 hours per week.
Regular training workshops are provided.

Working with children checks will be necessary.
For more information please call:
Petra
Godfrey Home: 9999 0562
Mobile
: 0404 867 768
Public Meeting Mona Vale Community Hall
7 pm, Tuesday, December 4, 2007

For the first time in over 20 years, a joint public meeting of Offshore and Onshore residents has been called to gauge public response to the FINAL draft version of the Management Plan for Church Point. It is expected that Councillors and Council senior staff will be present.

If you cannot attend, it would be very helpful if you could extend an apology to Mark Eriksson by emailing him at mark_eriksson@pittwater.nsw.gov.au
Cleaning Job at Youth Hostel Pittwater
Summer Time December 2007 - February 2008 Cleaning Job Available
6-10 hours per week
Contact Sarah
Tel: 9999 5748 or

pittwater@yhansw.org.au


The Council's Coastal Environment Centre will host a special summit on penguins next week, with presentations from local experts on how to encourage penguin populations in urbanised marine environments. The summit, on Tuesday 4 December between 7.30pm and 9pm at the Coastal Environment Centre, Lake Road Narrabeen coincides with Coastcare Week, with this year's theme being the 'unsung heroes of the coastline'.

Guest speakers include ornithologist Ricki Coughlan, who recently conducted the northern beaches' first ever audit of the fairy wren. Also present will be Angelica Treichler who is the coordinator of carers for the Manly fairy penguin colony.
Peter Miller, head of the Reefcare volunteer group at Long Reef is the third speaker.

Angelica Treichler said that the local penguin population faced a number of threats. "These include over-development affecting breeding grounds and injuries caused by aggressive dogs and powerboats."

Ricki Coughlan said that even though penguins were more common on the northern beaches than was generally thought, they were also more vulnerable than other bird species.

"This seminar will help residents get a better understanding of how we can protect them."

For enquiries and bookings contact the Coastal Environment Centre on 9970 6905. Entry is by gold coin donation.

Carols @ Carols


Sunday, 16 December – please arrive between 5pm and 6pm – Mystery Guest arrives at 6.15pm
If you have children, bring a Xmas present worth up to $5 or $10 - wrapped and labelled with your child's name.
BYO blankets, snacks or your family dinner, drinks and your best singing voice.
The local guide

Emergency Contact Numbers
NSW Police: 000, Police Assistance Line: 13 1444, general information 9281 0000
Broken Bay Water Police 9979 4944 or 0412 162 093
NSW Fire Service: 000, general information 9265 2999
NSW Ambulance Service: 000, general information 9320 7777
Rural Fire Service: 000, general information 9450 3000
State Emergency Service, Warringah/Pittwater SES: 9486 3399
National Parks & Wildlife Service: 000, general information 9457 9322
Dept of Community Services: general information 9977 6011
Sydney Water: 132 090
Energy Australia: 131 388, (ah) 131 909
Membership of SIRA, Emergency Scotland Island Water Contacts and Application for Water + Guidelines for water, in one document: click here for information (while online)
Airlines, Buses and Railways

Weather
Join SIRA

You can now join the Scotland Island Residents Association by clicking here. Please print the page and return the completed form to SIRA at this address: The Treasurer, SIRA, PO Box 70, Church Point 2105. Please NO CASH. Contact SIRA at sirapittwater@hotmail.com

Join WPCA

To join the Western Pittwater Community Association, contact Michael Wiener at m2wiener@bigpond.net.au
Archived Newsletters A complete set of past electronic newsletters since publication of this newsletter began in May 2000, can be found and read at https://www.ymlp.com/pubarchive.php?sira or by clicking here

or by visiting the Mona Vale Library. The Island website is at www.scotlandisland.org.au
Finally:
If you would like to contribute to this newsletter it's easy!. Send an e-mail to the editor by clicking here. Type your short contribution (100 words would be fine) and assuming it is of general interest to the community, does not include matter of a political nature and is not offensive to your neighbours, it will appear next month.

To get on and off this newsletter, click here or got to: http://www.scotlandisland.org.au/signup . To change your address, click the 'modify' link at the bottom of this newsletter.
The views expressed in this newsletter are not necessarily the views of the Scotland Island Residents Association (SIRA), West Pittwater Community Association (WPCA) or any of the associated Pittwater Offshore Resident's Committees