---
| | |
| --- | --- |
| | SIRA News |

Reconvened SIRAC meeting Monday

7

.30pm,

September 2





A reconvened SIRA Committee meeting will be held Monday, September 2 from 7.30pm to 9:00 pm in the Community Hall



Here is a direct link to the meeting Agenda.



Visitors are welcome


Please Note: there will be a closed session for confidential matters; the remainder of the meeting will be open to Visitors

There will also be a Community Q&A session for 30 minutes with the Committee for community members to present submissions and ask questions.

The Visitor's Policy and the Schedule of SIRA Committee Meetings for the year is available on the Scotland Island website: www.scotlandisland.org.au



---
Ausgrid
Scotland Island Power Supply Improvements

Ausgrid is upgrading the local electricity network on Scotland Island to improve safety and reliability.


Existing power poles will be replaced along Thompson St and Hilda Ave as shown on the flyer. We anticipate the majority of works to be completed within the timeframes below.



28 Aug for approx 8 weekdays

– New pole holes will be excavated by hand for three poles on Thompson St (outside house numbers 85-95, opposite house numbers 48-58)

Another hole is to be excavated during the same time period in order to relocate the pole at the top of Hilda Ave (please download flyer HERE to see map)



WE ANTICIPATE THERE WILL BE NO POWER INTERRUPTION WHILST POST HOLES ARE BEING EXCAVATED





---
Pink Floyd - Dog Side of the Moon
'Encore for our Friend'
FINAL REMINDER
23-24, 30-31 August from 7:30pm
Following the successful opening weekend, bookings for the final night
(Saturday 31-Aug) now stand at 82.
That's pretty much capacity for the Hall.
Any bookings for Saturday night made now will be on stand by (i.e. if those who have
already booked are not in the hall by 7:50pm, we'll open up to "stand-by"
bookings and then anyone who turns up on the off chance).
If you want to be certain of seeing the show - book and turn up for Friday
30-Aug by booking through facebook:
https://www.facebook.com/events/530005137057158/
or send an email to
theflamingdoghouse@gmail.com
See you on the Dog Side!
Scotland Island Community Hall
23-24, 30-31 Aug 7:30pm
B.Y.O.
If you missed it last time, don't miss it this time. If you saw it last time, you'll want to see it again.
---
Last Fireshed Dinner for 2013
Saturday 14 Sept.

Soul Food & Soul Music

From 7pm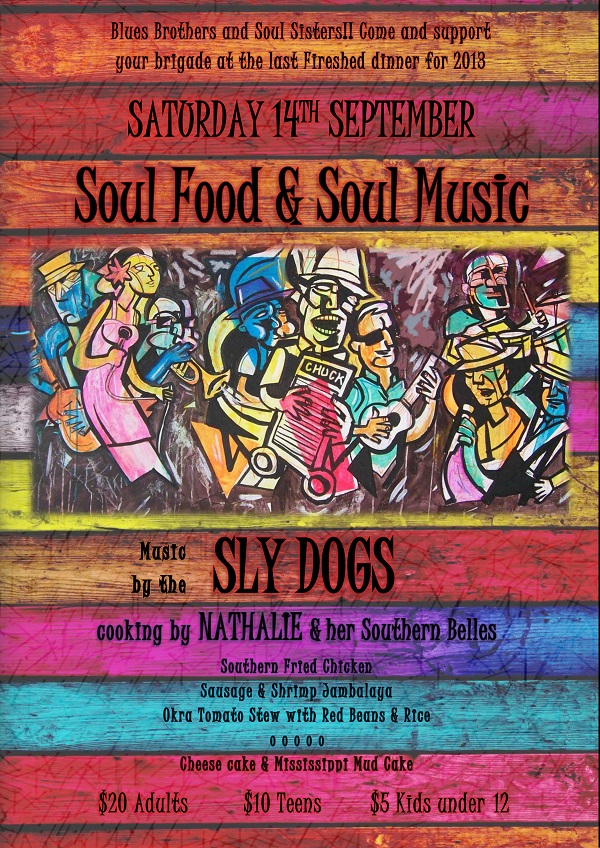 click image to load larger poster
Cooking by Nathalie and her Southern Belles

Music by
Sly Dogs with Tina Harrod
Adults $20
Teens $10

under 12 $5
---

The Facts Say YES for Pittwater




Pittwater Mayor Jacqui Townsend has today urged residents to say 'YES to the facts' in the upcoming referendum, in an effort to ensure that Federal funding continues to be available for important local projects.



"Pittwater Council stands to lose a considerable amount of Federal funding if the upcoming referendum regarding constitutional recognition for local government doesn't succeed, "said Mayor

For some time many really important local council projects, in particular the upgrade of many of our local roads have been possible due to direct Federal funding. At present, direct Federal funding of local projects is in doubt." she said.
"A YES vote will preserve the sort of arrangements that, for more than 10 years, have funded important local projects. Voting YES simply ensures existing practice can continue and that's a good thing for our community."

Over the past few years Council has received Federal funding for the following local projects:

Upgrade to Governor Phillip Park Playground, Palm Beach
Construction of a new Church Point Boat tie up facility
Upgrades to roads across many Pittwater suburbs
Energy efficiency program allowing for solar hot water systems to be installed at a number of Council facilities.
"A YES vote will ensure our community can continue to receive Federal funding for local projects without the funds going first through the states. Direct funding by the Commonwealth ensures greater efficiency and injects money into our local economy.", said Mayor Townsend.

"Our important local projects need Federal funding and voting YES is the only way to secure this.
There is no other source to replace this funding."

Around the country direct Federal funding has delivered safer roads, better playgrounds and parks, and upgraded libraries and other important local amenities – in short, safer and improved local environments for our communities.

But two recent High Court decisions mean from now on this funding is under threat. Which is why the facts say YES on election day.

For more information please visit: http://www.thefactssayyes.com.au/

Media contact: Jacqui Townsend Pittwater Council 9970 1104



---
Found




Harris Tweed pure wool cap



I found this lovely cap in the car park on Wednesday.
I'm sure someone is sadly missing it on Wednesday afternoon, 21st August

A lovely, gentleman's brown Harris Tweed pure wool cap (made in the Outer Hebrides)

Call Nettie 0410078754



---
Wanted
Nanny/ Carer




Looking for reliable, fun, experienced carer for happy, energetic 1-year old boy.





Minimum 4-hours per day.


Either Tuesday, Thursday or Friday.



Phone Kirsty Bush
0405 110 564




---

Second-hand Kayak or Rowboat
After having ours stolen, we are looking to buy a second hand kayak or rowboat to use as a backup to our tinny.

Please call Garrett
0448 40 60 70



---
Free

Pine dining room table,
6 chairs & matching coffee table.

OK condition.
Need a bit of TLC.

Call Amber on 9997 3078



---
For Sale
Boat for Sale $7,500


1999 Markham Dominator 4.3m Twin Hull
2006 Yamaha 60 HP 4-stroke outboard.


Ideal commuter boat:
• Fibreglass twin hull; stable, solid ride;
• Hydraulic steering, new 2010;
• Full canopy, side clears, new 2009;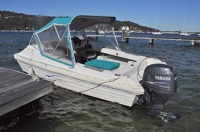 • Large cockpit, centre storage locker;
• Twin built-in 45 litre fuel tanks;
• Registration to 2/2014


Contact Alan: 0411 211 190




---

Outboard $500



Mariner 8hp 2 stroke outboard $500.00



Mike Molloy
http://www.molloydop.com
+61 409121112






---

Beautiful and Classic Bertram 18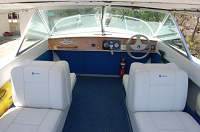 $14,500 oro





18ft Bertram



Recently Refurbished Throughout

Mercruiser V6 Inboard

Rego until September 2013


Anti-fouled


No Trailer




Phone Gill 0408722296




---
House to Let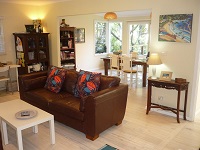 3 bedroom fully furnished cottage for holiday let from 7 December through until 31 January.



We will be away overseas and would welcome family or friends of our local community to rent the house for a minimum of 1 week.

The house is a short 3 minute stroll up from Tennis Wharf, opposite the fire shed, one back from the water with water views and a flat entrance.

Please call us to discuss cost/dates.

Mark and Jane Kirby
0435819610




---
---
Missed out on a Newsletter?




Go to the archives to download previous notices



A complete set of past electronic newsletters since May 2000 can be found and read at https://ymlp.com/archive_gesgjgm.php


---
The Online Local Contact Guide
Click HERE to load
The views expressed in this newsletter are not necessarily the views of the Scotland Island Residents Association (SIRA), or the Western Pittwater Community Association (WPCA)
---