---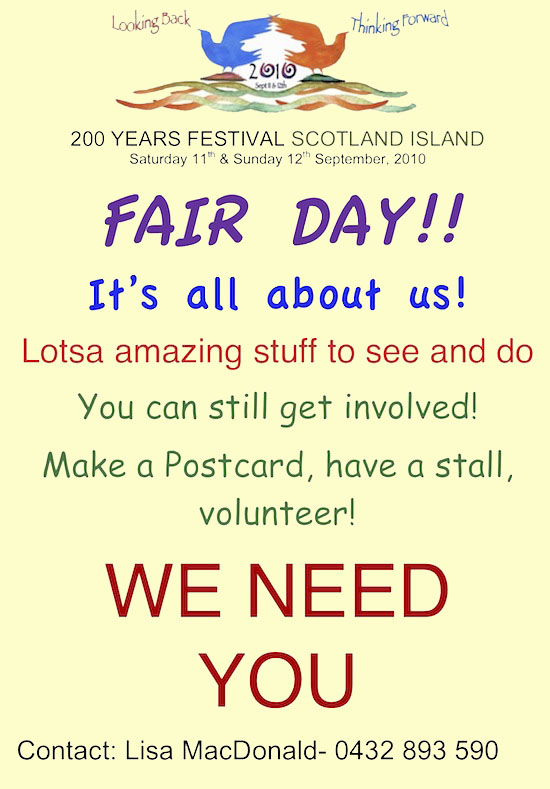 ---
---
SPRING CLEAN AND HELP THE KINDY!!




The Kindy will be running a bookstall and white elephant stall (quality second hand goods) at the Island Festival.



So now is the time to sort out all your unwanted – quality -household items and books to help the Kindy raise some much needed cash.

We will be collecting boxes of goods on Sunday 5th September.

Simply call Barbara:
0400 377 056/ or email barbaralabram@yahoo.com.au to arrange pick up.

Alternatively you can drop down items and leave them on the balcony at the Kindy.

Thank you once again for your support of our beautiful community Kindy!


---
CLAY & PLAY ~ Kids Pottery Workshop





Rouge would like to conduct a kids pottery workshop.


When: 28th August OR 29th August, 9:00 am -11:00 am
at ArtSpace Rouge , 8 Sturdee Lane, Lovett Bay
Cost: $20 for 2 hour class which includes all materials, bisque & glaze firing

This workshop is for absolute beginners (10 years & under) so no prior knowledge of working with clay is needed.



For more details - click the flyer to download it..
---
For Sale




Framed Gold Leaf on Papyrus - Paintings - For Sale


7 Framed Egyptian Paintings on Papyrus, for Sale, as described & Priced below, with a total lot price of $275.00.

122.jpg Tutankhamen Gold Mask $70.00 83 w/106 h cms
128.jpg Goddess Hathor $40.00 58 w/ 50 h "
129.jpg The Dendera Zodiac $40.00 66 w/ 58 h "
130.jpg King Akhenaton $40.00 56 w/ 73 h "
134.jpg Nant, Goddess of the Sky $35.00 54 w/ 40 h "
137.jpg The Last Judgement $60.00 104 w/ 56 h "
141.jpg The Sacred Cat $20.00 43 w/ 33 h "

Please contact Brian & Audrey Cross on 9997 8820 or email bacross@bigpond.com


| | | |
| --- | --- | --- |
| 122.jpg | 128.jpg | 129.jpg |
| 130.jpg | 134.jpg | 137.jpg |
| | 141.jpg | |
---

---
The Local Guide - Community Information


Click HERE to load
---