Hello CSA members,
This is just a reminder that today, Wednesday August 2nd is a CSA share pick-up. Your share will be ready for you to pick up at your chosen pick-up location between 4-7 pm.  We are excited about this week's harvest.

We are looking forward to seeing you on the farm!
August is officially here and it is the month of plenty as the summer crops are realizing their full potential, flower are in bloom, orchards are ripe with a plentitude of fruits, herbs are fragrant and bountiful, and the sun seems to never cease. As can be expected your diets and tables will be loaded with summer squash, tomatoes, and corn! This year we were very excited to try a new technique in our intensive summer crops by using a no-till planting method. Tilling is an incredibly useful technique for us, especially as an organic farm, because it helps us to break down field debris into tiny bits and pull up weeds without the use of chemical sprays, as well as provides us with a nice layer of soft soil in which we are able to plant both deep enough and precisely so that we may have a beautiful crop. In areas that have much field debris or have not been cultivated regularly, we will first plow the field to turn over the soil to create a rough initial pass that pushes decomposing plants into the soil and makes the dirt in the field appear rugged, uneven, and clumpy. Typically, we will then till a smooth layer on top, often so beautiful it feels tempting, like a fresh layer of concrete, to lay down in or leave our hand prints, but we resist.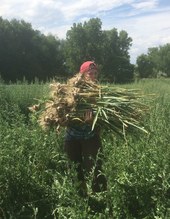 As for this year's experimental method, rather than turning over the soil twice before planting, we cultivated the field once and transplanted the tomatoes into a trench in the rough dirt where we finished them off by covering them in soil. Similarly, the summer squash seeds were directly planted into the no till rugged soil where they were buried to await germination. We are happy to say, the crops are very much agreeing with this method because they are growing tall and are abundant with produce. We also agree with this method because it saved us a considerable amount of preparation time in early summer on our 1/2 acre + of tomatoes and summer squash. We hope you too agree because its been suggested that no-till increases soil structure and health (in addition to all of the care we do regularly here at the farm) so the veggies may even taste sweeter and more robust!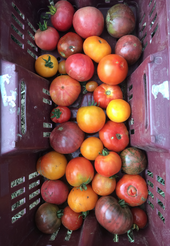 As for the rest of the farm we are working on some summer favorites that are sure to make your table more exciting. We have made our first cuts of broccoli, artichoke, and green beans, some of which will find their way into your CSA shares, so stay tuned. Our strawberry plants are surprising us with a mid-summer berry harvest, and they are as juicy and sweet as ever, stop in the farm store to see for yourself!! Oh yes, and summer brought us another sweet surprise in the form of an intern!!! Stuart Wayman, hailing from Illinois, has joined us along with his fourteen-year-old terrier named Oscar, to help us finish the season strong. He'll be around during CSA this evening so don't forget to give him a warm hello and show him that we have the COOLEST CSA members in the country! Check back next week for his bio so you can have the need-to-knows about the new guy!! As always you are the no-till to our farming hearts, the sweetest members of our community, and we are so grateful for another week of you and lovely food!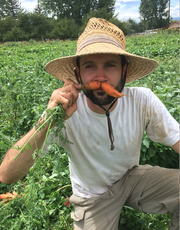 Filling
2 cups packed kale leaves, stems removed (2 ounces)

1 cup packed basil (1 ounce)

1/2 cup toasted pumpkin seeds

1/4 cup olive oil

3 tablespoons lemon juice

1 clove garlic

Pinch of salt


1/2 cup water
Lasagna
4 sheets of cooked whole wheat lasagna noodles

2 ounces mozzarella cheese, shredded 
Slice the zucchini in ¼" thick rounds. Place in a colander in the sink and sprinkle with ¼ teaspoon or so of salt. Toss to coat then let sit for 10 minutes. Rinse then pat dry.

Bring a pot of water to a boil and have an ice bath ready. Add the kale and basil to the boiling water and blanch for 60 seconds. Transfer to an ice bath. Once cool, remove and squeeze out all excess liquid. Place the kale/basil in a blender or food processor along with remaining ingredients for the pesto. Puree until mostly smooth.

Get ready to assemble the lasagna. Preheat oven to 375˚F. Mix ⅓ of the pesto into the ricotta cheese. Of the remaining pesto, using ⅓ in the bottom of the pan. Layer a lasagna noodle over the pesto followed by ⅓ of the ricotta mixture, zucchini, and scallions.

Repeat until you have only one noodle left. Lay the noodle on top and spread the remaining pesto over the noodle and sprinkle with mozzarella cheese to finish. Bake until the lasagna is bubbling and the cheese is browning, 30 or so minutes. Let cool for 5 minutes before slicing.
2 teaspoons olive oil

1/2 small yellow onion, minced

1 1/2 cups diced zucchini (1 small diced zucchini)

1 cup sweet corn kernels (1 ear of sweet corn)

Juice from 1/2 lime

1/4 teaspoon sea salt

3 tablespoons minced fresh cilantro

2 large eggs

3 to 4 tablespoons tomato salsa, for serving

queso fresco, for serving
In an 8" skillet, preferably cast iron, heat olive oil over medium-low heat. Dice onion and add to skillet, sautéing until translucent, 6-8 minutes. 

Stir in zucchini and corn kernels and cook until tender soft, 6-8 minutes. Add lime juice and sea salt and stir.

Create well in the middle of the zucchini mixture and crack eggs. Turn heat down to low, cover, and let cook until egg yolks are set to desired consistency (5-10 minutes).

Remove from heat and serve with queso fresco, salsa, and a sprinkle of cilantro.
In your CSA share this week
Head Lettuce
Chard

Onions

Sweet Corn
Zucchini 
Basil
Beets
Coming next week... sweet corn, tomatoes, kale, zucchini and more.
Fruit share - Peaches
Flower share - Mixed bouqet
Egg share - pick up this week
Coffee share - next week
Bread share -next week
Wine & cheese - next week
Detailed recipes are below
Are you feeling Fair??? Boulder County Fair is this week!!!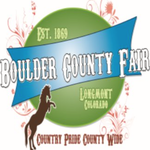 Bad pun. Great event. The Boulder County Fair is happening now over at the Fair Grounds in Longmont, it ends this Sunday, August 6th, so get there before it's over. Last evening the interns took a pilgrimage to mingle with the other agriculture folk of the area and had a blast. They learned a thing or two from the 4-H kids about handling pigs during the hog judging show. Oogled over the other animals including Angora goats and steers that had better hair than all os us. Bunnies were a huge hit, even with the adult crowd, and the ballet on horse, yes ballet, was truly impressive. The food was perfectly fried (as it should be once a year at the fair), the band was killer, and the carnival rides were lively with jovial passengers.
Don't miss out on your dose of quintessential small town Americana summer fun! Did we mention you may run into us if you decide to treat yourself at the diary bar?! Honestly the icecream treats are irresistable and someone from the team has managed to make a daily appearance there since the fair opened... we consdier it one of our very important community duties. Can't wait to hear all about your fun at the fair, see you there!
Back to School PORK SALE!!!
It's that time of year when school cloths will be pressed, pencils sharpened, locker codes memorzied and freezers restocked with Cure Organic Pork. Who doesn't love a hearty breakfat sausage before a long day hitting the books?! Alright, maybe this isn't back-to-school priority nubmer one, but our butcher has been very busy processing eight pigs and that means our freezers at the farm store are going to be overflowling!!! 
NOW-AUGUST 20TH, ALL PORK CUTS WILL BE 10% OFF!!!  
Don't miss out on old favorites like brats, chops, and breakfast sausage, as well as, new cuts like boneless ham, loin, and country style ribs. 
(Farm store card members get 10% off purchase each time, including all meat cuts)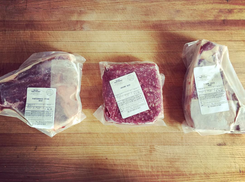 Better than any argument is to rise at dawn and pick dew-wet red berries in a cup.
Wendell Berry
3 bunches Swiss chard, stems removed

3/4 cup toasted almonds

3/4 cup grated aged Pecorino Romano cheese

Pinch nutmeg

Pinch ground cloves

2 lemons, zested and juiced

1 clove garlic, grated on a rasp grater

About 3/4 cup extra-virgin olive oil

Freshly ground black pepper
Bring a large pot of water to a boil; season the water generously with kosher salt. Prepare an ice water bath with a colander. Blanch the Swiss chard in the boiling water until tender, about 2 minutes. Shock immediately in the ice water. Drain by squeezing the leaves in a ball in a clean kitchen cloth.

Put the cooked chard, almonds, cheese, nutmeg, cloves, lemon zest and juice and garlic into the bowl of a food processor and pulse until the mixture begins to break down and come together. Add enough olive oil to the mixture to just get it to come together, about 3/4 cup. Season with salt and pepper.

Serve on bowtie pasta or better yet, spread some on crunchy bread and top with roasted beets and burrata cheese. 



Cure Organic Farm

7416 Valmont Rd.
Boulder, CO 80301
cureorganicfarm@yahoo.com
www.cureorganicfarm.com