Why not bookmark this AMPS Newsletter and read at your leisure!

AMPS Newsletter November 2015
This month - AMPS Forum, Walter Murch video interview, The Sound of Story 2015, IPS' Ear Ear event, Recording Direct to Disc, DPA talks with Simon Hayes, Abbey Road's Open Innovation Department, Hitler's connection with magnetic tape, post sound challenges of The Walking Dead, additional AMPS member benefit from Volkswagen, new AMPS members, Inner Workings of Work…
Header image - Rusting, primitive film crane tethered to a branch, in Stari Grad, Croatia, courtesy of Peter Musgrave.
Beerd, 157-159 St Michaels Hill, Cotham, Bristol BS2 8DB, 7.00pm on the last Wednesday of each month is the place to meet up with other AMPS members and like-minded people! Apparently, great craft beers and amazing pizzas are available!
London Social
Make sure that you attend the AMPS Social at the De Lane Lea bar in Dean Street on the first Tuesday of every month - be social with your AMPS members! The first Tuesday in every month - 6.30pm.
… not in Bristol or London?
Andrew Wilson reports, "For those members a little further North we have had offers of help to set up socials in the Manchester and Leeds areas - hoping to get at least one of these up and running for next month so please stay tuned. There's also signs of life in Cardiff. If anyone elsewhere in the country would like to get something going in their region please let me know and I'll get you started. I'll do the admin and emails, we just need someone local to host!"
KitPlus
10 November 2015
The Open Centre, MediaCityUK, Manchester M50
APRS Fellowship Awards
17 November 2015, 12.30pm
Kensington Roof Gardens, London, W8
The Sound of Story 2015
17 & 18 November 2015
Various Brighton venues
Audio Networking Forum
4 December 2015
Inmarsat Conference Centre, London EC1
AMPS Forum… give it a try!

As reported last month, there has been some development with the AMPS forum - you must first login to the Members' Area to see the Forum option in the sub menu. You will initially have to register with a username and password before you can post and reply to threads, but if you tick 'Remember Me', you shouldn't have to login into the Forum area again.
Topics currently available for contribution include Production, Post Production, Workflow, Promo my Show, Events and Screening Suggestions and Technical Resource. But of course, extra topics can be added and its an ideal resource to search for historic information.
It's an option to Connect. We're not asking you to change, but we'd like to encourage more people to use it and see if it works out.
Thanks very much to all the members who have so far participated in the Forum's development.
Walter Murch 2015: FCPX, AVID, Premiere Pro

Walter Murch speaks openly about the state of play of the major editing systems in use in 2015. In the aftermath of the end-of-life of the original Final Cut Pro, there are 3 main systems used by professionals: Abobe Premiere Pro, Apple Final Cut Pro X, Avid Media Composer.
Walter provides his perspective on what works for him, and his latest experience working with Adobe Premiere Pro.
Video courtesy of Rick Young.
The Sound of Story - Part of Brighton's Cinecity Film Festival
Part of Brighton's Cinecity Film Festival, Lighthouse presents The Sound of Story: two stimulating days of talks, masterclasses and workshops featuring a stellar line-up of world-class sound professionals.
Showcasing critically acclaimed and innovative projects, The Sound of Story is aimed at filmmakers, sound practitioners, music producers and film lovers. Through a series of talks and workshops, leading sound professionals discuss their work, influences and insights, offering a rare opportunity to learn about the power of the soundtrack, and the importance of designing projects with sound in mind from the start.
Ear Ear - IPS Host Hearing Protection Event

(left to right - Fred Jackson, Louise Hart & Dennis Weinreich)
IPS recently hosted their 'Ear, Ear - Hearing Protection 2015' event at a central London venue.
The panel began with an introduction to ear physiology from audiologist Louise Hart, and then what actually happens when your ear becomes damaged. She then explained what is available to help you protect your hearing; why the law is required; and what is currently in place.

She then passed over to Fred Jackson and Dennis Weinreich; two well
known rcording and live sound audio professionals, who have their own stories of impaired hearing, and what they have learned through their experience.
This very interesting and informative talk will soon be available to view on IPS' Vimeo channel or via their website -
www.ips.org.uk
Recording Direct to Disc at AIR Studios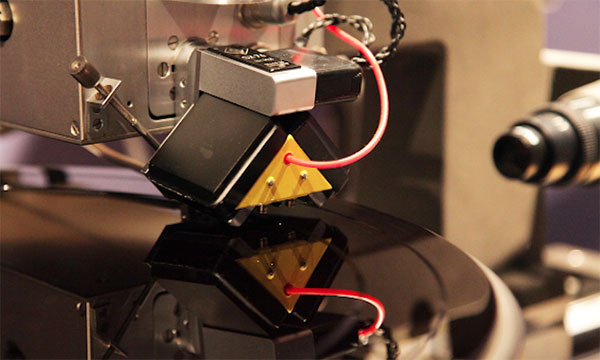 It's not hard to see why direct-to-disc has become an increasingly rare method of recording since its peak in the first half of the 20th century. There is virtually no room for error – any mistakes from the musicians or engineers can ruin a session instantly; finding a group of players willing to play under the stress of these conditions is not easy; and there are few places left with the infrastructure in place to host such an activity.
London's AIR Studios, however, is one of them. But even with all the necessary kit to hand, a successful direct-to-disc project requires the right people to be involved too.
Producer Mike Valentine had reasons to be confident of a disaster-free day – despite all the potential pitfalls – when he walked through the doors of the Hampstead-based facility in late May to record the acclaimed Sid Lawrence Orchestra – now led by Chris Dean – direct to disc, though. And that's because he'd done it all before 12 months earlier.
DPA Talks with Simon Hayes about Bodyworn Microphones

AMPS Member Simon Hayes has pioneered the use of DPA bodyworn lavalier microphones to record both dialogue and live singing, particularly in multi-camera shooting environments. He first introduced this technique in 2008 on Mamma Mia!, primarily because he had recently discovered DPA lavalier microphones and was convinced they were sonically good enough for the task.

Simon comments, "At the planning stage, Benny Andersson from Abba and his longtime engineer Bernard Lohr told me that they had tried every lavalier on the market to try and achieve studio quality vocals on the stage show of Mamma Mia," Simon explains. "Eventually, they had arrived at DPA, which they considered to be the only lavalier microphone that could provide them with music studio quality."
Call to Action - Content for Next Issue of The Journal

 

 

As the saying goes, "Everyone has a book inside them…" Well now's your chance to prove the point! And I don't even want a book, I only need 500 words… plus photographs. Of course, if you want to write more, then please do.

 

Been working on an interesting project recently? Encounter some highs, some lows? Put it into words, get it off your chest, share it with your AMPS members.

 

I would be very happy to read your thoughts, so please email to me, Tony Andrews at

newsletter@amps.net

 
Abbey Road Studios Launches 'Open Innovation Department'

Abbey Road Studios officially recently unveiled its new department focused on music technology and innovation, 'Abbey Road Red'.
As the only music tech-specific incubator programme in Europe, the aim of Abbey Road Red is to enable fledgling music tech startups to harness the expertise and facilities at the studios by providing mentorship, advice, a testing ground for products, access to facilities, social media support and a platform that helps companies reach their audience.

Building on a legacy of groundbreaking technological advances at the studios, starting with Alan Blumlein's invention of stereo, Abbey Road Red is described as 'an open innovation department designed to support the endeavours of the brightest music tech entrepreneurs, researchers and developers.'
Hi-Fi History: Magnetic Tape or The Story of Fifteen Führers. (As if one Hitler wasn't enough…)
This article on 'Sound Sommeliers' Kvart & Bølge website recently came to my attention. Don't be alarmed; this article is about Hitler's obession and contribution to advanced science and technology and ultimately the development of audio recording; in particular magnetic tape!
Conquering the Post Sound Challenges of The Walking Dead
After five seasons, AMC's The Walking Dead continues to amaze, scare, surprise, and at times frustrate audiences. While showrunners and writers have changed over the years, supervising sound editor Jerry Ross, at Warner Bros. Sound in Burbank, California, has been a mainstay of the post process. He and the sound editing department on The Walking Dead's "Conquer" episode – the Season 5 finale – were recently nominated for an Emmy. Ross, along with ADR supervisor Lou Thomas and sound designer Tim Farrell, chatted with Sound & Picture about bugs, birds, airplanes, and of course, zombies.
AMPS Member Benefit from Volkswagen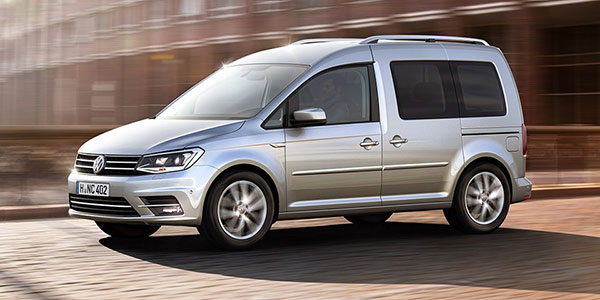 AMPS is pleased to announce the return of this Benefit for members. The new arrangement has been made with VW Commercial Vehicles to secure a valuable discount on the basic new retail value of any of its vehicles, such as the Caddy 4, Transporter 6 and all new Crafter model ranges. This scheme is available from 7 October 2015 until 7 October 2018 when it will be subject to renewal.
This gives all members a level of additional discount supported by Volkswagen. The total discount is made up from the VW discount of between 11% and 17% depending on model group, to which is added any further discount negotiated by the purchaser with their chosen VW Van Centre.
 
The scheme provides a substantial saving – for example of up to 20% in total for a Transporter - on the purchase of a new vehicle, which must be registered to the member. The discount is not transferable and cannot be used by friends, family or others who are not members.
N.B. The scheme is effective at all VW Van Centres nationally and applies only to the purchase of a new commercial vehicle. It does not apply to used vehicles and promotional offers.
Full details can be obtained by emailing -
admin@amps.net
- Please put 'VW Purchase Scheme' in the subject line.
AMPS wishes to thank Cordwallis Heathrow VW Van Centre for their support in facilitating this arrangement and to whom you are encouraged to direct your enquiries when considering any purchase. Cordwallis has VW Van Centres at Heathrow, Maidenhead and Oxford -
www.cordwallis.com
New AMPS Member 1 - Payam Hosseinian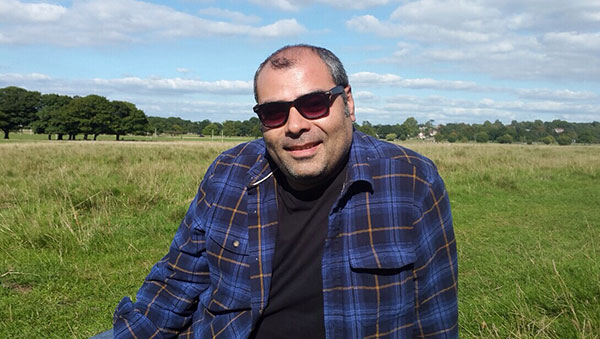 "I started working in sound production and post production in my late teens when I joined the Iranian National Radio and Television. For ten years I performed in many radio drama productions from adaptations of both classic and modern, among them War and Peace, The Cherry Orchard, Shining, The Trial, The Great Gatsby and many more. I also voice acted for the Persian releases of many films for actors such as Anthony Hopkins, Colin Firth, Matthew Macfadyen, Benedict Cumberbatch, Ray Winstone and Derek Jacobi.

In 2006, I moved to UK and after completing a Master's in theatre and performance, started directing the dubbing for many BBC series for the World Service, at the BBC Post Production and Studios. Few of my credits as a dubbing director for the World Service include: Dr Who series 1, 2, 3 - Sherlock series 1, 2 and 3 - Spooks series 1, 2, 3, and 4.

Four years ago with a strong impulse for a career change, I started studying sound engineering part time, while working full time at the BBC. Eventually, I decided to further my technical and artistic skills in film, TV and game sound, and started doing a Masters in Sound Design at The National Film and TV School, which I will be competing in 4 months.

In 2014 I launched myself as a sound editor, and since then I have been working on a number of shorts, features, documentaries, animations and games. I have also been co-running SyncPoint, an audio post production company specialising in creative film, TV and games sound design.
I have had an amazing experience on both sides of the microphone, and feel indebted to all the professionals I have learnt from. I look forward to getting to know you all; I am sure I will learn a lot form you too! A huge thank you for having me!"
New AMPS Member 2 - Ben Hossle

 
My name is Ben Hossle, I have been working as a 2nd AS for just over 3 years since graduating from Northumbria University. I was lucky enough to land my first job as a trainee working under Ian Voigt and Simon Bysshe on the feature film, Song For Marion and since then have worked as an assistant and 2nd AS on dramas such as Vera, Inspector George Gently, the CBBC productions Wolfblood and The Dumping Ground under mixers such as Reg Mills and Stuart Wright.

Most recently I have just finished working on the major ITV drama BeoWulf, during which I moved from Newcastle to Manchester. I have a strong musical background, playing both piano and trumpet and also have a modest following for my productions and releases as a drum & bass music producer. I was born in Oldham, but went to school at Woodhouse Grove in Bradford before studying in Newcastle. I am eager and excited to continue learning and working with the best people our industry has to offer and I would like to thank AMPS for welcoming me!
The Inner Workings of Work

Richard Gould recently contributed an article to designingsound.org -
"In my relatively short career, I've been fortunate to work in a variety of roles within different frameworks (freelancer, startup, in-house and a contract employee). Whilst we sometimes hear people discussing what specific roles are like, we don't often hear about these different frameworks and how they compare. I thought it might be interesting to share my observations on what pros and cons I found in each of these frameworks. So whether you're a student looking for your first opportunities or a seasoned pro looking to transition roles, this insight may prove useful."
Did you know that the Directory pages on the AMPS website are some of the most frequently visited?

 

Make sure that your profile is up to date - you never know where your next work enquiry will come from!

 

 
Can we help with your Professional Development?
We're keen to hear from you with ideas for seminars and training sessions which would contribute towards Continuing Professional Development.
We're very aware that keeping up with techniques and updates can be a full time job in itself, so if there's any way that AMPS can contribute towards maintaining and developing your industry knowledge and skills, please get in touch.
AMPS Address & Phone Number
27 Old Gloucester Street
London
WC1N 3AX
Tel: +44 (0)1753 669111
AMPS, 27 Old Gloucester Street, London, WC1N 3AX
www.amps.net / +44 (0)1753 669111