Enjoy Dinner in the Sukkah with Friends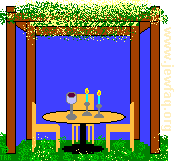 The DPL "Dinner in Geographically Dispersed Sukkot" is coming up on Tuesday, October 10th, the 6th night of Sukkot. We would love to have as many Library Minyan folks participate as possible! With seven sukkah hosts available, there is plenty of room, but sign ups end October 2nd. To ensure your participation please fill out the form accessed with the button below. You can send questions to Deb Blum,
deborahblum12@gmail.com
or Diane Herman,
dnherman@gmail.com
.
We are excited to start the year eating and celebrating chag together.
Wednesday, October 18th at 7:00pm, at Temple Beth Am, we will welcome a special speaker. Dani Brand will enlighten us about his heroic parents, Joel and Hansi, who managed to save 1,700 Hungarian Jews during the Shoah. Joel met personally with Adolf Eichmann several times to negotiate ways in which he could help save our people. Joel and Hansi later testified at Eichmann's trial in Israel. Just last Yom HaShoah, Joel and Hansi posthumously received the Jewish Rescuer's Citation from the B'nai B'rith World Center.
Dani has been researching his parents' history for the past 15 years.  Dani, a holocaust survivor himself, uses his extensive analytical skills to understand the events in the perspective of those times, as well as to explore the reasons that led to concealing these events in the years that followed. His research has resulted in a recently published book.
The new
Lev Shalem
siddurim are proudly sitting on top of the cabinet in the front of the chapel each Shabbat morning. Please pick one up, use it and get used to it as we will complete our transition to the new siddur on Shabbat
Parashat Lech Lecha
, October 28, 2017. Limited numbers of the
Siddur Sim Shalom
(the blue siddur) will continue to be available for those of us who find change a bit challenging.
Holidays, Holidays, and More Holidays  
Library Minyan will conduct all High Holiday services in the chapel as usual. A big thank you to the High Holiday committee (Mayer Brenner, Jennifer Low, Paul Miller, Fran Grossman, Bob Braun and Alisa Shudofsky) for working so hard to ensure a meaningful experience for us.
Sukkot and Simchat Torah services will be joint services.  Morning services for the first two days of Sukkot will be held in the ballroom.  Simchat Torah and Shemini Atzeret morning services will be held in the Dorff-Nelson chapel. There will also be a hashkama minyan on Simchat Torah morning.