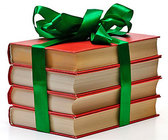 The Written World: The Power of Stories to Shape People, History, Civilization
by Martin Puchner
The story of literature in sixteen acts, from Alexander the Great and the Iliad to eBooks and Harry Potter. Martin Puchner, a professor of English and comparative literature at Harvard University, tells the story both of the ideas that shaped civilization and the equally crucial technology that transmitted and preserved those ideas.

"By providing snapshots of key moments in the written word as evolution, Puchner creates a gripping intellectual odyssey." - Publishers Weekly

Young Jane Young
by Gabrielle Zevin
"This book will not only thoroughly entertain everyone who reads it; it is the most immaculate takedown of slut-shaming in literature or anywhere else. Cheers, and gratitude, to the author." - Kirkus Reviews

From the author of the bestselling novel The Storied Life of A.J. Fikry comes a satisfying and entertaining story of reinvention. Aviva Grossman is a Congressional intern in Florida who makes the life-changing mistake of having an affair with her boss, who is beloved, admired, successful, and very married - and blogging about it. When the affair comes to light, the Congressman doesn't take the fall, but Aviva does, and her life is over before it hardly begins.

Ali: A Life
by Jonathan Eig
Sports fans will love this story of the man who became one of the 20th century's most fantastic figures. Bestselling author Jonathan Eig reveals Ali in the complexity he deserves, shedding important new light on his politics, religion, personal life, and neurological condition. Ali is a story about America, about race, about a brutal sport, and about a courageous man who shook up the world. Based on more than 500 interviews, including Ali's closest associates, and enhanced by access to thousands of pages of newly released FBI records.

The Color of Law: A Forgotten History of How Our Government Segregated America
by Richard Rothstein
"[Richard] Rothstein has presented what I consider to be the most forceful argument ever published on how federal, state, and local governments gave rise to and reinforced neighborhood segregation," says sociologist William Julius Wilson of this groundbreaking history of the modern American metropolis.

Long-listed for the National Book Award, and a leading authority on housing policy, Rothstein explodes the myth that America's cities came to be racially divided through de facto segregation - i.e., through individual prejudices, income differences, or the actions of private institutions like banks and real estate agencies. He makes it clear that it was de jure segregation - the laws and policy decisions passed by local, state, and federal governments - that actually promoted the discriminatory patterns that continue to this day.

American War
by Omar El Akkad
An audacious and powerful debut novel from an award-winning journalist, about a second American Civil War, a devastating plague, and one family caught deep in the middle. Sarat Chestnut, born in Louisiana, is only six when the Second American Civil War breaks out in 2074. But even she knows that oil is outlawed, that Louisiana is half underwater, and that unmanned drones fill the sky. When her father is killed and her family is forced into Camp Patience for displaced persons, she begins to grow up shaped by her particular time and place.

Spineless: The Science of Jellyfish and the Art of Growing a Backbone
by Juli Berwald
A former ocean scientist goes in pursuit of the slippery story of jellyfish: They have been swimming in our oceans for well over half a billion years, longer than any other animal that lives on the planet; they make a venom so toxic it can kill a human in three minutes; their sting - microscopic spears that pierce with five million times the acceleration of gravity - is the fastest known motion in the animal kingdom. Yet until recently, jellyfish were largely ignored by science, and they remain among the most poorly understood of ocean dwellers.

The City of Brass (Daevibad Trilogy)
by S. Chakraborty
S. Chakraborty's intriguing debut (the first of a trilogy) is a rich Middle Eastern fantasy. A young con artist in eighteenth century Cairo discovers she's the last descendant of a powerful family of djinn healers. With the help of an outcast immortal warrior and a rebellious prince, she must claim her magical birthright in order to prevent a war that threatens to destroy the entire djinn kingdom.

"This lyrical historical fantasy debut brings to vivid life the ancient mythological traditions of an Islamic world unfamiliar to most American readers." - Library Journal

Fever
by Deon Meyer
"Great stuff."- Stephen King

An epic drama from an acclaimed internationally bestselling author, reminiscent of The Stand and The Passage. Fever is a powerful story of love, betrayal, and survival in a world devastated by a fatal virus known simply as "the Fever."

Hamlet Globe to Globe: Two Years, 193,000 Miles, 197 Countries, One Play
by Dominic Dromgoole
For the 450th anniversary of Shakespeare's birth, the Globe Theatre in London undertook an unparalleled journey: To take Hamlet to every country on the planet, to share this beloved play with the entire world. This tour was the brainchild of Dominic Dromgoole, artistic director of the Globe, who takes readers along with him. From performing in sweltering deserts, ice-cold cathedrals, and heaving marketplaces, and despite food poisoning in Mexico, an Ebola epidemic in West Africa, and political upheaval in Ukraine, the Globe's players pushed on.