For Immediate Release
RE: Pittsburgh Tribute to Nelson Mandela
Date: Sunday, December 15, 2013, 2:00 PM to 5:00 PM
Location: Mt. Ararat Baptist Church, 271 Paulson Ave. (Lincoln-Larimer)
Contacts: Sala Udin, Pittsburgh Black Political Convention, 412-600-6090, sala@salaudin.com
Cost: Free and Open to the Public – light refreshments
Trans Africa (Washington, DC), A. Philip Randolph Institute (Washington, DC), United Steelworkers (Pittsburgh, PA) and the Pittsburgh Black Political Convention (Pittsburgh, PA) are collaborating in a major tribute to the late President Nelson Mandela, who passed away, after a long illness, on Thursday, December 5, 2013 at the age of 95. The keynote speaker at the tribute will be the Chairman of the Board of Trans Africa, Actor Danny Glover.
Throughout the next ten days, leaders and communities all over the world will pause to give tribute and reflect on the inspiration Madiba provided to the world, from his early struggles against South African apartheid ("apartness"), to his 27 years imprisonment on South Africa's notorious Robben Island, to his emergence from prison in 1990 to become the first black President of South Africa in 1994.
President Mandela visited Pittsburgh in 1991, and left many lasting memories. His purpose was to strengthen Pittsburgh's resolve to disinvest and keep the sanctions in place and to say "Thank you" for the contribution to African Liberation provided by Pittsburghers since the early 1970's. People who saw Mr. Mandela in Pittsburgh at that time will be on hand to share remembrances.
Representatives from African support organizations, labor union organizations, faith-based supporters, elected officials and other political officials and freedom lovers from throughout the Pittsburgh region are invited to attend.

Guest Speaker
Trans Africa Chairman, Actor/Activist
Danny Glover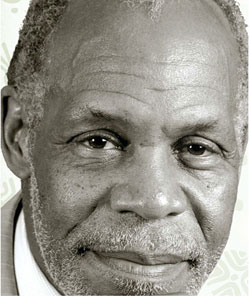 Actor, producer and humanitarian Danny Glover has been a commanding presence on screen, stage and television for more than 25 years. As an actor, his film credits range from the blockbuster "Lethal Weapon" franchise to smaller independent features, some of which Glover produced. He co-starred in the critically acclaimed feature "Dreamgirls" directed by Bill Condon and "Poor Boy's Game" directed by Clement Virgo. He appeared in the hit feature "Shooter" for director Antoine Fuqua, "Honeydripper" for director John Sayles and "Be Kind, Rewind" for director Michel Gondry. Glover has also gained respect for his wide-reaching community activism and philanthropic efforts, with a particular emphasis on advocacy for economic justice, and access to health care and education programs in the United States and Africa. For these efforts, Glover received a 2006 Directors Guild of America Honor. Internationally, Glover has served as a Goodwill Ambassador for the United Nations Development Program from 1998 - 2004, focusing on issues of poverty, disease and economic development in Africa, Latin America, and the Caribbean, and currently serves as UNICEF Ambassador....read more!
AND
Leo W. Gerard
International President of the United Steelworkers


No labor leader has stood his ground or fought as hard as International President Leo W. Gerard to preserve and create union-wage jobs that support middle-class families and their communities. To advance the fight for good safe jobs, Gerard has focused the United Steelworkers (USW) on strategic contract bargaining in paper, steel, rubber and other key sectors, while at the same time fighting unfair trade and building clout through political action and domestic and international alliances. He is leading the USW's drive to restore manufacturing jobs that built the great middle class in the United States and Canada and to prepare for new clean energy manufacturing that represents the future of American industry....read more!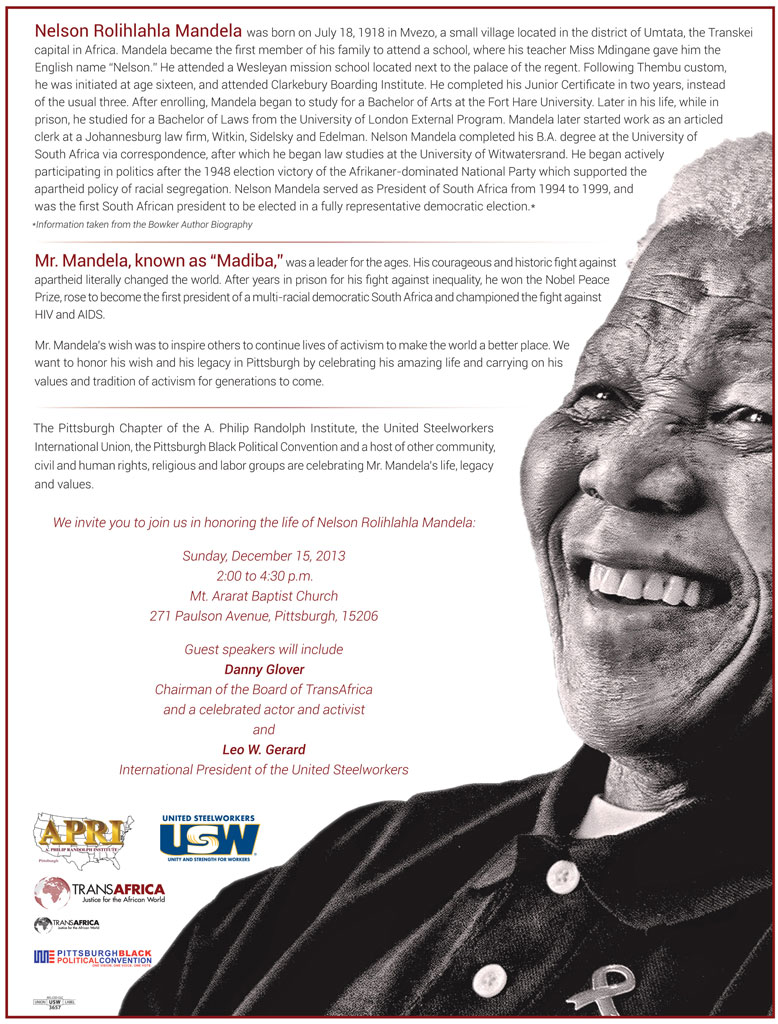 Mt. Ararat Baptist Church, 271 Paulson Ave. (Lincoln Larimer), Pittsburgh, PA 15206

Sponsored by:
Trans Africa
United Steelworkers
A Philip Randolph Institute
Pittsburgh Black Political Convention
For info: Sala Udin, 412.600.6090; sala@salaudin.com